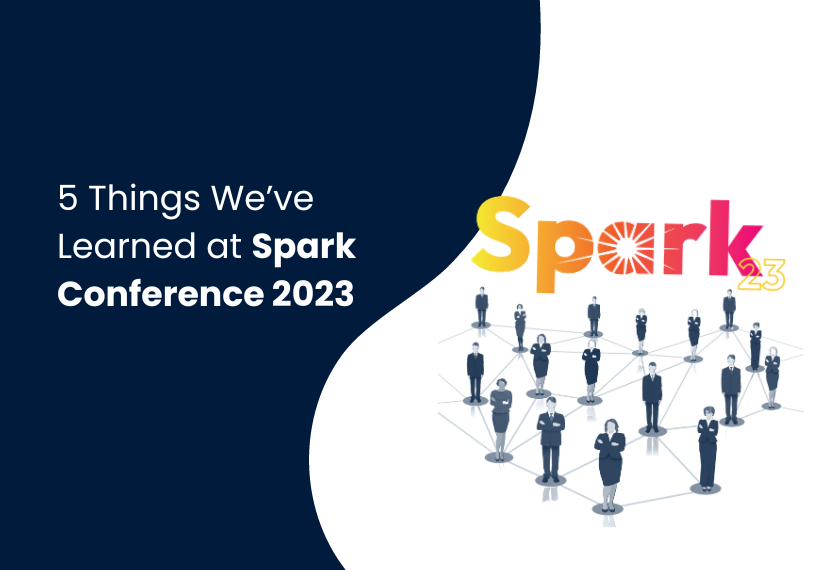 Our annual Spark event was a remarkable gathering of IT and ITSM professionals from all around the world! It provided a platform for any ITSM enthusiasts to connect, share ideas, and gain inspiration from best practices.
There was a variety of presentations and workshops covering different topics. From customer experience (CX) to leadership, agile transformation, employee happiness, and artificial intelligence to IT decision-making. The event gave us lots of valuable insights!
While it's impossible to delve into each presentation individually, several prevailing themes and topics emerged.
So, let's talk about some key takeaways from Spark Conference 2023! 
Customer experience isn't only about the experience.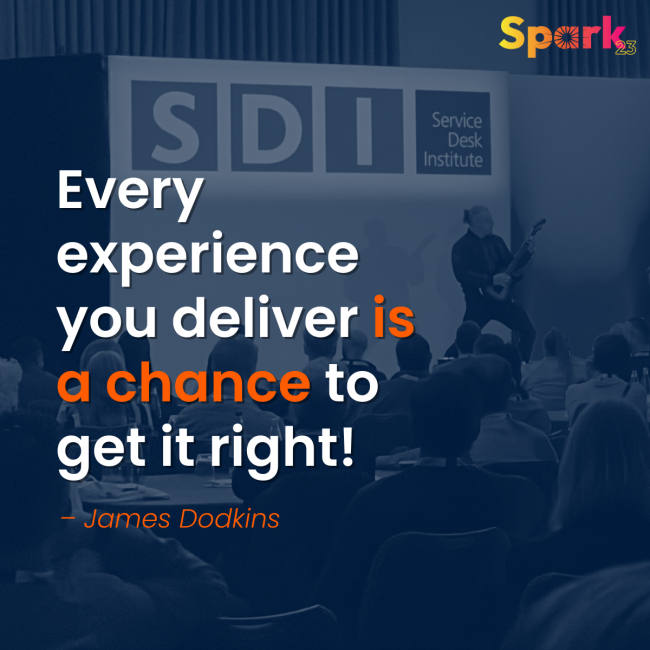 As expected, one prominent theme was the emphasis on customer-centricity.
The opening keynote was a memorable performance that we will never forget. In his presentation, "Six Simple Steps to Rockstar CX", James Dodkins provided an interesting angle when it comes to exceeding customer experience.  Times are changing, and according to James, now is the time to start turning customers into your fans.
Why? Customer experience isn't about the experience; it's about the relationship. And turning customers into fans is a great way to make long-lasting connections and loyal users.
And don't forget about what the customers want or expect. In an era where technology is deeply integrated into daily business operations, understanding your customers and their expectations directly impacts business success.
In his session, Alan Nance shared how people adjust their experience perception based on their experience anticipation. This means that to shape the best customer experience, we need to manage aspects of experience anticipation, from brand and individual expectations to the promise of commitment to a defined experience.
Many interesting thoughts and experience management strategies have been shared throughout the last two days.
From the fantastic workshop on 'How to build an XLA', hosted by Patrycja Sobera and Davoud Pourhossein, we learned how to manage and monitor the success of the new XLA. And how to influence 'non-adopters' to change their behaviour towards XLA. To a session hosted by brilliant Sami Kallio and understanding how experience data and insight can help in IT decision-making.
Exceptional leadership begins with individuals.
Leadership matters. Strong leadership fosters innovation, promotes a positive work culture, and enables teams to navigate challenges with confidence.
Some of our brilliant speakers, such as Em Elderd and Hannah Price, discussed how to become the best leaders you can be.
They have pointed out that effective leadership sets the tone for IT teams and service desk operations. Emphasising that exceptional leadership begins with individuals and can profoundly impact teams, customers, and organisations.  
There's a need for agility in IT and ITSM.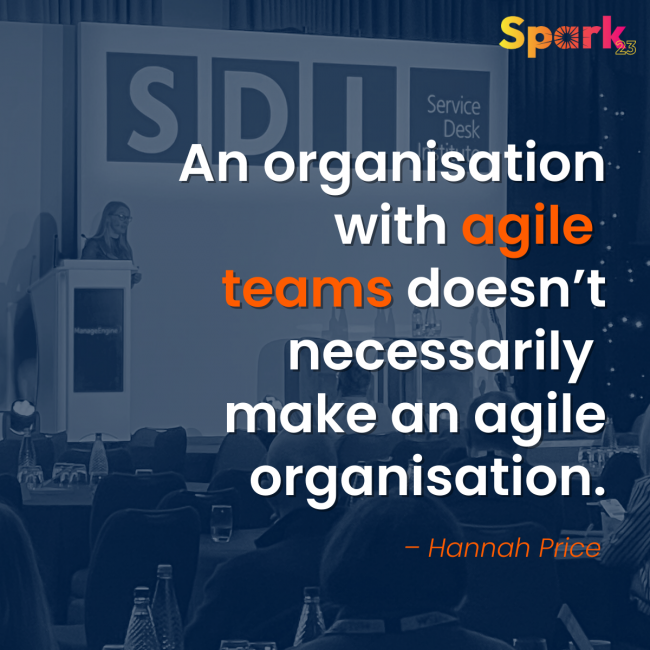 Other topics discussed were the fast-changing technology landscape and the need for IT professionals to stay prepared. Being agile and adaptable allows ITSM professionals to respond quickly to shifts in technology and business requirements. Moreover, this agility ensures that organisations remain competitive, efficient, and capable of providing responsive IT services.
Sessions such as Hannah Price's 'The Key to Unlocking True Agile Potential' discussed the meaning of modern agile leadership. Hannah pointed out that an organisation with agile teams doesn't necessarily make an agile organisation. An agile organisation requires an agile mindset and practices at all levels, not just within agile teams.
She also shared her view on transforming traditional leadership into an agile leadership team.  And she raised questions, like 'What prevents organisations from being agile?' that really made everyone reflect.
There's an undeniable link between well-being and productivity.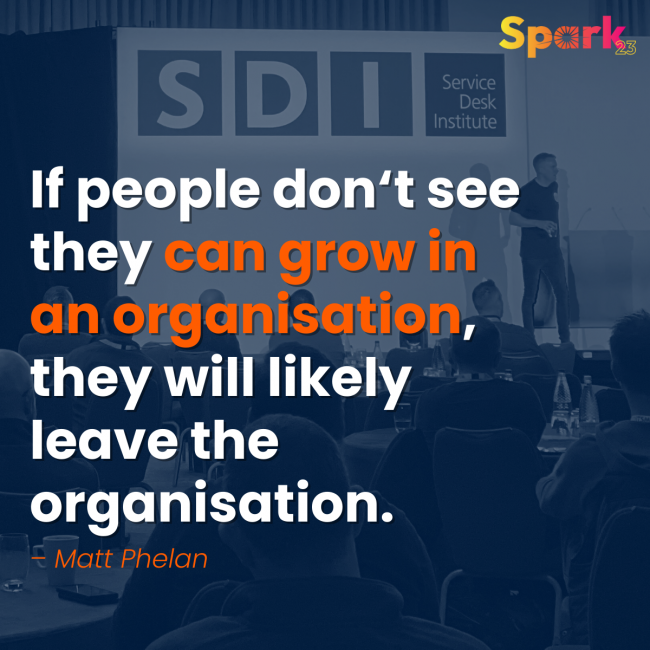 The importance of employee well-being and satisfaction was explored in sessions like "Happiness in 2023" by Matt Phelan and "Revive and Thrive: A Revitalising Breathwork Experience" by Karen Farrell, underlining the significance of considering the human aspect in the IT environment.
In his session, Matt Phelan explained how neuroscience methodology can help you understand how people think, feel, and behave. Happy and motivated IT teams are more productive and innovative. According to Matt, four primary factors drive workplace happiness:
🧠 Psychological safety
💼 Freedom to take opportunities
🏆 Feelings of acknowledgement
✨ Positive relationships
Overall, the key takeaways were that organisations should find the right balance between employee happiness and engagement. As well as recognise the importance of employee well-being in a positive work environment, reducing turnover, and attracting top talent.
The future is more than just having the newest technology.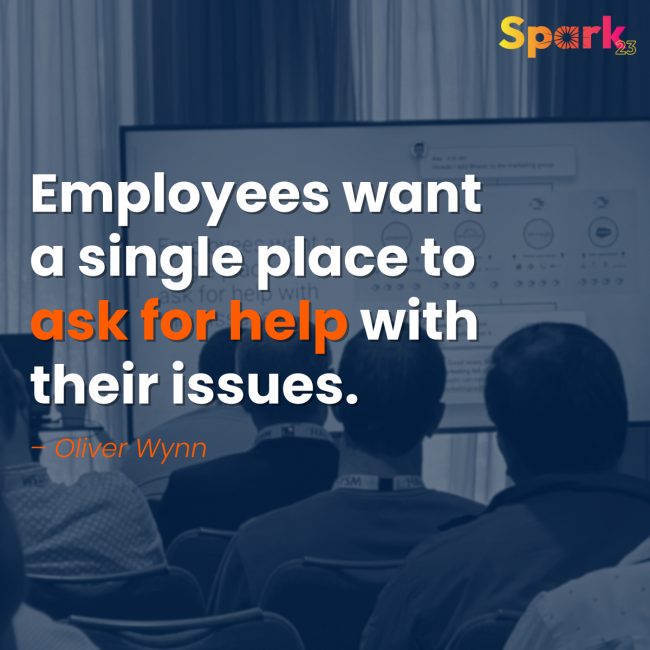 Sessions like "Service Desk 2030" by Scott Gamble and "Transforming ITSM With Generative AI" by Dennis Wahome & Luke Hyde hinted at the evolving landscape of ITSM. Having strong ITSM processes and doing brilliant basics is still very important.
But anticipating and preparing for the future of ITSM, which may involve technologies like AI and generative AI, is vital for staying competitive.
However, IT innovation means more than just having the newest technology. It's about using new AI technology developments to create a humanised employee experience.
These technologies can automate routine tasks, improve incident resolution times, and enhance the overall user experience. In his session, Oliver Wynn touched on how to use AI as a practical tool.
The research estimates that 33% of tech spend is underutilised or wasted every year.
Oliver shared how they use AI Copilot to automate employee support and improve employee experience and productivity across multiple departments.  
The conference gave us a fantastic look at what's happening in the ITSM and IT world right now. The knowledge and insights shared will be pivotal in shaping future strategies and approaches. So, we want to express our gratitude to each and every one of you who made Spark conference 2023 such a remarkable event.
Your presence and participation added a special spark to the conference! ✨