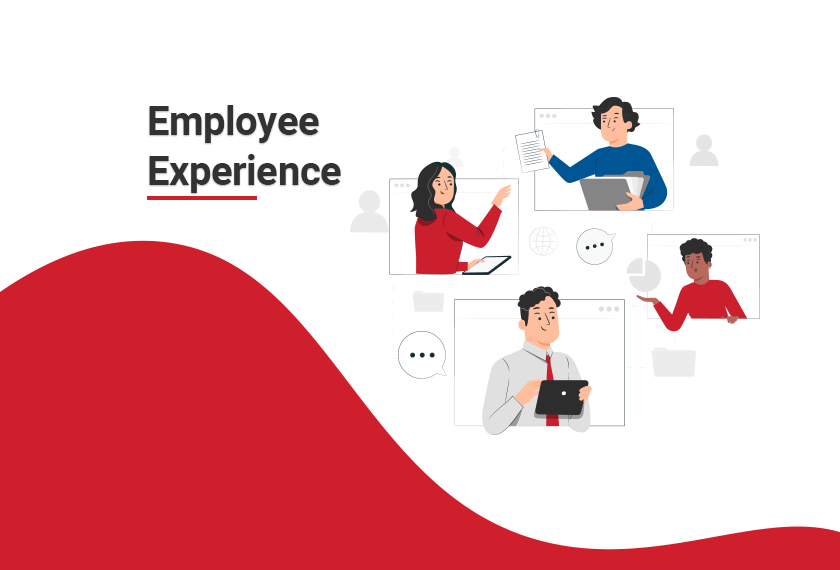 Change has become the 21-century most ubiquitous challenge. If we only look at the last 18 months, IT support services have needed to rapidly adapt to unexpected changes to ensure they continue to meet the needs of the business.
This has not only meant accelerating digital strategies but also the need to ensure staff have the necessary skills and support they need to continue to provide support services in the post-COVID-19 digital workplace.   
At the same time, the pandemic has opened the door to new challenges we will face in the future that will simply be more intense versions of those we already confront today. But what does this mean for IT and support employees? And how did all of this affect their new expectations or experiences?
 
What is Employee Experience?
Employee Experience (EX) is about mirroring employee experiences from outside work to their workplace. For example, when you look at the projects or tasks in the workplace, they are usually designed with multiple steps, which may be good from the organisation's perspective.
However, when you look at it from the employee's point of view, these little steps can often seem inefficient and time-consuming. This means that closing that gap between how people get things done in their personal lives and how they get things done in the workplace, can help you shape better employee experiences. 
How to shift your digital workplace strategy in a post-pandemic future
Managing an IT service desk can be challenging and daunting at the best of times, even more so when considering the impact of the recent pandemic. When we consider the changing industry narrative around service experience and happiness, we're seeing an increased emphasis on customer and employee-centric cultures and new-age tools that are designed to affect change and improve employee and customer engagement.  
Let's look at the 5 ways that can help you to develop an employee-centric workplace.
#1 Recognise the effect of change on employees 

An obvious one. If there's one thing we all know for sure — change is constant. And whatever the change is, it will probably affect your employees. As a result of the pandemic, many organisations have changed processes, strategies, provided additional training and implemented new tools to adapt to working from home or hybrid working.  
But do you know how all these changes made your employees feel? People like to understand why something is changing in their personal life.
So, it is very important to understand how well the people working in an organisation understand why things are changing in their workplace, what's changing, and how to support new business objectives. 
Make sure that your employees are familiar with the new or updated strategy. 
#2 Connect people to something bigger than themselves 

Organisations should try to understand how the changes mentioned above, have and will continue to affect IT service management and support employees. What's more, by knowing what motivates them, they will have the opportunity to set up the objectives that will keep them engaged and satisfied.  
McKinsey's research shows the three core areas of EX—social, work, and organisation and different experiences within each area. With its actions, organisations create either positive or negative experiences, which affect business performance. This also helps paint a clear picture of how employees see their journey with the organisation. More importantly, offering a positive employee experience means that the organisation understands what actually matters to its employees.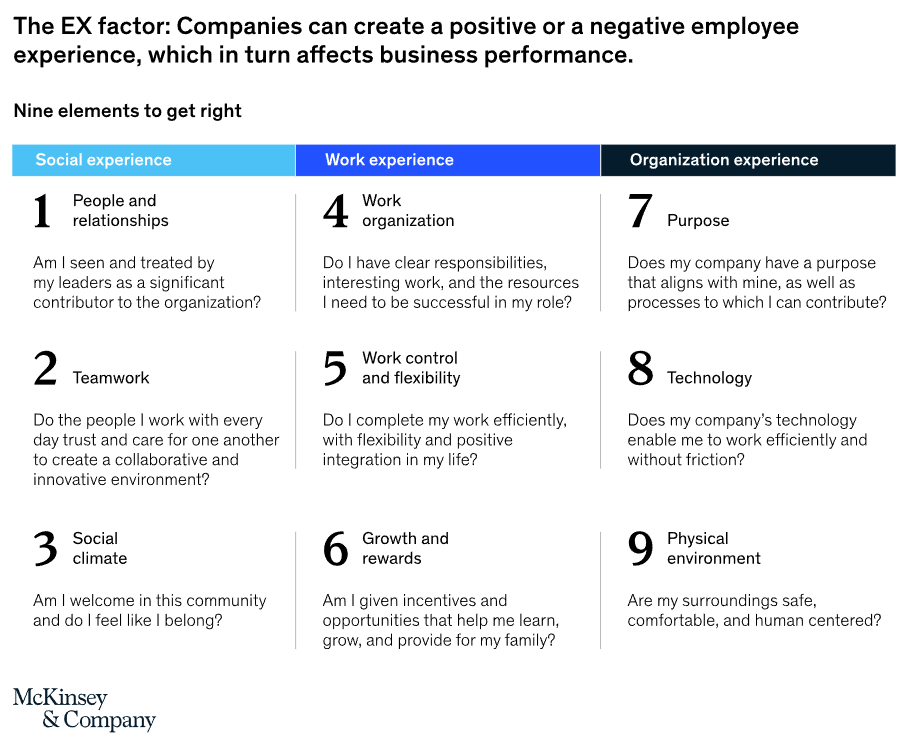 By giving employees a purpose, you allow them to deal with changes more effectively and ensure that their efforts align with the organisation's objectives. Think about the purpose as a driving force.  
Create models where your employees will see the clear purpose behind the changes, understand their role, and see how their level of work effectiveness affects the business performance. Provide regular updates and reports on the projects or organization's status.
#3 Build Collaborative Teams 

Although working from home has its benefits, it's not unusual for people to find themselves isolated, unmotivated, or feel as if they are missing out on something simply because they haven't been in the office for a while. Don't worry; you aren't alone, and it actually happens to most of us.
There is power in a group of people working together toward mutual goals. And having personalised and motivating experiences can help strengthen your employees as individuals and as a team. 
According to SDI and Freshwork research, 63% of respondents from the ITSM industry said that collaboration platforms have had the most positive improvement in their working life during the last 2 years.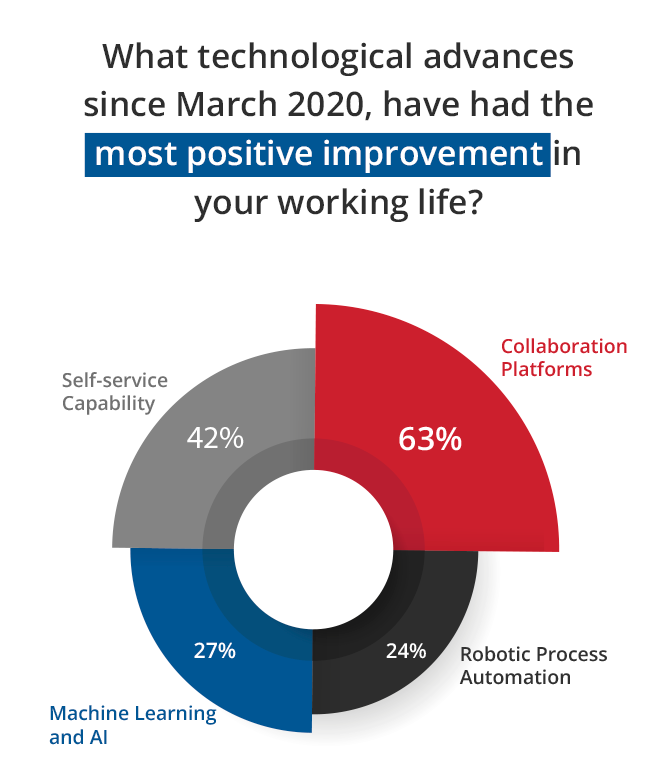 Collaboration platforms have come of age. It's time to encourage people inside the organisation to connect with their teammates (either online or in-person).
How? Ensure you have the appropriate tools to support virtual collaboration. Schedule those virtual coffee breaks, team meetings or chats and allow your employees to connect with each other on a simple social level.  
#4 Improve and Increase Employee Feedback
We already know that improving customer experience is one of the rising ITSM trends for 2022 and beyond. However, if you want to really understand, listen, and improve your customer experience, you should know how to understand and listen to your employees first. Knowing how employees feel and communicate could help leaders make better employee-centric decisions and ultimately add more value to the organisation. 
You can use skills data to deliver hyper-personalisation. What does that mean? If you have good skills data, you could provide better recommendations to your employees – from recommendations on skills improvement, learning, and career paths. 
#5 Support Learning and Development Opportunities
The pandemic has given people plenty of time to think about new hobbies, career development, and even changing career paths. And many of them have expressed their desire to learn more skills.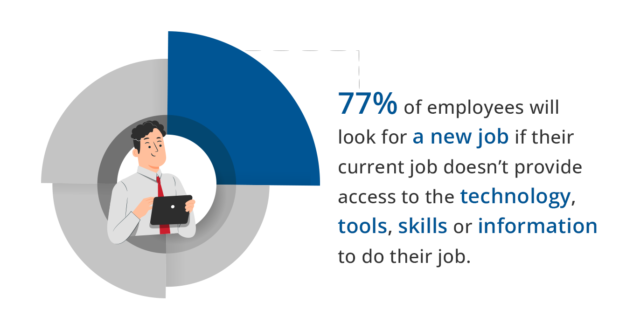 A research report from Freshservice shows that 77% of employees will look for opportunities outside their organisations if their current job doesn't provide access to the technology, tools, skills, or information needed to do their jobs.