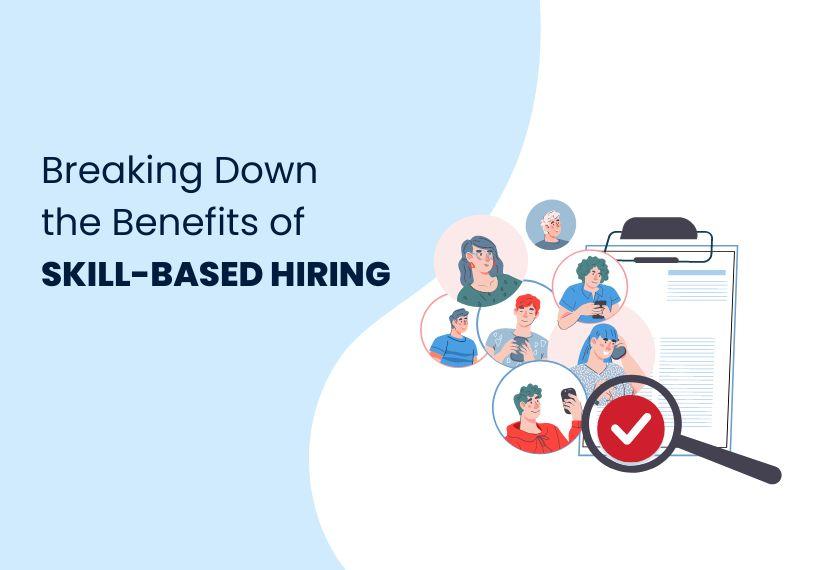 In the past, recruiting decisions were typically made based on a candidate's education and previous work experience. But, since the pandemic, companies have had a hard time finding and retaining the right people. Naturally, they've become more aware that something has to change. In response, many organisations have moved toward a new operating model for work and the workforce – placing skills at the centre.
But what does this all mean?  Should companies only take skills into account when making employment decisions? And how does skill-based hiring affect company culture?
In this blog, we will discuss why skill-based hiring is the future and look into some common benefits and challenges of this approach.
Why Skill-Based Hiring is the Future of Recruitment
If we look at today's working environment, it's clear that many companies have removed degree requirements from certain job postings. This means they are moving towards building and sustaining a more inclusive workforce.
Rather than focusing solely on the applicant's qualifications, they now evaluate candidates based on their skills and abilities. They are searching for better-suited candidates to fill open positions in the long term.
There has also been a shift in how "skills" are understood in the workplace.
"We broadly define "skills" to encompass "hard" or technical skills (such as coding, data analysis, and accounting); human capabilities or human skills (such as critical thinking and emotional intelligence); and potential (including latent qualities, abilities, or adjacent skills that may be developed and lead to future success).
Eventually, we see the word "skills" becoming short-hand for more granularly defining workers as unique, whole individuals—each with an array of skills, interests, passions, motivations, work or cultural styles, location preferences and needs, and more."
– Deloitte
Another factor transforming skills needed in the modern workplace is the rise of automation.
With new emerging technologies, automation is becoming a vital part of many businesses. And since it relies on hard skills, it will have the biggest impact on the demand for technological skills.
There's also been a shift in employees' expectations. Today's employees want to have the opportunity to exercise their creativity and tackle complex issues. They don't want to settle for mundane tasks.
So, it's also become clear to many leaders that human abilities such as critical thinking, problem-solving, creative innovation and emotional intelligence are equally important. And in some cases, even more valuable than hard skills.
To match their current (and future) needs — and new employees' expectations, many organisations are now implementing skills-based hiring programs. They are combining role-specific assessments with personality tests to find and retain candidates who will fit the job and the company culture.
According to TestGorilla's The State of Skills-Based Hiring 2022 report, a whopping 76% of employers now incorporate skills-based hiring to identify top talent, with a significant 55% relying on role-specific skills tests.
We asked our global community of IT professionals what they think is the most important in finding the perfect candidate. According to 43% of respondents, it is very important to do personality tests to ensure the candidates fit into the organisation's culture.
This is followed by role-specific tests, which should be objective assessments that help provide a fair and transparent evaluation of candidates' skills.
Unlocking the Potential of Skill-Based Hiring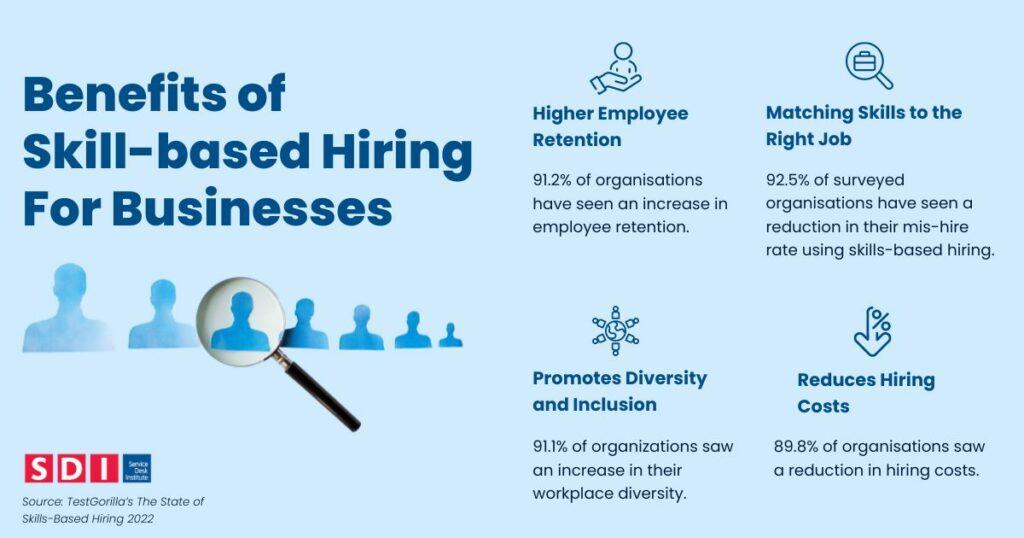 Skill-based hiring opens new opportunities for individuals who possess valuable skills but may not have pursued traditional academic routes. On the other hand, it allows companies to optimise and improve the recruitment process and reap some of the following benefits:
#1 Attracting and keeping top talent
One of the most obvious advantages of this hiring approach is extending the talent pool and attracting highly qualified candidates. And since it's likely that organisations are hiring driven employees enthusiastic about enhancing their skill set and embracing fresh challenges, this has a positive impact on the company culture too.
#2 Better alignment of employee skills with job requirements
By prioritising the necessary skills for the position, organisations increase the likelihood of recruiting candidates who are a good fit for the job and can quickly adapt to their new role. In the same study by TestGorilla, 92.5% of companies stated they had seen a reduction in their mis-hire rate, with 44% reporting a decrease of more than 25%.
What's more, adopting a skills-based hiring approach can lead to faster vacancy fulfilment or a more streamlined and efficient hiring process. Companies can efficiently evaluate and prioritise applicants based on their quantifiable skills through early candidate assessment.
And once they have employees that feel they are contributing in a meaningful way, this alignment of skills and job requirements also leads to increased job satisfaction.
#3 Improved employee performance and productivity
Simply put, improving job performance is key to professional development and career growth. Companies hiring based on skills are more likely to find candidates who strive for excellence in all aspects of their work. Meeting or exceeding performance goals, demonstrating a strong work ethic, and seeking opportunities for improvement are some of the many qualities highly skilled employees often bring to the organisation.
This contributes to improved employee performance and productivity, ultimately resulting in better business outcomes.
#4 Higher retention rates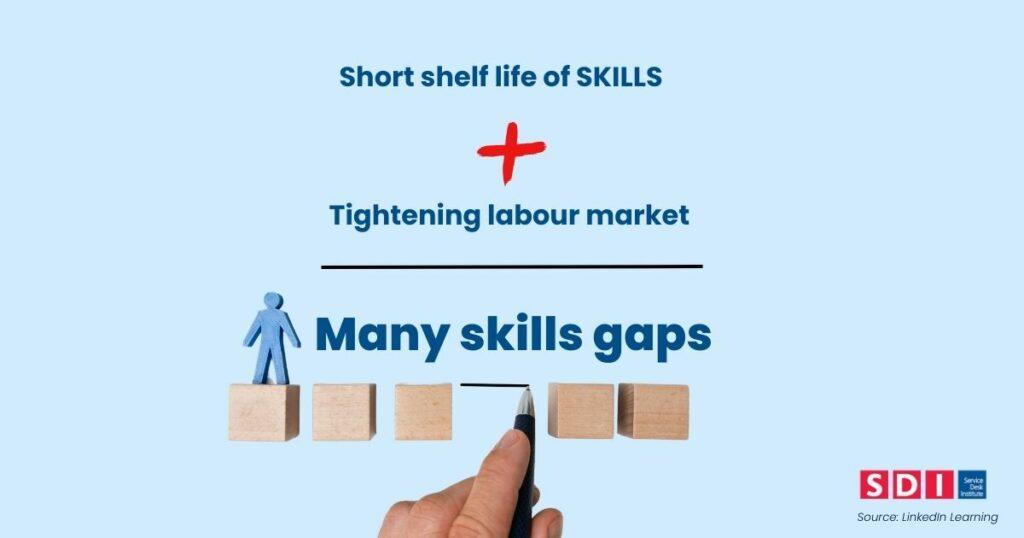 According to LinkedIn research, when you have a tightening labour market combined with a short shelf life of skills, there is a higher chance of mismatch and skills gaps. With skill-based hiring, organisations are ensuring they can fill the key positions and hold onto their best talent in the long term.
"Hiring for skills is five times more predictive of job performance than hiring for education and more than two times more predictive than hiring for work experience." – McKinsey
#5 Improved Company Culture
When it comes to hiring the right candidates for the company, it's about more than just finding someone with the right skills for the job. It's also about finding the right fit for the company culture. Skill-based hiring can foster a sense of community and collaboration within the workplace. When employees are placed in roles that suit their abilities, they are more likely to feel that they are part of a team working towards a common goal.
Common Challenges in Implementing Skill-Based Hiring
With benefits that it brings in clear view, one of the big questions on the tip of every HR manager's tongue is how to best implement skill-based hiring. And even more importantly, how can you overcome some of the common challenges?
While it can be a powerful approach for building a talented team, there are some challenges that need to be overcome. One of the biggest challenges of hiring based on skills is accurately identifying the skills that are necessary for the role.
Another challenge is ensuring that potential candidates are tested for those specific skills during the hiring process. When evaluating a candidate's real abilities, traditional hiring methods like resumes and interviews can be unreliable. To get around this, you can use skills-based assessments and simulations to get a more accurate picture of a candidate's skills and how they would do on the job.
In summary, companies can maximise their talent acquisition efforts by shifting their focus to skill-based hiring. They can also boost productivity, diversity, and creativity by looking beyond academic credentials and qualifications and instead prioritising a candidate's actual skills and experience.
Recruiting through SDR can take the pain out of the recruitment process, and furthermore, your employee can continue the training and development with a range of SDI courses.

📩 Email 

[email protected]

 today for more information.