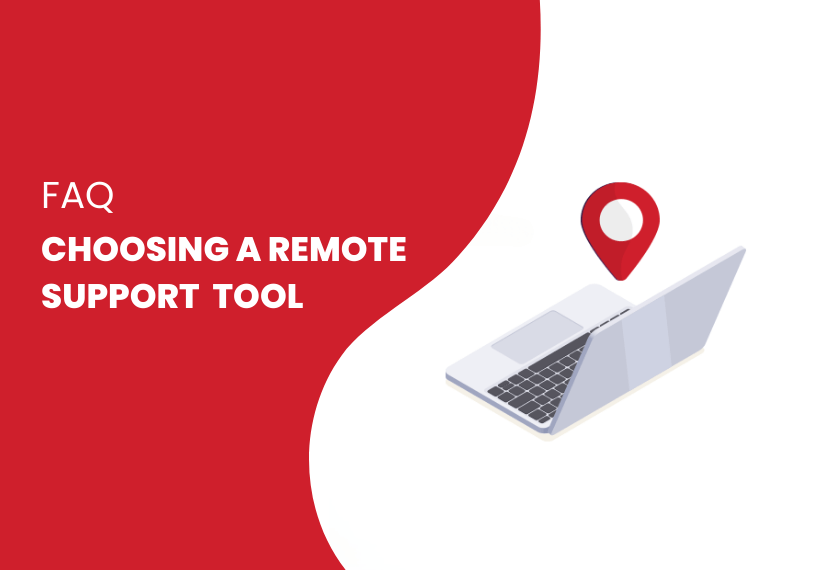 Remote support tools allow businesses to provide remote assistance to customers, clients, and employees from any location. However, with so many tools available in the market, choosing the right one can be challenging.
To help you make this decision, we'll answer some of the frequently asked questions about remote support tools in this article. So, let's dive in!
#1 What is a remote support tool? 
A remote support tool is a software application that allows a technical support agent or administrator to remotely connect to and operate a device over a network or the internet for access, administration, collaboration, and troubleshooting.
By utilising a remote support tool, support technicians can effectively diagnose and troubleshoot technical issues, perform software installations and updates, configure settings, and offer training or guidance to end-users without physically visiting the end-user location.

#2 What are some common uses of remote support tools?
Remote support tools can access any device connected to a network or the internet running Windows, Mac, Linux, iOS or Android – from anywhere.
They are a comprehensive solution for all your remote access requirements. They can be used for things such as:
Remote access
Technical support
Remote administration
Collaboration
File transfers
Screen shares

#3 What are the biggest challenges or risks of remote support?
Although most of the quality solutions on the market offer robust security, it is important to keep in mind some of the challenges and risks associated with using these tools. It's important to weigh these risks and choose a remote support tool that is reliable, secure and compliant with the organisation's regulatory requirements.
Some of these challenges or risks include:
Security & privacy risks: From the risk of unauthorised access, business data breaches, and personal data breaches to malware infections – if the tool is not properly secured or not correctly set up, these risks are high.
Performance and connectivity issues: There is a risk of having performance and connectivity issues that could impact the connection quality and the performance of the support you provide.
Remote user assistance required: It's important to remember that you would need to cooperate with users as their assistance may be required. However, if you have to deal with people who aren't always available or who aren't very technically savvy, this might be a challenge.
Complexity: If an organisation has limited IT resources, it can be very challenging and complex to configure, operate and maintain a remote support tool.
Not all operations are always remotely manageable: Sometimes, it can be challenging to predict what operations are entirely remotely manageable and which may still require the on-site presence of a support technician.
Costs and scalability:

Some of the remote support tools can be out of your budget, making it difficult to find the right affordable and scalable tool.
#4 How secure are remote support tools?
A good remote support tool should have robust security features such as two-factor authentication, encryption, secure communication protocols and secure data transfer.
Make sure you carefully evaluate the security features of the remote support tools you plan to use and adequately configure and use the tools to minimise the security risks mentioned above.
If you want to increase the security of the remote support tool, here are a few questions you should think about:
How is the tool configured and deployed?
What's the security of a remote computer?
Is the network properly secured?
Are you using Virtual Private Network (VPN)?
Do you have access and monitoring policies in place?
Are you doing regular maintenance and updates?
In general, choosing a single platform for remote support can help you better manage security risks. It can ensure that all remote support sessions are secured and encrypted, reducing the risk of data breaches or other security incidents.
For example, Atera's Network Discovery performs ongoing scans that can help you avoid blind spots by detecting unauthorised devices automatically and generating an updated inventory of any device connected to the network.

#5 What's better to use, a cloud-based or on-premises remote support tool?
Cloud-based remote support software is generally easy to set up, requires less IT knowledge to operate and configure and is usually more intuitive for users.  If you don't have a large budget to spend, but you want to have the ability to connect to a remote device anytime and anywhere, this could be a good option for you.
On-premises remote support software must be accessed on the host device. This solution is mostly used by mid-sized to large organisations as it's highly customisable and can handle unique and industry-specific configuration requirements.

#6 How do you choose the best remote support tool?
The best remote support tool for you will depend on your specific needs and preferences. It's essential to research and carefully compare different options before making a final decision.
Here are a few things to think about:
Compatibility: You should ensure the tool is compatible with the devices and operating systems you and your team use.
Key Features: Consider the specific features you need, such as screen sharing, chat, file transfer, and remote control.
Security: Make sure to choose a tool that provides secure connections and protects sensitive data.
Upgrade options: Make sure you have the option to upgrade to another version of a tool that will support your future requirements.
Connections: The ability to manage connections to multiple devices simultaneously
Customer support: Consider the vendor's level of support in case you have any questions or issues.
Free trial: If possible, try a risk-free evaluation period to see if the tool meets your needs before committing to a purchase.
Cost: Make sure you are getting a reasonable price for the functions included.
If you're looking for a single platform that can provide all the necessary tools and features required for remote support, such as remote access, chat support, file transfer, and more – an all-in-one IT platform is a great option. There are many solutions on the market that are built to make your life easier.
Atera's all-in-one IT platform is one completely cloud-based solution that includes common requirements such as automation, remote monitoring and management with helpdesk features, automated patching and more.
Atera aims to help teams collaborate more effectively. It can provide features such as screen sharing and remote control, which can help teams work together to resolve issues faster and more efficiently.
Overall, it can help you provide faster and more effective support to your customers. This can lead to higher levels of customer satisfaction and retention.
Discover other solutions inside the SDI Remote Support Tool Guide.

#7 Can a remote support tool be used on mobile devices?
It's important to note that not all remote support tools support mobile devices. However, many can be used on devices such as smartphones and tablets.
Some of the solutions in the market that offer this type of support are TeamViewer, ZohoAssist, Dameware Remote Everywhere, LogMeIn Rescue and many more. So, before making a buying decision, make sure you check this with the vendor to ensure that the tool you are considering supports it.

#8 What are some best practices for using remote support tools?
If you have just started using remote support tools, one of the first things is to make sure your employees are properly trained in how to use the remote support tools. Most companies today offer onboarding to introduce you to the tool and help you start your journey.
And this step should not be ignored!
For example, as a part of onboarding to the Atera platform, you can go through walkthrough webinars, take quizzes and go through the steps to install your first agent, set up the helpdesk, and even get tips for admin and reporting, and more.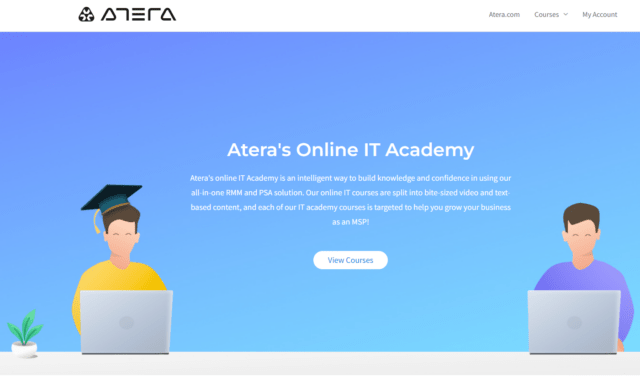 Here are some best practices for using remote support tools:
Ensure the remote support tool you choose is secure and adheres to the standards and regulations of the industry.
Effective communication is key to successful remote support. Communicate with your users, explain what you are doing and why, and provide updates on the progress of the support session.
It's always good to keep track of your sessions and use them as proof if you need to e.g. if needed, you can provide session recordings as feedback for customers.
Update and maintain your remote support tool regularly to ensure it is always safe and has the most recent features.
Take steps to verify the identity of the customer and the device to be accessed.
Set up clear rules and protocols for remote access to customer devices.
Don't forget to use the tool's built-in security features, such as two-factor authentication and encryption.
By following these best practices, you can ensure that you are using a chosen remote support tool effectively and securely and that you are providing the best possible support to your users.

#9 Are there any free trials or versions of remote support tools available?
There are many remote support tools on the market with different licencing approaches. While most of these tools are not entirely free, they often offer free software trials or demo versions.
For example, Atera offers a 30-day free trial with no credit card required. This means that you have 30 days to explore the tool and absolutely everything that it has to offer you. ISL Online offers a 15-day free trial with all features included. Whereas other tools such as TeamViewer, Rescue, RemotePC and SolarWinds Dameware offer anything seven days to two-week trials, allowing you to explore various features.

If you want to find out which tools from our recommendation list offer a free version – check out SDI Tool Selection Guide.