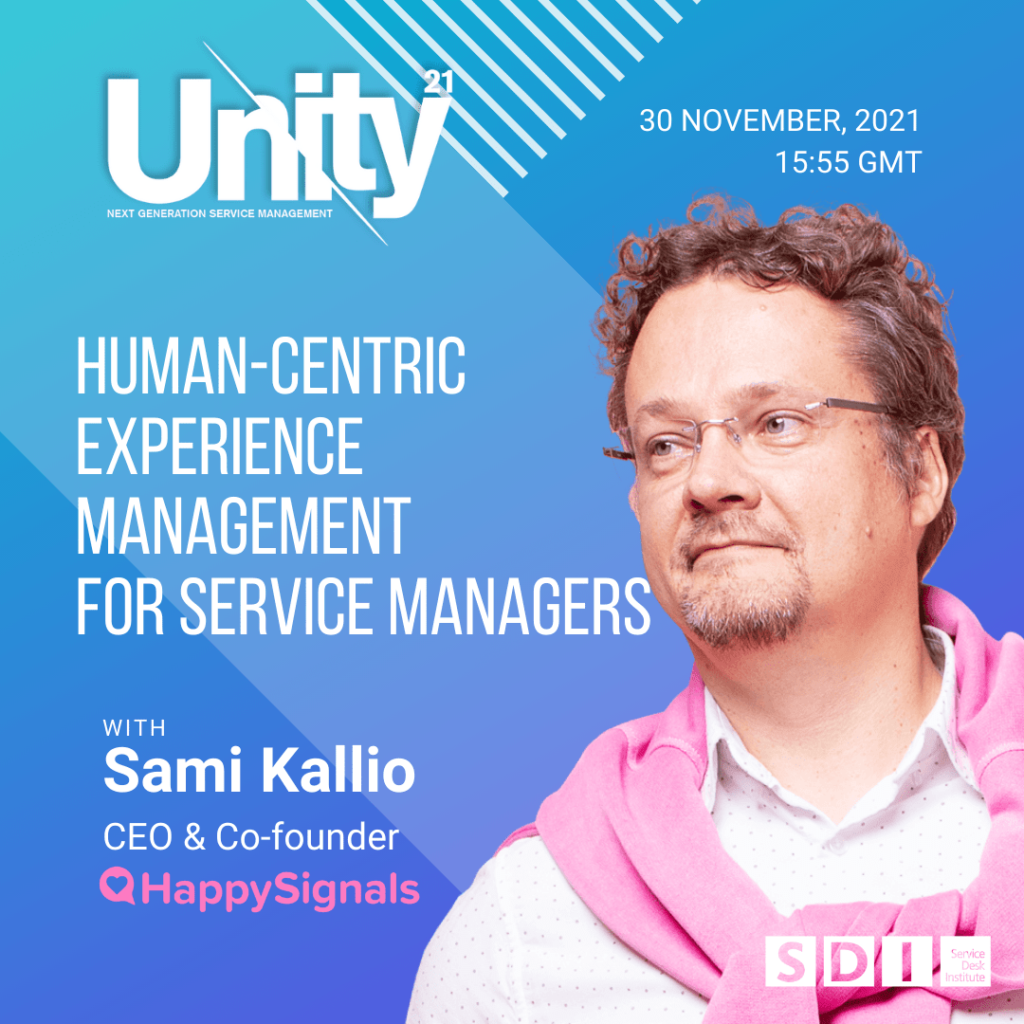 by Sami Kallio
You know the drill by now otherwise you wouldn't be reading a blog about enterprise service management – IT service management (ITSM) capabilities can be shared with, or extended to, other business functions to help improve their operations, services, experiences, and outcomes. It's a great concept for employees because while it might drive business efficiencies, employees benefit too – from the consistent approach to service and support to the focus on improving the existing business function operations.
There's a "but" though. In that, the anticipated improvements in business function operations, services, experiences, and outcomes are dependent on the quality of the shared ITSM capabilities. Such that if there are issues with what IT currently does, especially from an employee experience perspective, then these are likely to be carried over to other business functions (although they might have a different level of impact on employee happiness and productivity). Plus, there are likely different business function perspectives on the need for improved employee experience – from human resources (HR) and its likely focus on employee engagement (which is driven by employee experience) to the corporate Security team, say, which might not currently factor the employee experience into the execution of its corporate responsibilities.
Recognizing the relationship between experience management and enterprise service management 
Despite the potentially different views on the importance of employee experience, there's an initial need to at least get everyone on the same page as to what employee experience is and why it's important before your organization can collectively address any employee experience issues and their adverse impact. 
Only in doing this can your organization truly deliver on the benefits of enterprise service management – it's a symbiotic relationship where experience data helps to deliver better service management capabilities and enterprise service management helps to deliver better employee experiences (as well as increased efficiency) across the organization. This might read like a linear approach but, as with ITIL's continual improvement and HappySignals' IT Experience Management (ITXM™) Framework, it's a cycle that benefits from repeat iterations. 
So, while business functions might have already been educated in the enterprise service management approach and its benefits, there's also a need to create an agreed corporate view of what experience management means and why it's important.
Understanding what makes up the employee experience
A good place to start is with Jacob Morgan – a "4x Best-Selling Author, Futurist, & Keynote Speaker" – who uses the "Employee Experience Equation" where:
Employee Experience = Culture + Technology + Physical Space
Physical Space, of course, brings in the focus and capabilities of the corporate Facilities department, Technology sits with IT, and HR is likely responsible for the corporate Culture (and maybe employee experience). But how different business functions serve and support their colleagues plays a big part too – and a second view of what employee experience is was shared in an early 2019 Forrester Research blog. This stated that "Psychological research shows that the most important factor for employee experience is being able to make progress every day toward the work that they believe is most important. But when presented with this option, managers will consistently rank it dead last." 
So how does the Security team, say, impact the ability of employees to do the work they need to do daily? Notwithstanding any issues related to the team's focus on prevention rather than enablement, if the Security team, via the execution of an enterprise service management strategy, is adopting service management best practices from the IT organization, and the IT organization unknowingly delivers a poor employee experience, then this is likely to be adopted too.
But this assumes that other business functions, such as the Security team, understand the importance of the employee experience and the impact it has on productivity in particular.
Can enterprise service management tie employee experience together across the organization?
AXELOS research shows that the practice of enterprise service management is currently being driven by the need for process standardization and optimization, digital transformation enablement, and employee productivity improvement. All of which can be tied into employee experience improvement.
But – and it's worth me laying this out again – just because an organization has executed an enterprise service management strategy doesn't mean that the employee experience has been improved. For example, if current ITSM practices are "failing" in employee experience terms, then sharing them with other business functions isn't going to improve the employee experience they deliver. In fact, it could harm it. Subpar self-service capabilities are a good example of this.
However, if a corporate IT organization is already focused on improving employee experience, then there are the duals benefit for other business functions:
Insight into the employee experience delivered by the shared capabilities
The related improvements to date, in IT, can be shared across other business functions
Meaning that enterprise service management can be used to share not only a standard approach to service and support across the organization but also experience management.
Other business function teams are likely in a similar place to IT when it comes to employee experience
IT teams might be called out for being reactive rather than proactive – for example, by only dealing with issues once they're already hurting employee and business performance. They might also be called out for not providing the capabilities that employees both need and expect as the world moves on in its exploitation of technology for even the simplest of needs.
But IT teams are not alone in this, with other business functions likely "tarred with the same brush" when it comes to employees' perceptions. Some of this can be blamed on service-provider perspectives and behaviors. For example, HR teams might need to elevate their focus from "employees as resources" to better enable these employees and business operations and outcomes as a result. Or Finance Teams might need to rise above the numbers to understand how the work they do enables, or hinders, their colleagues in other business functions – do they make for better business, or are they making getting work done harder than it needs to be?
The same is true for every business function – so, not only should they be looking at how best to optimize working practices, which is where enterprise service management helps, but also changing their focus from what they do to what they achieve through what they do. Importantly, from the supplier perspective to that of the employees they serve and support.
It's time to bring employee experience management to the enterprise service management party
It's not rocket science, just simple logic. If experience management is needed to assess and improve IT performance, and ITSM capabilities are being shared across the enterprise, then the resulting improvements are also shared with other business functions. On the flipside, it's also potentially suboptimal to share ITSM capabilities with other business functions if there are unknown or overlooked issues – from an employee perspective – with these capabilities.
Once the benefits of experience management are being demonstrated in IT – whether related to improving ITSM practices or other aspects of technology enablement – then it's something else that can be shared via enterprise service management. Because enterprise service management isn't about imposing IT's ways of working or enabling technologies on other business functions, it's about better business operations and outcomes – with employees the best measure of success and key to identifying much-needed improvements. It's experience data improving enterprise service management success as part of that symbiotic relationship I mentioned earlier.
If you would like to find out more about adopting experience management in IT, HR, or any other line of business – perhaps as part of your organization's enterprise service management strategy –  then please join us on 30 November for the free to sign up UNITY conference where Sami will be speaking.