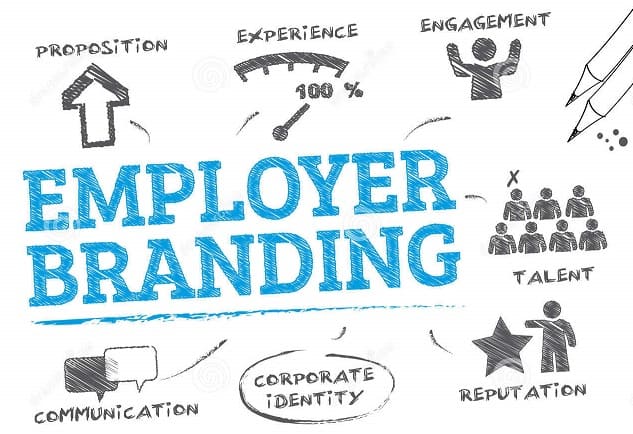 Is Employer Branding Important?
Unless you've been living under a rock for the last couple of years, you will have heard the term 'employer branding' bandied about and you may think it's just one of the latest buzzwords, or because it's about 'branding' it definitely falls under the marketing department's remit and is something to make your recruitment adverts look attractive.
The fact is that in the 'war for talent' Employer Branding is more important than ever.  It's a candidate driven market and your candidates have something very powerful: choice.  Employer Branding is that magic ingredient that will make a candidate choose your company above all others.
Employer branding is no longer associated solely with recruitment advertising, and should be seen as a key business tool. In order to access and engage with the best talent 2017 has to offer, you have to stand out. This is nothing new of course, but as the workforce is changing employers need to follow suit.
What is an Employer Brand?
Like the curate's egg, the whole is greater than the sum of its parts
It's a whole melting pot of image, perceptions, social presence, identity, emotional appeal and probably a sizeable sacrifice to the Gods of employer branding that makes a company appealing. The professional body for HR and people development, CIPD, describes an employer brand much more succinctly:
'…a set of attributes and qualities, often intangible, that makes an organisation distinctive, promises a particular kind of employment experience, and appeals to those people who will thrive and perform best in its culture'.
A strong employer brand should connect an organisation's values, people strategy and HR policies and be linked to the company brand.
Recent research has found that only about 51% of companies have a working employer brand strategy.
What are the benefits?
Great candidates look for authenticity. If your organisation doesn't practice what you preach, it is going to be easy for a good candidate (because all good candidates do their research!) to call your bluff.  95% of recruiters say that the candidate experience impacts on the employer brand – make it a positive impact
Present a meaningful, relevant job description
Shortlist and interview within as short a time frame as possible (you'll lose good people otherwise)
Be transparent about the process and stick to it wherever possible – avoid the temptation to add additional tests or interviews
Manage expectations, especially around timeline
Feedback is essential
Although an employer brand is not just for recruitment purposes –  it is indicative of your entire people management ethos.
Where to Start
In order to pull ahead, companies need to think seriously about their Employee Value Proposition (EVP).
Your EVP is unique to your company. Essentially, it is the special benefits an employee enjoys through being employed at your organisation. The best EVPs are those that other organisations of your type can't offer.
Not every company can be like Google and offer massage rooms and a slide, but you don't have to be.
Time for some introspection. What are the core characteristics of your company, the things that make you, you? Next, you need to decide if this aligns with the kind of individuals you are looking to attract. You need to appeal to these qualities in order to create an emotional bond with potential and current employees that will generate brand loyalty. Exit interviews are a good place to look for any missing links.
Remember: the Candidate is a Customer
This is something we've always followed as independent recruiters, not just because we believe it, but because the industry demands it. This view needs to spread to all aspects of the company.
I would go as far as to say that employees are customers because they are walking, talking advertisement for your company. This is another great reason why your employer brand should encompass your entire people management strategy.
"80% of talent leaders agree that employer brand has a significant impact on their ability to hire great talent" LinkedIn Global Recruiting Trends 2017
Employer branding is not just for securing the best talent; it's also necessary for retaining great employees and improving employee engagement.
Finally, here's how NOT to do it…read how this CEO destroys the company's employer brand in a single email.