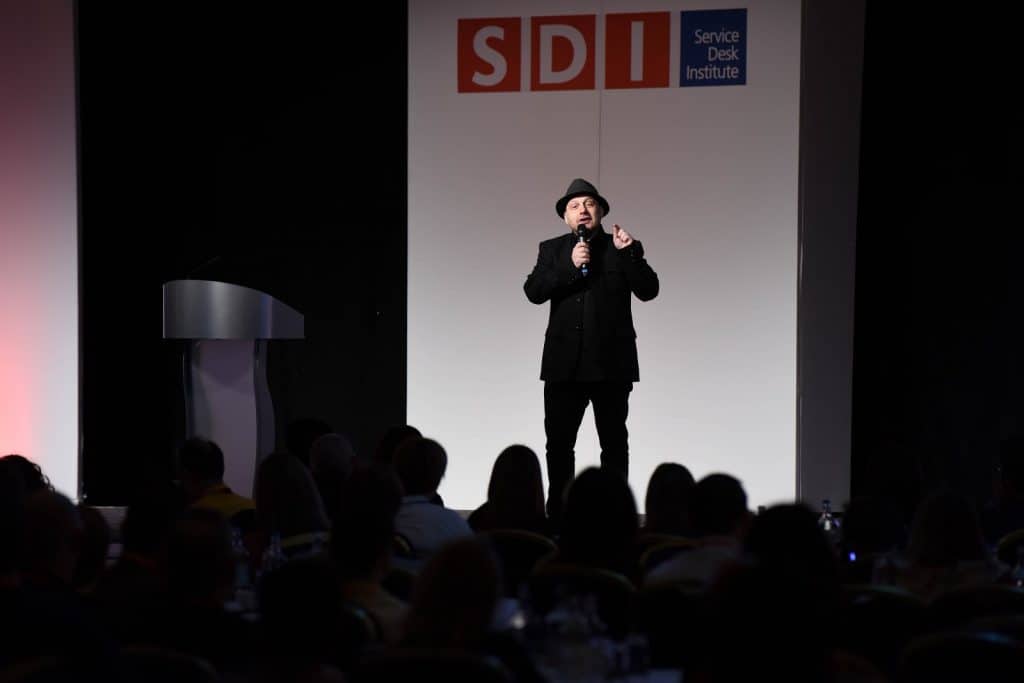 Guest blog post by Jon Morley, Head of Service Support at Dunelm
After being invited to attend the SDI conference for the first time, I was really excited for several reasons. Namely:
 It was in a different venue to where I had been before (not to mentioned closer to home, given it was in Birmingham)
A raft of speakers from key notes to practitioners
A chance to network with friends from ITSM circles, but also make new acquaintances too
Most importantly, to learn!
Day 1
(Tuesday from my perspective), started at frenetic pace with Nigel Risner taking over from David Wright and others from the opening pleasantries.
Nigel has a presence that I've rarely seen from keynotes before. He blends stand up comedy, audience interaction, and a very serious note about adapting ourselves to different people, to build relationships.
My highlights from the opening keynote included:
 Manipulating (in a nice way) the audience to follow his actual gestures, rather than what he asked. For example, he was holding his cheek, but asked the audience to touch their chins – naturally, they copied him, rather than listen to the instruction.
 Giving out free stuff, but not directing people how to get it. Naturally, the hands went up, but only one lady was "brave" enough, to walk up to the stage and help herself. Fascinating insight into how we stay in our comfort zones.
Adapting to the personality traits of the "visionary, single-minded lion"; "the playful, extrovert monkey"; "the careful, analytical elephant"; and "the caring, supportive dolphin".
After the keynote, and refreshment session, where I filled my "swag bag" of the obligatory key rings, pick and mix, and being "beeped" by the vendors.
I watched Scott Walker's insightful talk on remote support tools. Normally, I would expect to be bombarded with a sales patter, but this was far from it. He provided some really practical advice on how to leverage what you have already.
Next, I watched my good friend, Vawns Murphy, take to the stage talking about Rockstars (and change/problem management). Having watched, and having had the privilege of co-presenting with Vawns before, I was expecting the obligatory 'unicorns and fairy dust', blended with real world practical advice, and wasn't disappointed. Some really useful advice on how to make your processes work for people followed, rather than just sitting in an ivory tower.
I also took in enlightening talks from Stuart Beale, Dave Woods and Karen Taylor, before the ever colourful and legendary, Stuart Rance took on Metrics. Sage advice on not recording EPIs (Everything Performance Indicators) but relevant KPIs (Key Performance Indicators) were discussed.
Before, I – ever the controversialist – initiated a strong, cut and thrust of debate about how long tickets should remain open for. This went on for a good 5-10 minutes with a variety of opinions being shared about "3 strike rules" versus keeping them open indefinitely. In the end, we all agreed, to do what is right for your own organization.
Bennett Arron (pictured above) rounded off the day with a funny, and enlightening, talk about how he had been the victim of identity fraud. A tough story ensued about how no one from the police, banks or other authorities would take him seriously. However, he showed the fundamental flaws in their own practices, by pretending to be someone else. Hilarious but scary stuff, and this all happened before the digital age of Facebook, and social harvesting, really took off.
In between, talks on Day 1 and Day 2, I had a fun talk with Maurits Van der Plas from Van Haren Publishing about my VeriSM training (I was one of the first to obtain the certification) – check out our video below – be sure to stay to the end for a blooper!
Day 2
Sadly, I couldn't make the awards dinner, but Day 2 started off with the entertaining Geoff Ramm (who's book I won in the SDI Xmas competition – thank you Holly!). He shared a ton of anecdotes about how you take your customer service from one level to another, including the greatest "Cabin Crew Member of all time". This was just the tonic, especially for those delegates struggling with the hangover from the night before.
After raiding the pick n mix for a second time, I watched former SDI guru, Matt Greening's interesting talk about the "The Naked Service Desk". There was no nudity, but plenty of skeletons in the closet that many of us could relate to. Matt's sage advice ranging from strategy and tooling, to building and retaining the right talent, struck a chord with the audience.
I also took in Mark Dickinson's talk on Problem Management, and Charlotte Sweeney's closing key note, before I had to catch my train, and wave goodbye to the SDI18 conference.
In conclusion, this is one of the most enjoyable conferences I've attended. I attended, and spoken at a few around the UK and Ireland for similar organisations in the past, but few have come close to the buzz at this one. Two wonderful things that stood out for me were:
1. there was considerable mixture of age groups, with some literally stepping out in the employment world, to those in the twilight of their careers. The interaction and shared learning was great.
2. there was a real effort to engage with, and celebrate, Women in IT. I've worked with many great male and female leaders, but this was one of the few occasions, where I've actually seen an all-female panel share great ideas, and advice, for getting more ladies into IT.
Thank you SDI, can't wait for the next one!
And we can't wait to have you back next year Jon! Tickets for #SDI19 are now on sale here.