Thought Leadership and Industry Analysis – "A View From The Frontline"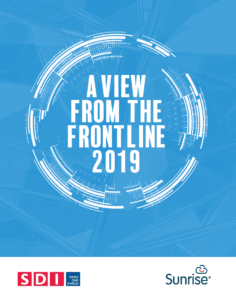 In this unique SDI industry insight report, you will find results and benchmarks from hundreds of service desks across the globe. SDI is in the privileged position of being a community hub for IT service professionals and this enabled us to survey the global community and take a snapshot of the industry.
This report looks at what service desks benefit from – and struggle with – in terms of their ITSM tools, their vendors, and their innovation and transformation.
The data trends from this series of reports – it also ran in 2015 and 2017 – highlights that Digital Transformation is at the forefront of the minds of many organisations. With access to innovative technologies now at the fingertips of many service desk professionals, the research shows that the industry has undoubtedly developed exponentially over the last few years.
The key findings of this report show that service desk focus points are centred around technologies like self-service, automation, AI, chatbots, and so on. Other topics like Enterprise Service Management (ESM), methodologies and frameworks, and reporting functionalities also proving to be pertinent for service desk professionals in 2019.
Focus on automation, self-service and chatbots
75% of service desks indicate that automation is at the top of their priority list over the next 12 months

47% are still keen to success with self-service/service catalogue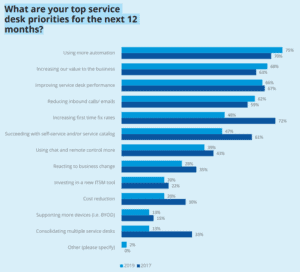 43% of service desks are looking to see improvements and innovations in the automation capabilities of their ITSM tool over the next year

41% would like to see self-service and chatbot innovation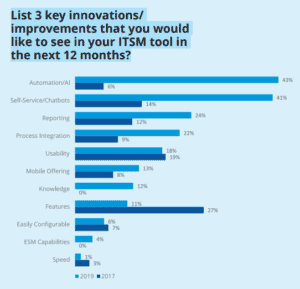 Reserve a seat at our next tool demo day focusing on the latest automation capabilities in ten of the industry's most popular ITSM tools: