How Artificial Intelligence capabilities are changing the landscape of service management.
Recent SDI research shows that 65% of service desks expect to be investing in some form of virtual agent, chat bot or Artificial Intelligence technologies over the next two years. What will this mean for those working in IT services and support, their customers, and the industry in general?
In this Coffee Break Series we talk AI with Frank Casale and Sam Gross, co-founders of ChoiceWORX, the intelligent automation solutions company that is reinventing the IT service desk.
In a series of short video chats SDI's Chief Value Officer David Wright talks to Frank Casale and Sam Gross about common trends within AI, the advancement of intelligent automation, and the key challenges that IT service teams and organisations must embrace to thrive in 2021 and beyond.
We'll add a new video each week, so don't forget to check back here to watch the latest epsiode!
Part 1: Getting to know Frank Casale
Part 2: Outsourcing to AI, digital labour and labour arbitrage
Part 3: Reinvention, disruption and intelligent automation; what's happening in the industry right now?
Part 4: Cheaper, Better, Faster
Part 5: Getting to know Sam Gross
Part 6: The Role of the Chief Technology Officer
Part 7: 'Impedance mismatch'
Part 8: 'The Holy Grail of Technology'
'Transforming End-User Service And Support' Whitepaper
A select panel of ITSM and technology experts were interviewed about how the service desk function has evolved over the years, focusing on the changes we are seeing and expect to see now that artificial intelligence (AI) has come to the forefront of innovation.
Their answers were collated in this Whitepaper to help you identify areas to focus on as you prepare your service for success in the age of intelligent automation. Request your copy below.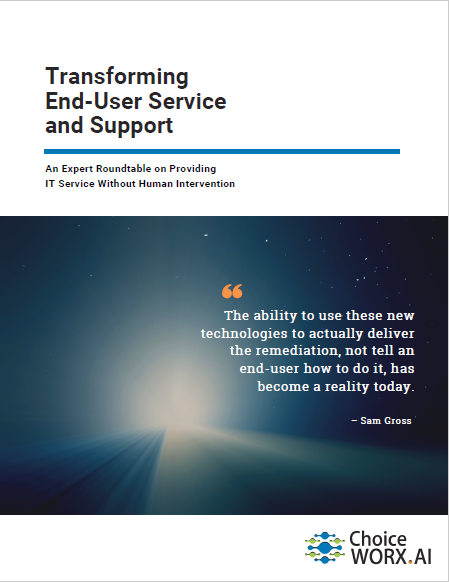 Download Transforming End User Service