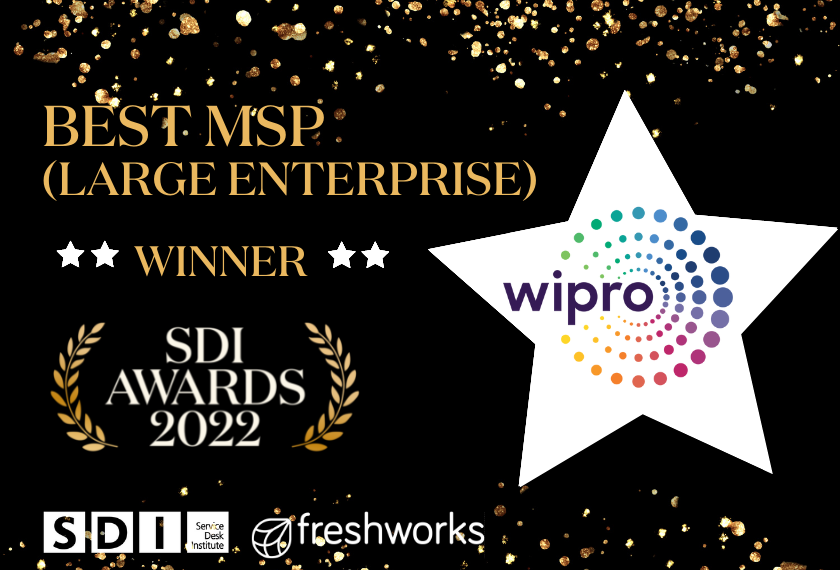 In the run up to the SDI Awards 2022 gala dinner and prize-giving on 22 March, we've been asking our finalists about their experiences, reasons for entering and hopes for the future. Here's the story from Wipro:

WINNER! Best Large Enterprise Managed Service Provider 2022
What made you decide to enter the awards?   
SDI offers a great platform to IT organizations and professionals to be the best in the industry. The annual IT Services awards conducted by SDI is a great opportunity for organizations to showcase their capabilities and get recognized. Wipro is a member of SDI, and we truly value the partnership. SDI awards are one of the most prestigious awards in the IT Services segment, and having been a winner in the 2019 awards, it an honor to be able to compete again with our peers in the industry.  
What part of the awards process did you enjoy the most?   
In general, the entire process of the awards. From the initial documentation submission to the judging rounds and the final connects, the entire process is transparent and riveting. To be precise, we really enjoyed the round with the judges and the discussions. The judges were patient and yet curious about the content and provided insights and perspectives about the industry. The active engagement of the judges in the discussions made the participants feel comfortable. While the process is formally coordinated, it was highly informative and engaging for the participants.  
In the last 12 months, what has been the most successful initiative your team has implemented to help your business improve its performance?   
The creation of a "Digital Hybrid Workspace" for post Pandemic era business transformation.  
"Digital Hybrid Workspace" is a TM of Wipro which provides our customers the ability to work freely in a hybrid model without compromising on security. This new model synthesizes Wipro's concepts of Employee Centricity, Digital Enablement and Person Driven Landscape  
What are your top 3 tips to make a service desk successful?   
1. Focus on the basics of Service Desk principles. It's a service industry where talent management and nurturing is extremely important in addition to relentless focus on customer experience and processes. Implementation of best practices and SDI guidelines with focus on customer experience, people experience, platform excellence and speed of execution helps to run predictive and stable operations that is ready to support transformations at quality and speed for our clients and help them be competitive in their respective industries.  
2. As leaders, never hesitate in taking initiatives to connect with business. Often we draw inferences from statistics and parameters met successfully however it is important to engage all stakeholders to address the watermelon effect. There always make attempts to engage with business community, initiate Voice of Customer feedback exercises to know the pulse. This will always give you an upper hand in driving improvements that are directly relevant and impactful to business.  
3. Adopt to a changing landscape. Service Industry is changing rapidly and demands a greater adaptability from our work force. Focus on empowering your Service Desk with abilities higher that their levels and thus create a Highly Empowered, Engaging and Expert Service Desk. 
What one thing do you think really makes you stand out as a service organization?   
Wipro's organizational work ethics and our initiatives to give back to the community make us stand out as a service organization. We have been recognized as one of the world's most ethical companies to work for since a decade.  
How are you preparing to evolve your service desk over the next few years? Please share your most exciting plan with us!   
Hyper Digital Transformations in the space of End User Services with Person Driven Landscape and XLAs at its core. 

 

End User Service offerings are more centred around the concept of creating a digitally empowered Integrated Business Service Desk rather than the traditional IT Service Desk.

 

Our future service transformation initiatives will be focused on creating next level of business experience beyond service levels and KPIs. 

 
If you could choose any celebrity to work on your service desk, who would it be?   
None other than Kate Winslet  😊  
What does it mean to your team to be a finalist in the 'Best Large Enterprise Managed Service Provider' category?   
We feel an immense sense of pride in Wipro as an organization to be a finalist in the 'Best Large Enterprise Managed Service Provider' category. Wipro is an industry leader in Cloud and Digital service provider across the globe. Digital Workplace and Service Desk management for large enterprises has been our core service offering in managed services for years, and we take pride in what we have achieved. 
What advice would you give to anyone entering the awards next year?   
SDI is a great platform to demonstrate self and organizational capabilities. Please ensure that you participate and make full use of the opportunity. 
Focus more on demonstrating the capabilities and engaging with the judges in Q&A, in addition to relevant and sharp pointed information on presentation slides.  
What would you do to celebrate if your team won 'Best Large Enterprise Managed Service Provider'? 
It will certainly be a memorable evening for the entire team, as it is a prestigious category to win having also allowed us to demonstrate our capabilities as compared to our peers.  We will celebrate by recognizing every talent in the team who worked behind the scenes to make this a memorable campaign for Wipro's entry to SDI awards 2022, bonding us further in the united achievement.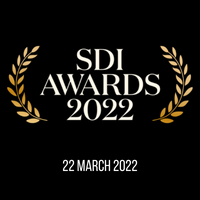 SDI Awards 2022 are sponsored by: