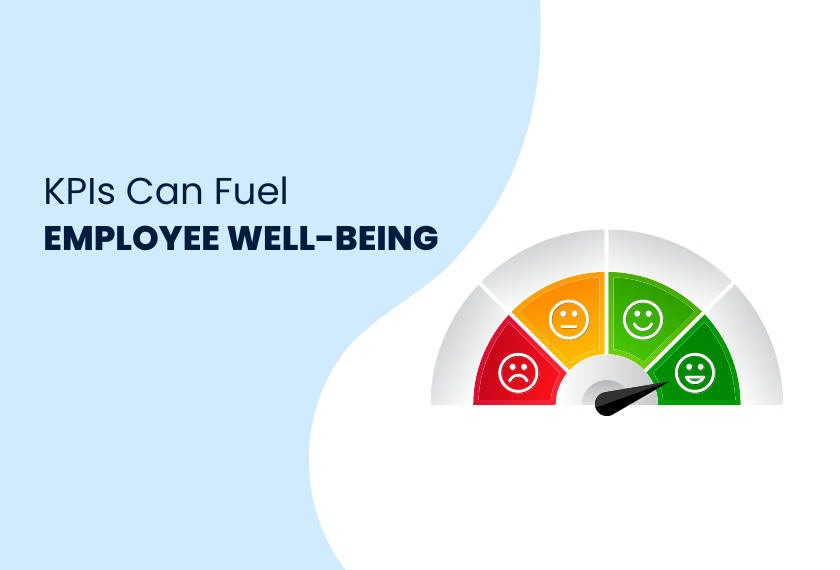 Success is often measured by KPIs, but when used correctly, KPIs can also enhance well-being and have a direct impact on achieving success instead of just being a measure. This is the third part of Daniel Breton's confession blog series, where he talks about the measures.
This blog completes my journey on metrics and how they can cause well-being issues. I highlight what you can do as a leader to protect your organisation, teams, and yourself.
I love metrics. Cough, let me rephrase that comment. I love indicators that let me know if I am on target to design, create, support, and improve an essential outcome for my organisation. Call them OKR or KPI, the central message is that they are KEY, and there can only be one KEY measure! You can only have multiple indicators if they are grouped by category or team.
If you want to learn from my mistakes, read my confession about the biggest KPI mistakes a leader can make.
As a technology professional and leader, I used to focus on budget, on time, improving service performance, supplier performance, risk and a few more.
Each category had a critical indicator that allowed my group to know if they were about to breach or reach a necessary measure to the organisation. In the first thirty years of my career, KPIs/OKRs were given to me, and I then gave the KPI/OKRs to my teams.
When I became involved with ITSM, DevOps, Agile and Lean, I learned that the best team indicators were those the team developed. Confusion (as shown by the brilliant image provided by friend and mentor Paul Wilkinson,) occurs when there is little clarity on the vision and more than one metric.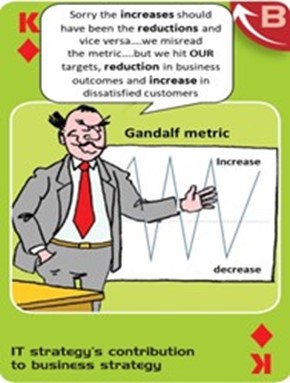 Best Team Indicators Are Those Developed by The Team
Think about it – the people doing the task know when it is going well. Not me as a CIO reading reports but the actual team performing the task.
My role is to explain the vision, purpose, and organisation measure of success. Their role is to create a way to know good, bad, or great performance levels against that explained measure. By-in and understanding lead to interested commitment.
The morning status meeting helps to decide what they need to achieve the organisational outcome. Any obstacles they cannot remove are escalated to leadership.
The following two quotes illustrate my views on metrics.
A parable is sailing where the captain knows the vision, and each crew member knows what determines how to meet his vision. If they have an issue, they escalate it to the captain.
The KEY is knowing how to explain the idea and creating a measure that matters.
Well-Being And Mental Health of Teams
Frankly, as I moderated my metric behaviour, I realised I hated being given my targets. All my peers wanted five 9s performance, but I required budget and time.
We had over a hundred Priority 1 requests from 25 departments that demanded them now or "the future of our organisation was at risk!". Really? Why are you asking IT to cut staff or reduce the training budget if it is that important? If we had an issue, my phone constantly rang, and AI in a service tool is not a friend as any peer or senior could derive our performance (failure) from the enterprise service management tool.
I suffered. My teams suffered. My supplier partners suffered. We were working flat out, and the organisation demanded more.
One day we had a catastrophic incident caused by a simple mistake. We resolved the issue within SLA, but the internal reputational damage was significant. Peers wanted all of IT outsourced and the individual terminated. I said fine, I'll go first and walked out the door.
I was angry, tired, frustrated, and bitter. A few hours later, calmer heads met to discuss the reality of IT.
We spent several days with post-it notes reviewing our workload. The scale of the mess was shocking, and it was evident that our leadership reports provided no clear indicator of reality. My peers and senior leadership apologised because they understood they had created the storm.
A Better Way to Communicate and Collaborate
We used a technique borrowed from Barry O'Reilly and Jeff Gothelf:
We believe (state the vision like "our bank will invest in benefitting from digital transformation")
This will result in (list no more than two things you want to accomplish. No more than two as this is just a hypothesis you are writing)
We will have the confidence we've succeeded when (list a measurable and agreed goal like customers invest in our new services or our new product portfolio increases our customer numbers by 30% in 3 years, no more than 3-5 of these)
We will monitor our progress on a (weekly, daily, and hourly) basis, and if we are missing the goal, we will (set defined actions).
Look at this carefully. This practice facilitates the discussion on WHY we want this, WHAT it will accomplish, and HOW we will know whether it is successful.
In your ITSM tool, you can create the storyboard below for each measure linked to a service. The aspect we focused on was what to do if we were stuck. The stress was still there, but at least we were all in the same boat.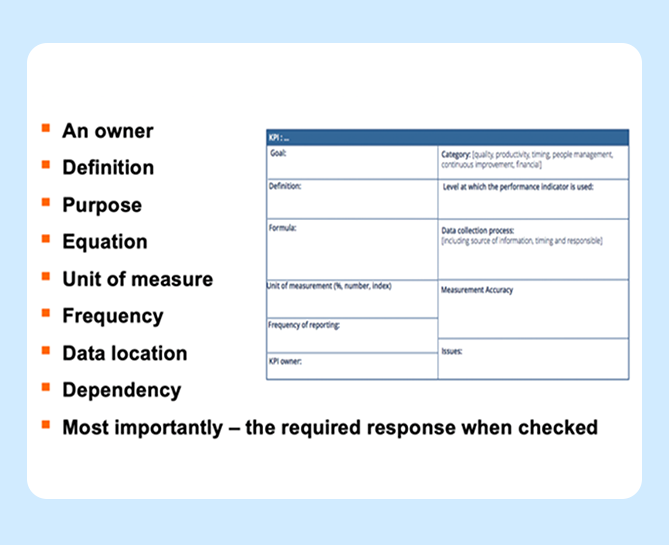 We added a measure of well-being based on assessments, sickness, tardiness, a change in work behaviour, and peer reviews. We also added a question to each meeting: Are you OK? Are you really, OK?
We then paused and allowed members to reflect, give a thumbs up, or request assistance. Having senior managers participate in this practice opened the door to changing our work cycle from designing, creating, testing internally, testing with users, deploying, supporting, and improving by adding the measure we called satisfied.
Are we satisfied with what we did? Satisfied was defined as creating something that we feel was made safely and that will not harm our consumers.
Are we happy with the outcome?
Digital Transformation Does Not Happen Overnight
The digital was easy. The transformation was a barn fight. It took running business simulations, like those from Gamingworks, training from Mind, and hours of discussion before peers and teams joined the revolution.
There was a lot of checking and renegotiating of the measures, the requests, the outcomes, and our new satisfied measure. The result was an incredible mix of peers and IT working closely together.
I am writing blogs based on over fifty years of experience in IT as a leader and senior consultant. SDI would like me to write about leadership language, team health and performance and how a leader can change their way of working. My question to you is: do these blogs matter? My measure of success is whether these are useful to you.
Please let SDI and me know by commenting or sharing the blog. Thank you, and stay safe, folks!
If you have a confession to make or want to share your success story or experience working in the IT or ITSM industry, please get in touch with us at 

[email protected]

. We'd love to share your story and help you connect with the SDI community!