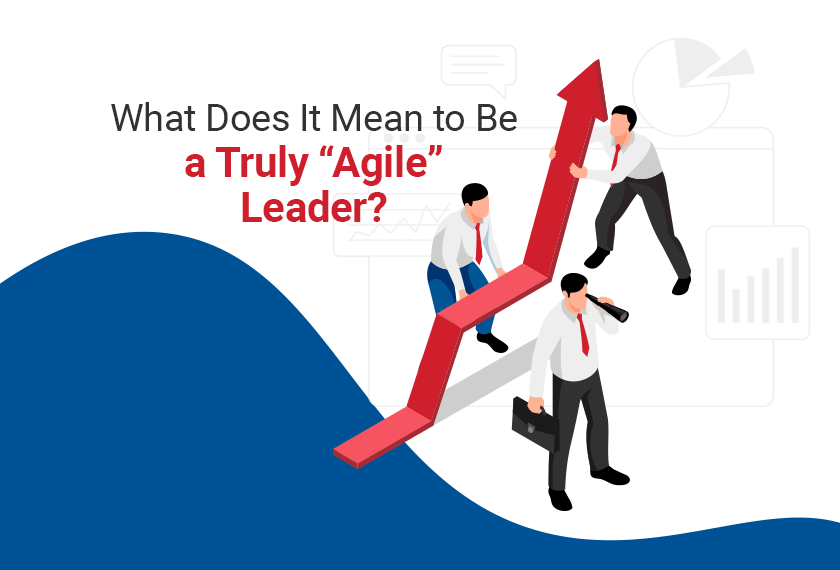 We live in a hyper-changing world! Just think about it, we went from the work in the office, formal meetings and the traditional 9-5 working hours to more flexible and agile working, hybrid working, and empowered teams. It almost feels like we have fast-forwarded the world of work for a few years.
With so many changes, today's leaders face a whole new set of expectations in how they motivate and lead people.
This article will focus on the main concepts related to Agile leadership: from Servant to 'Tight Loose Tight' leadership styles. We'll answer what does it mean to be an Agile Leader?

What does it mean to have an agile mindset?
Many organisations are transitioning or have already moved from a traditional, plan-driven culture where the ideas, solutions, and decisions come from one person — a leader. In those organisations, a more inclusive agile approach incorporates more brainpower and a wider group of business stakeholders.
Therefore, a different style of management is needed. However, if leaders are to lead and manage that change, then surely, they are the first people who need to change. According to McKinsey, this modern style of a leader should embrace four new roles: visionary, architect, coach, and catalyst.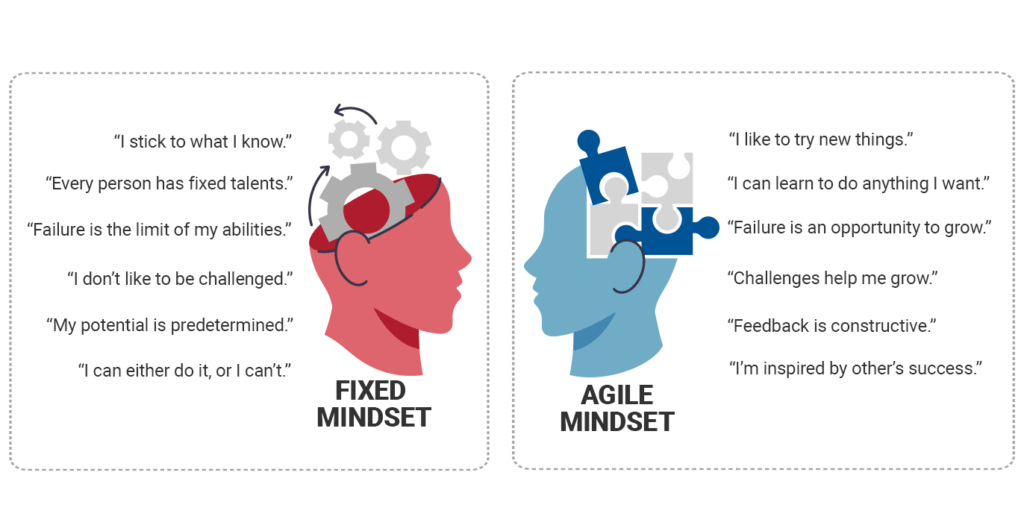 Scaled Agile, Inc. – Source
That's where the agile mindset comes in. Today's leaders have to be open to understanding the changes and making sense of what's happening around them. They should want to be more innovative and think more creatively when it comes to getting the job done.
Some of the most attractive benefits of agile leadership include:
Flexibility and adaptivity
Creativity and innovation
Lower costs
Employee engagement and loyalty
Customer satisfaction
Let's take a look at some of the modern leadership styles and their advantages and disadvantages.

Agile leadership
"This is all about having great leaders who can drive agile innovation and agile decision-making."

– Steve Ballmer
At its core, Agile leadership is not a system or method but an attitude or way of thinking. For instance, working with agile means shifting the focus. A great Agile leader supports teamwork, customer collaboration, employee satisfaction and flexibility.
So, rather than planning and documenting all the structures, and methods, an Agile leader recognises and accepts the level of uncertainty, and it's always ready for continual learning and unlearning.

Advantages of Agile Leadership

Extremely flexible. The agile leadership style works well with high levels of uncertainty that require a much more flexible and adaptive approach.
Engaged employees. By prioritising employee engagement and giving employees more autonomy, agile leaders build loyalty and supply more effective solutions.
Supports customer satisfaction. Agile leaders are focused on customer satisfaction and maximising the business value of solutions that support and deliver the customer's needs.

Disadvantages of Agile Leadership

Wrong approach and misconceptions. It's so easy to get the wrong perception of agile leadership. For instance, many people still think that agile only means Scrum. You could argue that Scrum is the most common framework that emerged from an agile approach. However, Agile is much bigger than that; it's about changing the mindset and being more open to doing things differently.
Not plan-driven. If a project requires a more traditional 'waterfall' plan-driven approach' to help a project manager move through the phases of a project, for example, Agile leadership may not be totally appropriate for achieving predictability over the outcome of a project, along with controlling the costs and schedule for achieving that outcome, maybe the most important factors.
Fear of failure. It can also be very challenging to scale an agile approach to large and complex projects.
Learning to unlearn. There is a need for additional training and adapting new skills. Why? Well, if you don't fully understand the principles behind agile leadership, there is a high chance that this approach will not be highly effective.

Tight loose tight leadership
One way to view this leadership style is as a practical and effective way to direct the way you work. There should be less management and more leadership with a 'tight, loose, tight' leadership style.
With this leadership style, leaders should have an open mind and have a "Consider this" approach.
This means that as a leader, you have to be tight on setting the expectations, understand clearly where you want to go and provide directions. However, at the same time, you should give the people trust and freedom to find the best way to get the job done. To make sure the project productivity doesn't slow down – do follow-ups on your team from time to time.
We can say that the success of this approach depends on the right balance of tight and loose leadership.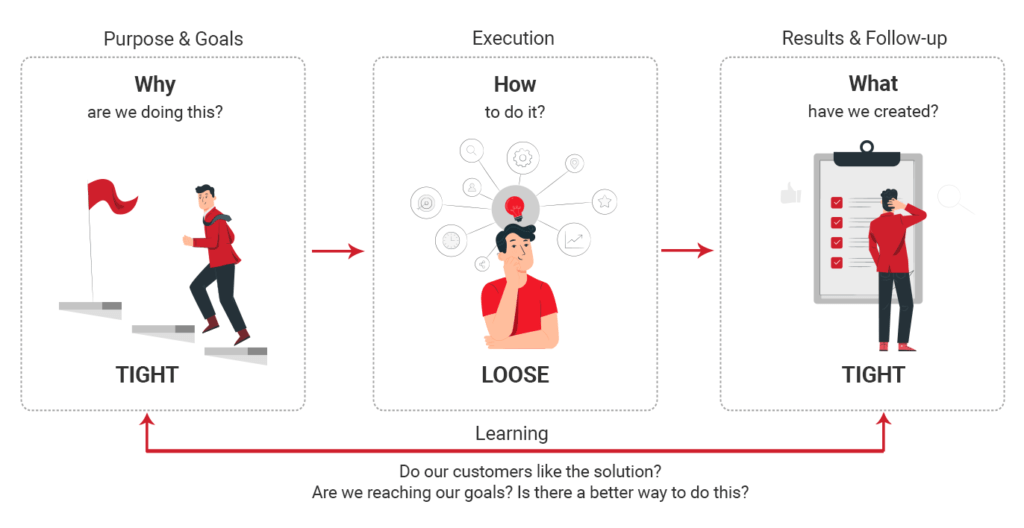 CoWork – Source
Advantages of Tight Loose Tight Leadership


Mutual learning. A Tight loose tight leader believes in running processes that allow learning and growth.
Empowering teams. The two key factors of this leadership style are supporting self-managing teams and value-driven leadership that focuses on the customer.

Disadvantages of Tight Loose Tight Leadership


The balance of control and chaos. Although setting up self-managing teams can be great for empowering people, there are many opportunities for mistakes and chaos. And for some leaders, it might be hard to stay away from the traditional Command-and-control management.
It might be hard to practice it. It might be difficult to implement if your employees haven't all made the shift in mindset and don't understand the change.
People with low resilience. Today's organisations require competent employees who can make decisions quickly and think creatively to solve problems. If the employees have low levels of resilience, they could find it challenging to navigate or recover from the changes that come with more agile leadership.
Servant leadership
"Servant leadership is more than a concept; it is a fact. Any great leader, by which I also mean an ethical leader of any group, will see herself or himself as a servant of that group and will act accordingly."

– M. Scott Peck
With the Servant leadership style, the leader puts the needs of the employees and team first. In fact, this leadership style is based on a holistic approach to work. This means that the leader is there to serve the people and not only the other way around. Servant leaders are more likely to ask, "How do you see it?" And, wherever possible, they put their full trust in team members while they focus on the big picture.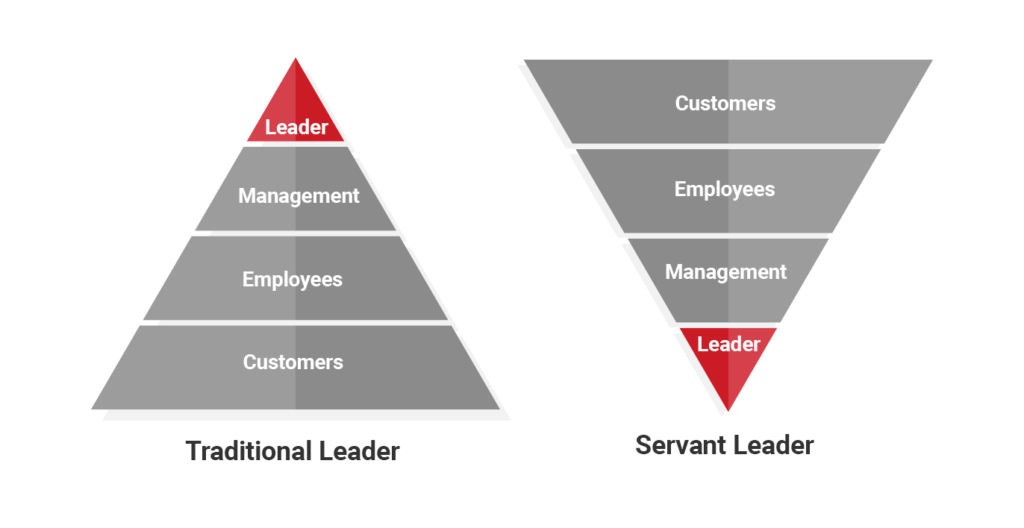 Advantages of Servant Leadership

"Out of the box" solutions. When it comes to maximising the team's creativity, this leadership approach is great. A Servant leader should be great at empowering the team as much as possible.
Building a community. The servant-leader is great at listening rather than giving orders and recognises the responsibility to nurture employees' personal, professional, and spiritual growth.
The big picture rather than self-interest. The servant-leader is focused on achieving long-term goals and should have the ability to think beyond day-to-day realities.

Disadvantages of Servant Leadership

Leadership Limits. If the team is very strong and capable, the role of the Servant leader may be limited to a facilitation role. If that is not the case, then the Servant leader may need a more active leadership role.
Staying on track isn't easy. This means having no major company policies around deadlines and processes that can result in a team losing sight of the organisation's objectives.
Start with the mindset of your leaders
As with any leadership style, there are certainly some things that are not perfect.
The bottom line is that no matter the leadership approach you choose, it needs to be approached with purpose. Many leaders and organisations state one style is better than the other, and some prefer a mix of different leadership styles. However, no one leadership style fits every situation. Each has advantages and disadvantages depending on the environment you're in.
"One thing is certain, though: The success of leadership comes through the mindset of the leaders."
Establish a system that promotes agility in execution and find a truly 'agile' leader. A leader that understands which approach is the best for the organisation and their people and knows how to listen and motivate them.

Written by:
Antonija Bozickovic
Content Creator at Service Desk Institute