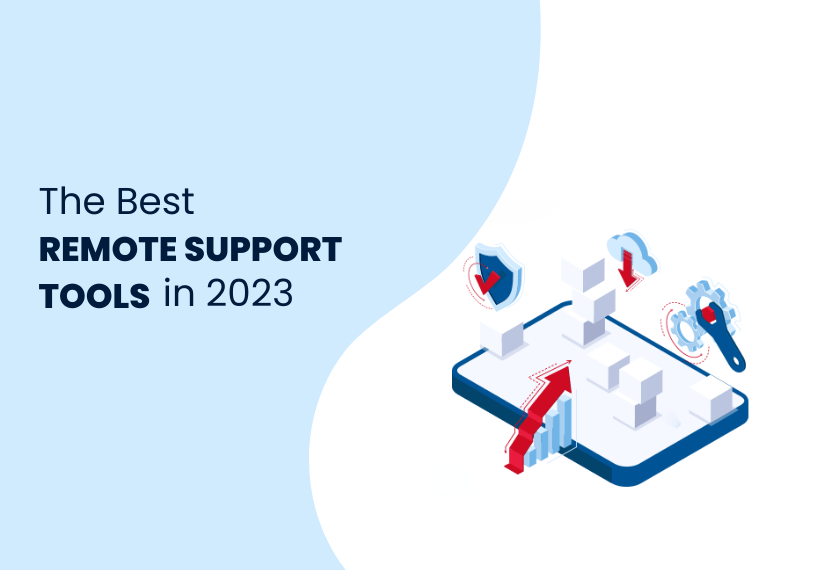 Having an issue explained to you is one thing, but seeing it in action is entirely different. Those of you who have tried to provide technical support over the phone know all too well how difficult it can be.
That's where remote support tools come in! In today's blog, we'll talk about remote support and share a guide with SDI's top recommendations for remote support tools and vendors!
So, let's get right to it…
Benefits of Using Remote Support Tools
A remote support tool is basically software that can connect to a remote client without configuring network settings or software installation. This means that IT support staff can control devices from almost any system connected to the web.
They can see for themselves how users work, how applications perform, and how the desktop looks. This helps them find and fix issues quickly and easily. Sounds great, doesn't it?
Some other benefits of using remote support tools include increased productivity and efficiency, reduced costs (service technicians' travel costs), better response time and quick resolution of customer issues.
So, without a doubt, using a remote support tool the right way can make a massive difference for your business.

How to Choose the Right Remote Support Tool
There are so many remote support tools on the market, many of which appear to have similar features or seem extremely identical. So how do you know which tool is most suitable for your business? How can you ensure you're getting the best product for your needs? What are its key features?
Before diving into our list, let's see what some of the basic capabilities of remote support tools are.
Most of the available remote support tools on the market have some of the following features:
Remote control and screen sharing
Secure file-sharing
Attended/ Unattended remote access
Transfer Session
Multi-Monitor Navigation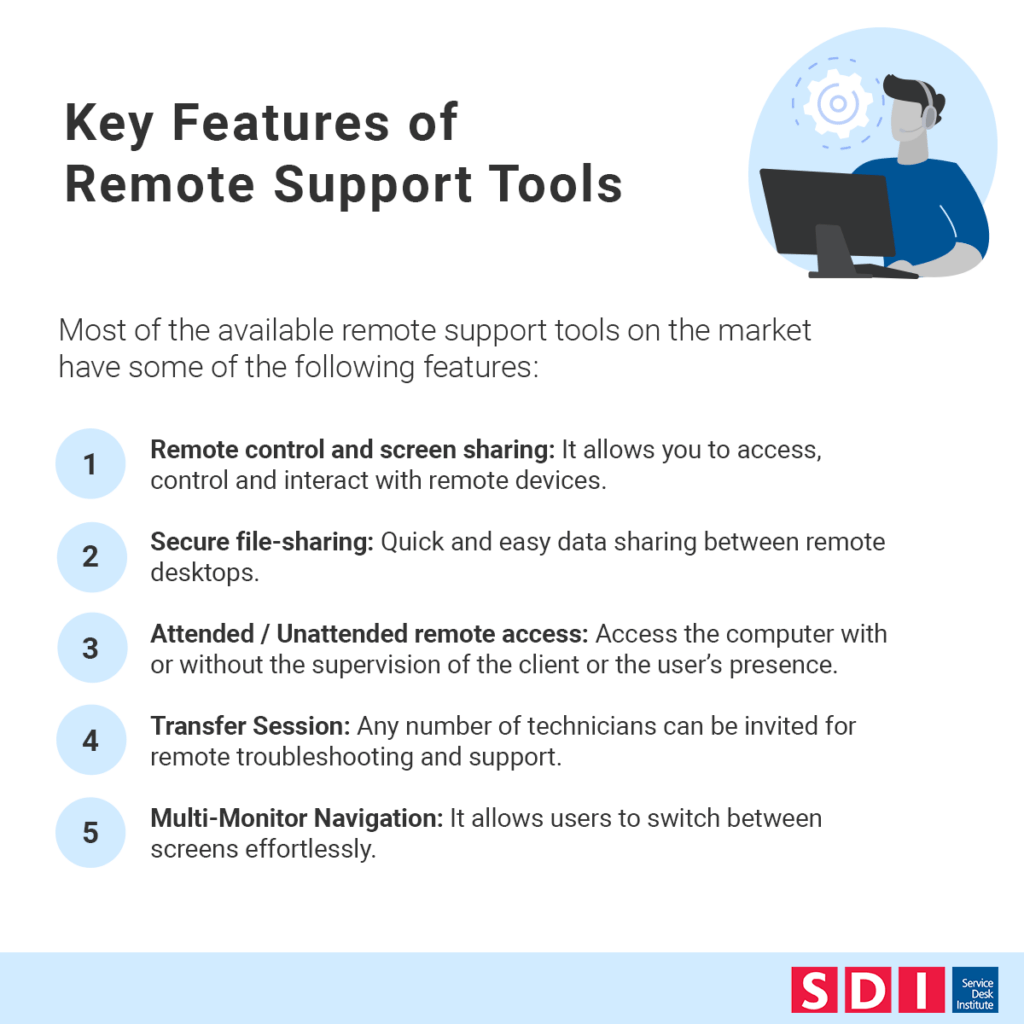 How do you know what to focus on when choosing the right tool?
When choosing the right tool, it is good to look at its basic features. However, sometimes they aren't enough to help you decide which tool to choose. In fact, people are now looking for more attributes.
They are searching for features such as automation, ease of use, self-service, customisation, and improved accessibility. This means it's no longer only about the technology, features, and functionalities. The focus is shifting to customer experience!
To help you with your tool selection, we've compiled a list of some of the best remote support tools on the market.
In the full version of our guide, we've provided information about featured vendors and answered some important questions:
What functionalities can each remote support tool provide?
How to identify the most important features?
SDI's key tips for selecting a tool
What is the availability and price for some of the finest market options?
… and more
The Best Remote Support Tools in 2023 and Beyond
It's important to personalise your decision-making process to fit your specific needs and requirements. This will allow you to make an informed decision that leads to efficient and effective support. 
Here's our list of recommendations for the best remote desktop software: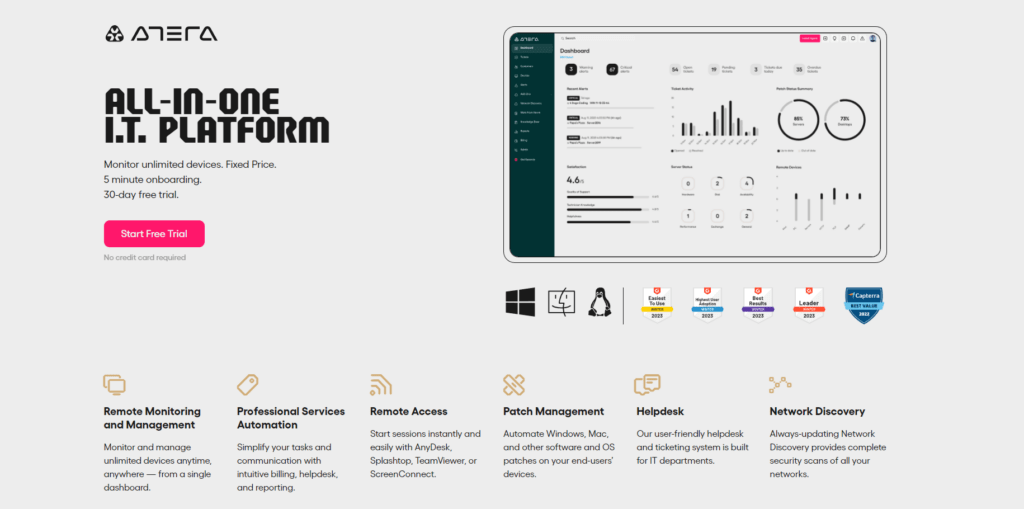 Atera is an all-in-one platform that provides IT professionals with remote access, network visibility, and device control to facilitate more efficient and effective operations. With IT automations, comprehensive reporting, helpdesk, ticketing, and hundreds of connections with your favourite tools all available in Atera – it makes it a great option for MSPs & IT service departments. Basically, with Atera, you can manage your entire IT operation!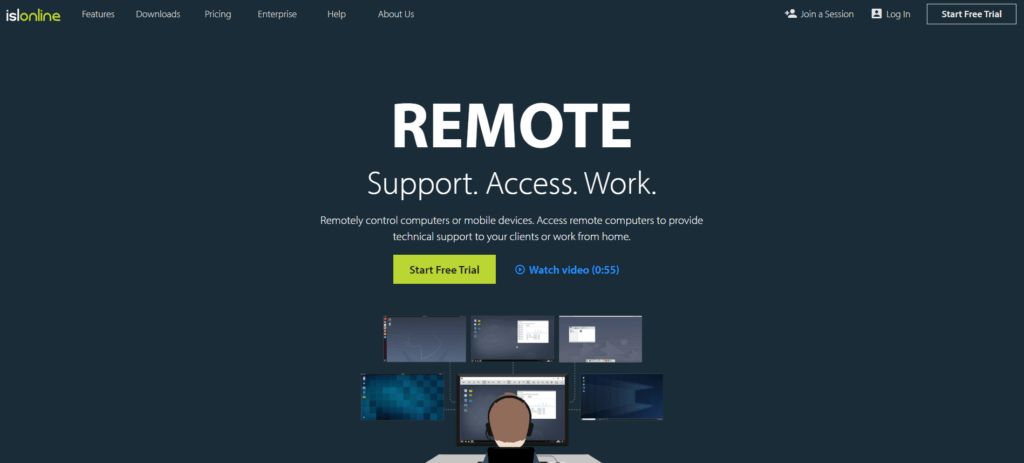 ISL Online is a cloud or on-premises solution that provides quick remote assistance with a unique licencing approach that does not restrict the number of devices or clients that can be supported. And you can also try it out for free.
It's a safe, adaptable, low-cost, and high-efficiency remote support tool developed with the specific needs of major businesses in mind. With its maximum-security features and unique licencing model, the ISL Online tool is trusted by IT companies of all sizes across different industries.
It's used mainly by large enterprises with strict security and privacy standards, especially in the healthcare, telecommunications, finance, government and education sectors.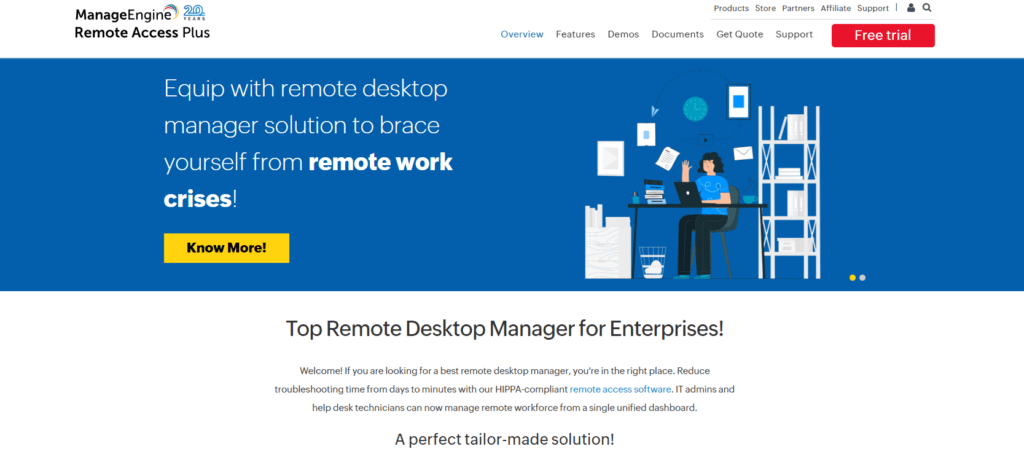 ManageEngine Remote Access Plus is a remote cloud-based solution that helps reduce troubleshooting time with swift and unlimited remote sessions, remote file transfer, automated system maintenance, and more. With ManageEngine Remote Access Plus, you can quickly connect to all the devices in your business network, allowing you to collaborate instantly with technicians and users and resolve issues quickly.
Whether you're an SMB or an enterprise organisation in finance, healthcare, education, or other sectors, Remote Access Plus is a good go-to choice for instant remote support and assistance. You can access this tool with a 30-day free trial!

TeamViewer 


TeamViewer is a reliable tool that provides a secure remote connectivity platform for accessing, controlling, managing, monitoring, and supporting any device – across platforms from anywhere. It's one of the best tools for shared meetings, web conferencing and monitoring, and it's popular with large enterprises. It's mainly used by remote support teams, IT management and for personal use.

BeyondTrust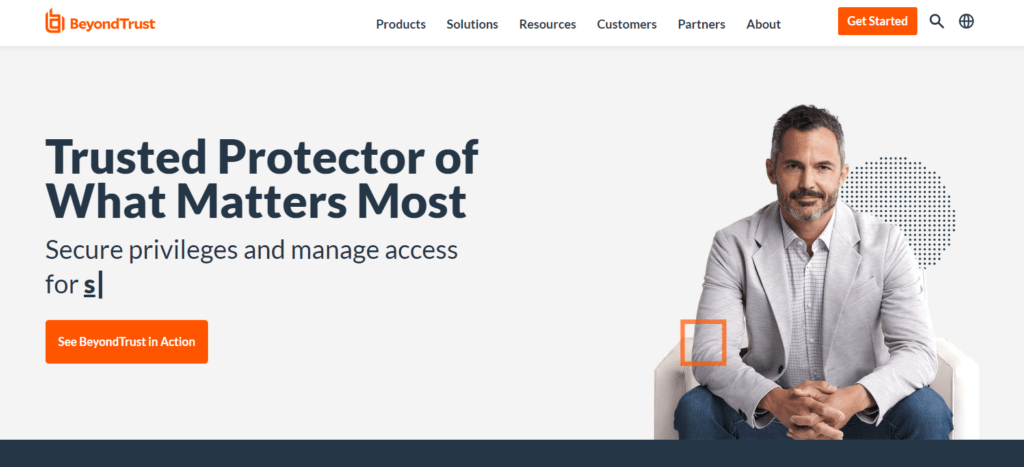 BeyondTrust is a remote support tool that offers pre-built integrations for the leading service desk, CRM, and systems management solutions. It serves all industries, but it's used mainly by big enterprises, including enterprise-level IT and customer support, who are looking for CRM options.

Splashtop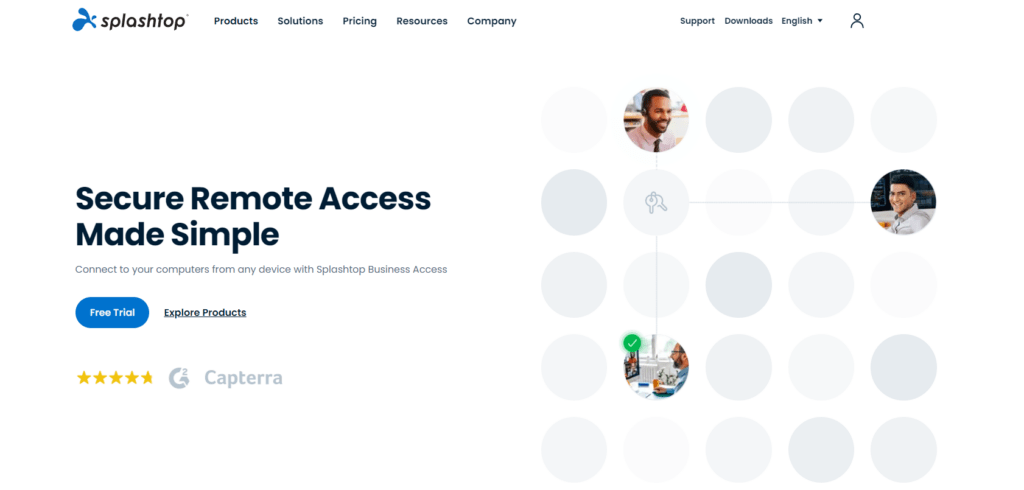 Splashtop is a great basic and low-cost solution for IT professionals, help desks and managed service providers (MSPs). It is designed to allow users to provide clients with remote access and remotely support clients' computers and delivers a robust set of features for MSPs. It's also one of the best tools for small businesses and personal use.

Rescue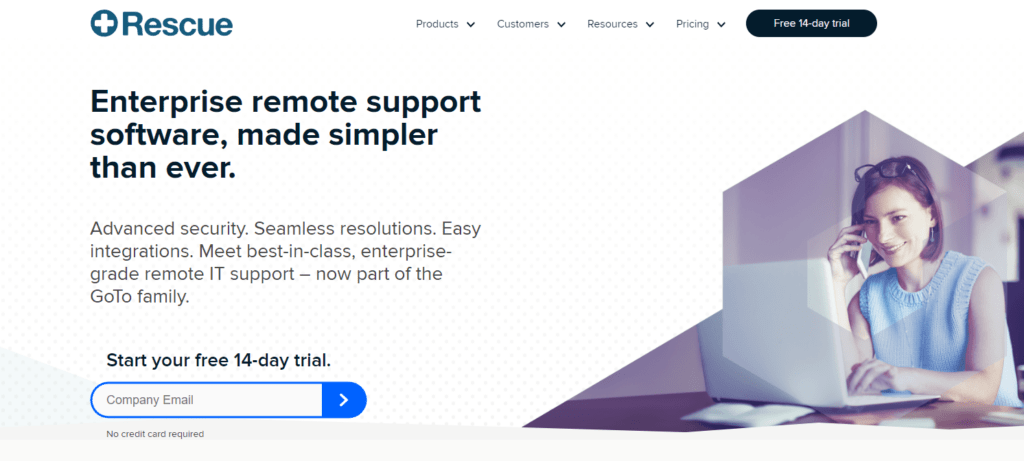 Rescue is a powerful and user-friendly remote support solution that provides technical support to your staff, customers, or both using a fast, dependable, and flexible system. It's mostly used by Internal IT, MSPs, Professional Helpdesks, Customer care, and Tech Support organisations. Best for large businesses and enterprises.

Anydesk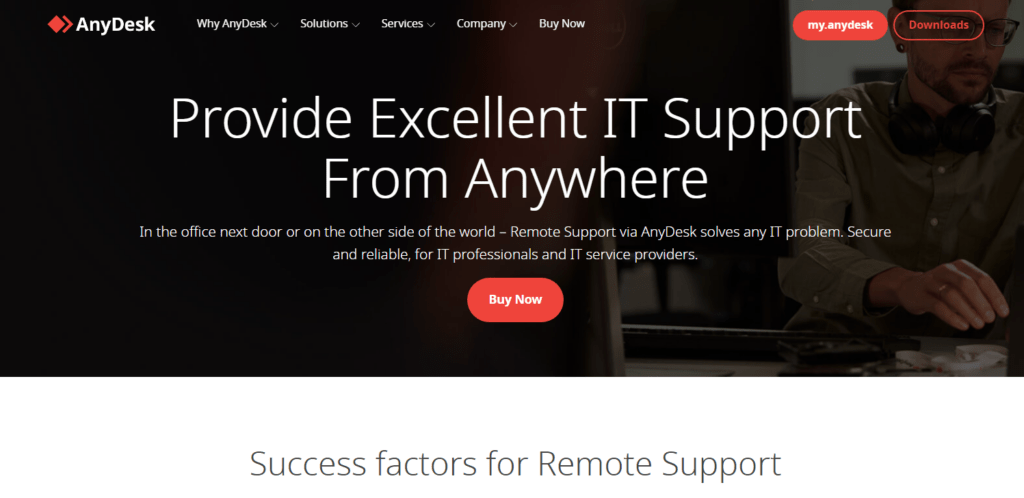 Anydesk is a software that offers a fast, easy, and secure solution for Remote Support, Remote Access, and Remote Work. Anydesk has a very smooth and easy-to-use interface, and it's being used by companies of all sizes. At the same time, its free version is popular with personal users.

Zoho Assist 

Zoho Assist is another great solution for remote support, screen sharing and unattended access that requires no prior installation of any software and can be entirely run-on browsers. Zoho Assist is made for small businesses and is an excellent remote tool for small and cost-conscious organisations.

Remote PC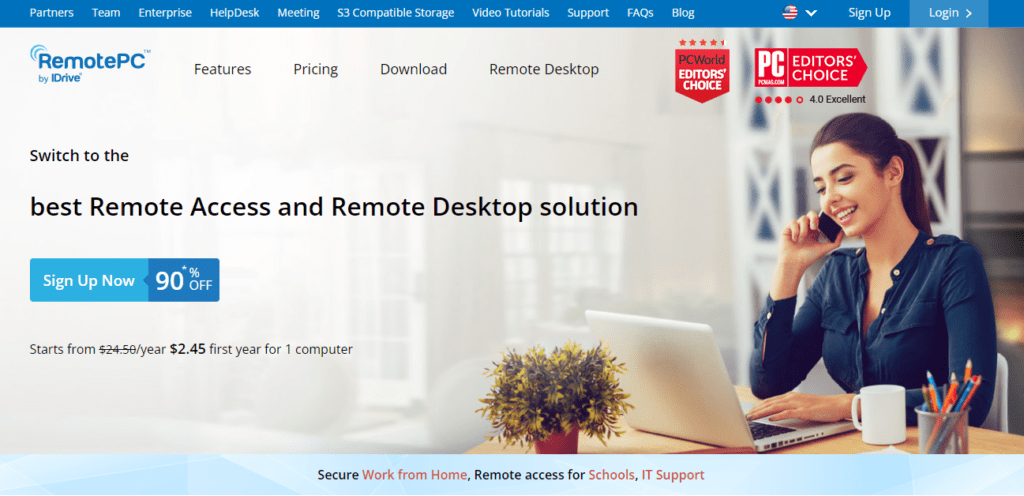 RemotePC is a solution that is quick and easy to implement and has a straightforward interface. RemotePC is built for convenience. It's a fast and secure remote access solution that allows consumers, businesses, and IT professionals to access and control their devices remotely from anywhere.

SolarWinds Dameware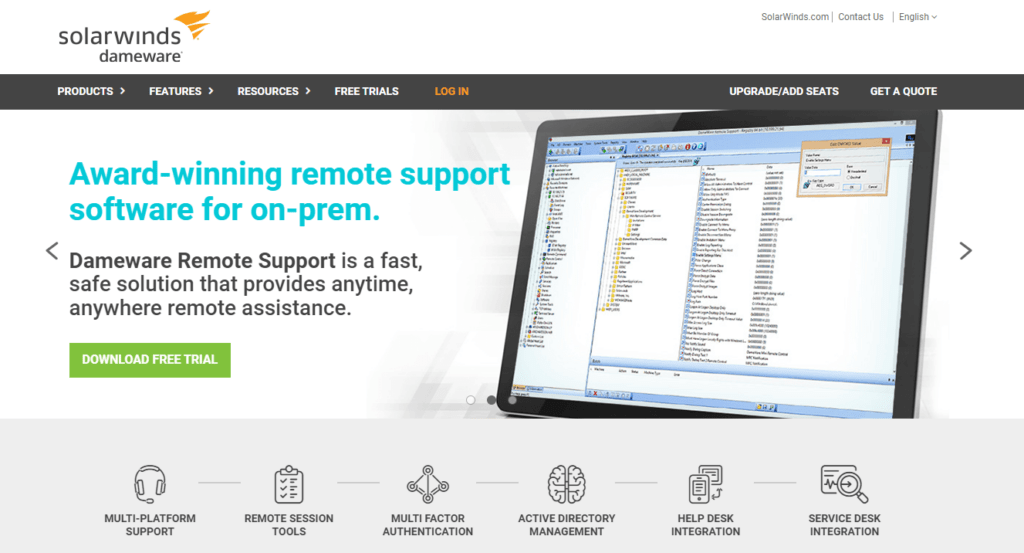 SolarWinds Dameware is a fast and secure on-cloud solution. One of the most versatile software on the market for remote support, management, and network monitoring. With its amazing features and great accessibility from almost anywhere with an internet connection, Damaware is one of the best tools for IT administrators and support teams.
There are a wide variety of remote software solutions, and each year these platforms continue to enhance their functionality. 
Discover the ultimate guide to the top tools available on the market!
Our comprehensive guide provides SDI's tool selection tips and all the essential tool details, such as key features, availability, pricing information and more.
Unlock the secret to choosing the best remote support tool by downloading our exclusive guide today – completely free!