Reveal Your Service Desk's True Performance
SDI & MetricNet reveal the performance of your KPIs with a Peer Group Benchmark.

SDI has joined forces with MetricNet to offer a benchmarking solution for virtually every service desk organisation. Together we bring service desks a customised benchmarking service that enables you to:
discover exactly how your service measures up to others
where you should focus your improvement plans to make the most difference to your organisation
The unique SDI/MetricNet Benchmarks compare your service desk performance to a 'peer group' of carefully selected or similar organisations to your own.
Each benchmark is fully customised to your service desk to ensure it meets your exact needs. Your service desk's matched 'peer group' data will be selected from our extensive database of service desks and is based upon your scope, scale, complexity and geography.
Your bespoke Peer Group Benchmark will give you:
A benchmark of the most common key performance indicators in the service desk industry
A summary of your own service desk's quartile performance for each KPI
Your service desk's position on a two-dimensional Efficiency vs. Effectiveness Matrix, plotted against the other service desks in the benchmark
Key findings that are specific to your organisation's service desk
Recommended strategies for improved performance for your service desk
As part of the service you will also receive:
A webcast kickoff meeting with MetricNet's benchmarking expert Jeff Rumburg
Telephone interviews with key service desk personnel
A webcast presentation of results
To know more simply give us a call on 01689 889100 or email [email protected]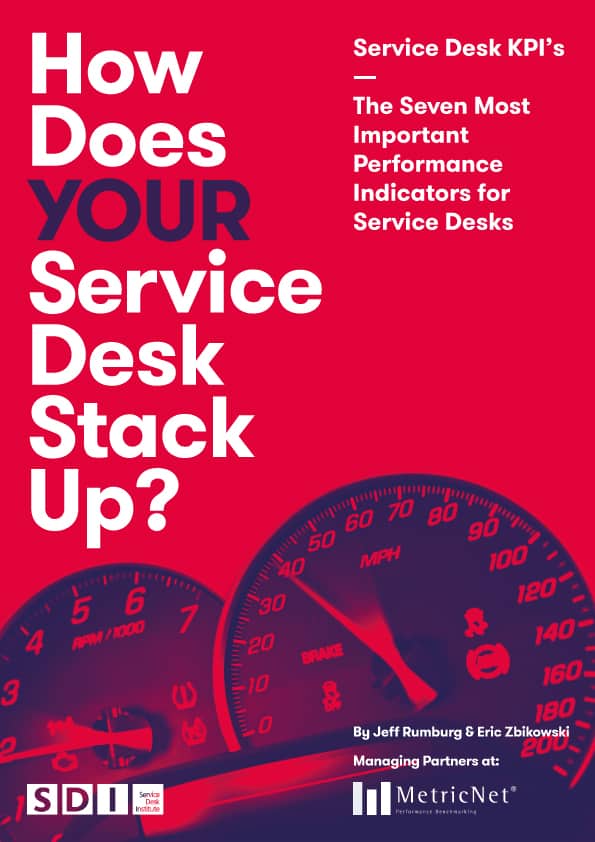 About MetricNet
MetricNet is the leading source of benchmarks, scorecards, and performance metrics for corporate managers worldwide. Their over-arching goal is to make metrics accessible; to make them part of the DNA of every IT organisation they work with, so that they can be leveraged and exploited to improve and optimise business results.
**SDI members are eligible for a 10% discount on the Peer Group Benchmark**