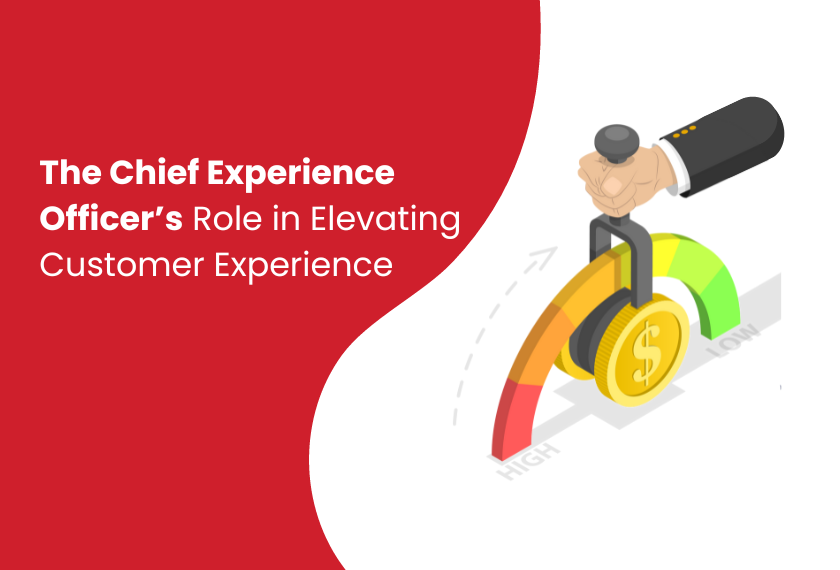 There is a growing importance of CX leadership in driving business success. According to McKinsey analysis, companies in the United States that are leaders of CX achieved more than double the revenue growth of "CX laggards" between 2016 and 2021.
And as CX expectations rise, so do budget expectations, increasing the pressure for CX leaders to prove the impact. To stay ahead of the competition and meet customer expectations, many organisations are increasingly recognising the importance of the Chief Experience Officer (CXO) role.
While the exact timing of the first mentions of the CXOs may vary across sources, it gained attention in the 2010s.
In this blog, we'll delve into what they do for a company and discuss why having a CXO can be a game-changer for your business.
The Growth of CX Leadership in North America
There has been a strong shift toward customer-centricity in the last few years.
According to
Grand View Research
, the global CX management market size was valued at USD 10.65 billion in 2022 and is projected to grow at a compound annual growth rate (CAGR) of 15.4% from 2023 to 2030.
If we look at past data, the positive impact of effective CX leadership cannot be understated.
Not only does good customer experience have a positive impact on financial performance, but it also helps control and reduce the costs for new business acquisitions.
Loyal customers stick around longer. And that places less strain on a company's operational infrastructure, particularly during economic downturns.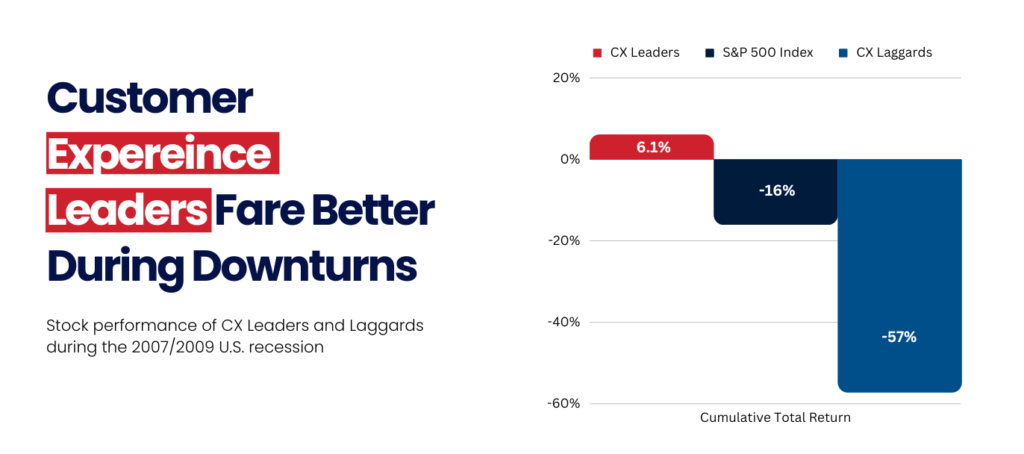 This has led many organisations to recognise the need for dedicated CX leadership roles, such as CXOs and Chief Customer Officers (CCOs), to steer their efforts in the direction of enhanced customer experiences. The focus on CX is also reflected in job growth.
As the World Economic Forum highlighted, this region has witnessed a significant increase in CX-related job openings, particularly in the professional and business services sector, with a growth rate of approximately 15% in the past five years.
With the developments of Artificial Intelligence (AI) and Machine Learning (ML) in Customer Experience Management, these solutions are expected to be the new key drivers in the expansion of this market.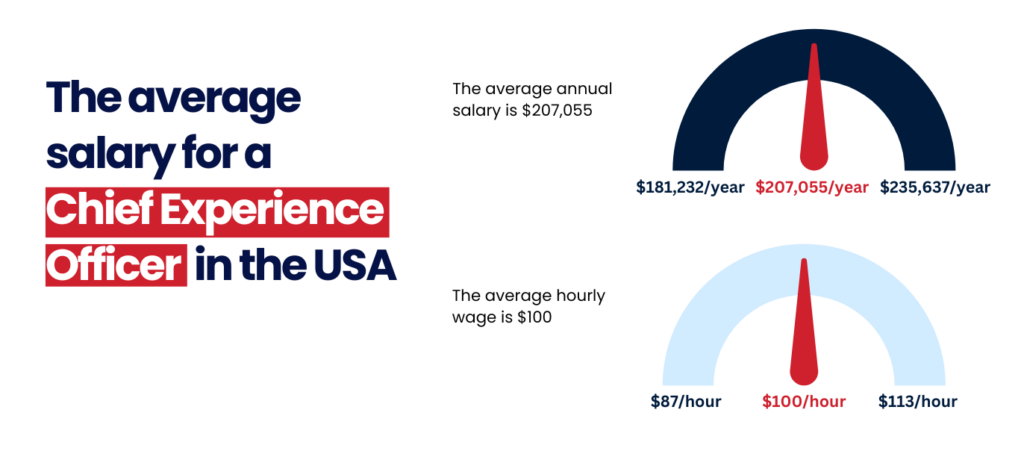 However, some organisations may still have their reservations – mostly due to the perceived cost of hiring a CXO. The average Chief Experience Officer salary per year in the USA is $207,055 as of September 2023. But the salary range typically falls between $181,232 and $235,637. So, it's important to consider factors such as education, certifications, experience, and skills that can greatly impact this range.
Based on recent Glassdoor data, the national average salary for a CXO is £117,269 in the United Kingdom.
Undoubtedly, this cost greatly impacts the decision to hire CXO.
But research shows that a CXO's involvement in a company can more than make up for these costs, provided the right person fills the role. This means that embracing a CXO may be the key to unlocking your company's full potential.
However, it's important to consider factors like industry dynamics, customer base, organisational goals, technology landscape, and competitive landscape to assess the relevance and potential impact of having a CXO.
What Does a Chief Experience Officer Do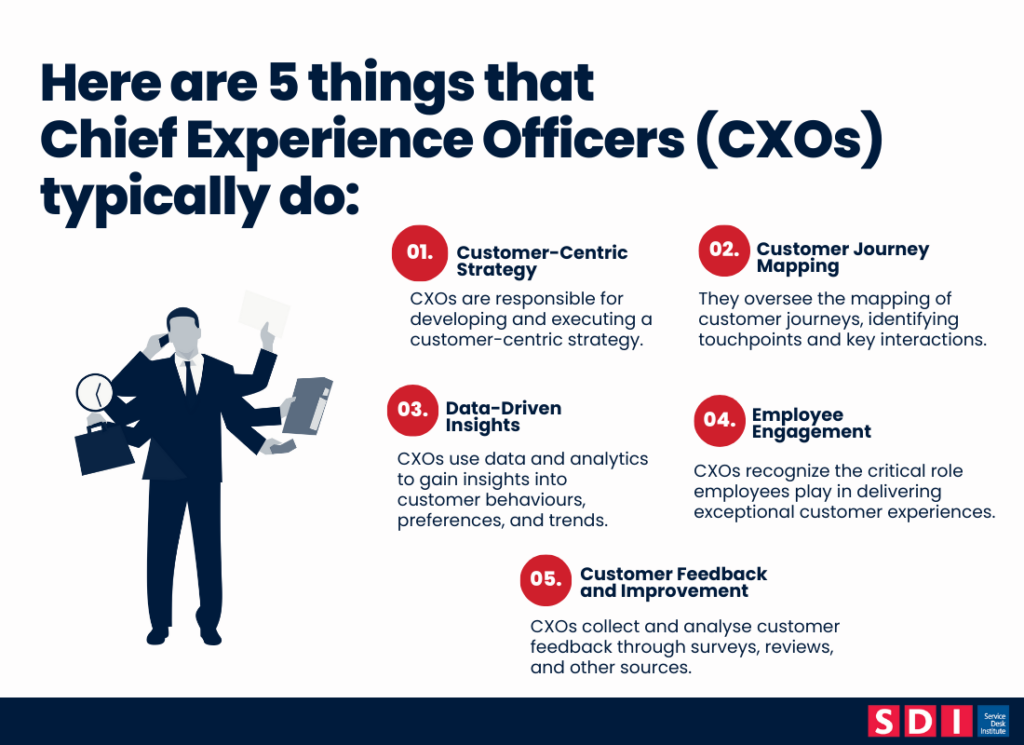 Now, let's address the next questions: What's the value of having a CXO in your C-Suite?
Having a CXO at the C-level can work to your business advantage.
The primary goals of a CXO are creating a customer-centric culture and driving top-line revenue growth from existing customers. They play a pivotal role in enhancing customer interactions, aligning organisations with a customer-centric mindset, and driving forward the customer experience journey.  
CXOs are also responsible for adopting cutting-edge technology, providing necessary training to employees, and meticulously monitoring CX metrics.
Simply put, their mission is to ensure every customer interaction is not only a transaction but a memorable experience.
The Advantages of Having a CXO
Now, let's get down to the advantages.
A CXO can play a crucial role in addressing employee motivation and ensuring a positive workplace culture. When a CXO takes the time to address employee motivation effectively and does the job properly, it can have a significant impact on the growth and success of the company.
When a CXO establishes a robust feedback collection system, and the company acts on it, customers recognise the value placed on their opinions. This, in turn, positively influences their perception of the organisation.
A CXO can drive better product development and customer support, exceeding customer expectations and anticipating pain points.
📈 Research indicates that 8 in 10 consumers are willing to pay more for superior service, making it a profitable investment.
They can evaluate customer needs and complaints, making informed decisions swiftly. This eliminates the need for supervision and approval from other C-suite officers who may lack a deep understanding of the customer experience mindset.
What Skills Are Required to Become a CXO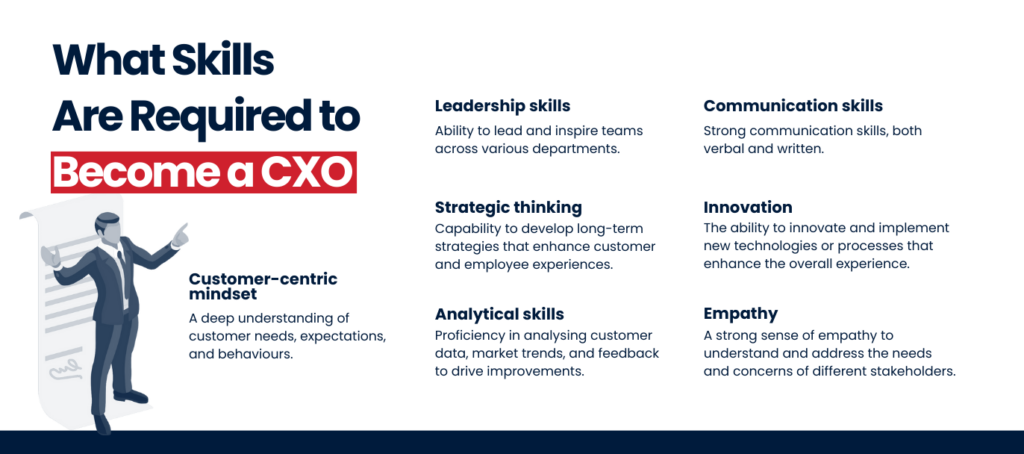 To understand what it takes to become a CXO, we need to look at the skills required for the job and how to acquire them. So, let's explore these skills and the path to achieving this position.
🧩  Customer-centric mindset: A deep understanding of customer needs, expectations, and behaviours.
📢  Leadership skills: Ability to lead and inspire teams across various departments.
💬 Communication skills: Excellent verbal and written communication skills, necessary for internal coordination and external stakeholder engagement.
⚡ Strategic thinking: Capability to develop long-term strategies that enhance customer and employee experiences.
📈 Analytical skills: Proficiency in analysing customer data, market trends, and feedback to drive improvements.
🤖 Innovation: The ability to innovate and implement new technologies or processes that enhance the overall experience.
✨ Empathy: A strong sense of empathy to understand and address the needs and concerns of different stakeholders.
As we've learned, becoming a CXO requires a combination of the right skills, experiences, and a strategic and well-rounded approach to career development. So to achieve CXO excellence, consider some of the following steps.
Start by obtaining a degree in business, marketing, psychology, or a related field.
Gain hands-on experience in customer-centric roles to establish a strong groundwork. To develop your leadership skills, consider taking on projects and teams, showcasing your ability to manage and inspire others.
Stay informed about the latest trends and technologies in customer experience through continuous learning. Build a professional network by connecting with industry experts and attending events. As you progress in your career, you can apply for leadership roles and gradually climb the ladder towards securing a CXO position.
Here are some inspiring CXOs
To be a successful CXO, you will need a strong foundation in customer service, demonstrated leadership skills, and a proven track record of success.
Here are a few CXOs who are recognised for their significant contributions to their respective fields:
Julie Larson-Green, Qualtrics: Julie has been influential in shaping customer and employee experience technologies. She gained recognition due to her role as the Chief Experience Officer for Microsoft's Office Experience Organization.
Donna Morris, Walmart: As the Executive Vice President and Chief People Officer at Walmart, Donna plays a pivotal role in enhancing the employee experience, which indirectly impacts customer experience at one of the world's largest retailers.
Sherif Mityas, Chief Experience Officer, TGI Fridays: As the Chief Experience Officer, he uses technology and data to manage all guest touchpoints, emphasizing a connected experience behind omnichannel service, as well as the ownership of the end-to-end experience in the C-Suite.
Ingrid Lindberg, Chief Customer Experience Officer Pioneer: Lindberg has been a CXO at various organisations, including Prime Therapeutics and CIGNA. She is known for her expertise in transforming customer experiences in the healthcare industry.
Customer experience is becoming increasingly important in the business landscape. So having an expert in this niche overseeing the customer experience process is not just beneficial but essential. But the CXO's role is much more than just enhancing the customer experience.
It's also about driving business success, fostering brand loyalty, and ensuring a brighter future for organisations.
Remember, the customer is at the heart of every successful business, and the CXO is the organisation's ally in ensuring their satisfaction and loyalty.
📢 Ready to take the lead in service desk management?
Our
Service Desk Manager qualification course
is here to help you shine. Explore virtual training, expert guidance, and a path to a globally recognised qualification!