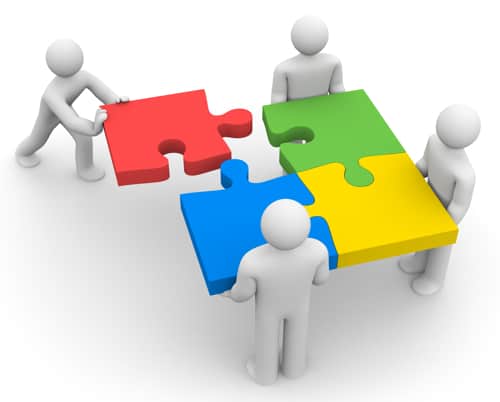 By Stephen Mann, Principal Analyst and Content Director at ITSM.tools
Organisations can be complicated beasts. There are many teams and then teams within teams. Each providing a different set of capabilities and outcomes for the organisation. On the one hand, there's the IT department and within that IT Operations; and then within that the IT service desk offering IT support. On the other, there's the human resources (HR) and finance teams which are both also likely to have a support team that deals with employee needs and potentially those of external third-parties. Plus, let's not forget the externally-facing customer service or support team that's focused on customers and their wants, needs, and issues.
These teams are all so different, yet so similar. In particular, in how they firstly all provide a portfolio of services either internally or externally (or both). And secondly, in how they all handle "customer" requests for:
Help (with issues)
Services
Information
Changes to existing services
With such comparable request-handling needs, isn't it time that we acknowledged these similarities and leveraged them to the organisation's advantage? Isn't it time that different support teams offered their services in a standard, ideally optimal, way?
"Oh, That's Enterprise Service Management"
If you immediately thought this, then you're not wrong. But you're also not entirely right.
If you stop to think about enterprise service management – "The use of IT service management (ITSM) principles and capabilities in other business areas to improve performance, service, and outcomes" – it's very much a one-directional thing. Where the IT organisation is sharing what it has learned about service design, delivery, and support – plus the enabling technology – with other business functions, from HR to the customer service team.
Instead, wouldn't it be better if it was more of a two-way thing, where great ideas and capabilities are shared throughout the organisation no matter where they originated?
It's what I've termed: "the inevitable convergence of internal and external support". With it inevitable in my mind because the growth in adoption of enterprise service management strategies along with those for digital transformation means that we're seeing (and will continuing to see) greater sharing of proven ways of working and the technology that supports them.
People often talk about digital transformation, in particular, as being an opportunity to break down silos. This is definitely true, and in doing so it's also aligning the potentially disparate business-function silos to both better business outcomes and best means to achieve them.
The key is not to simply expect it to happen but to proactively ensure that it does happen.
"If It's Not Just Enterprise Service Management, Then What Is It?"
The best way to describe this is to use an example. With the looming adoption of artificial intelligence (AI)-based capabilities within IT support and other business functions a great case in point.
The chart below is from Horses for Sources (HfS) Research and this shows the relative maturity states of what HfS terms "cognitive assistants" – where "…cognitive agents can self-learn, self-remediate, and execute business processes. They can also often understand structured and unstructured data and then use natural language processing to learn, comprehend, and recommend next steps. Advanced cognitive agents may also enable predictive decision making using real-time analytics".
Importantly, the HfS research not only offers a cross-industry view but also the level of business function maturity.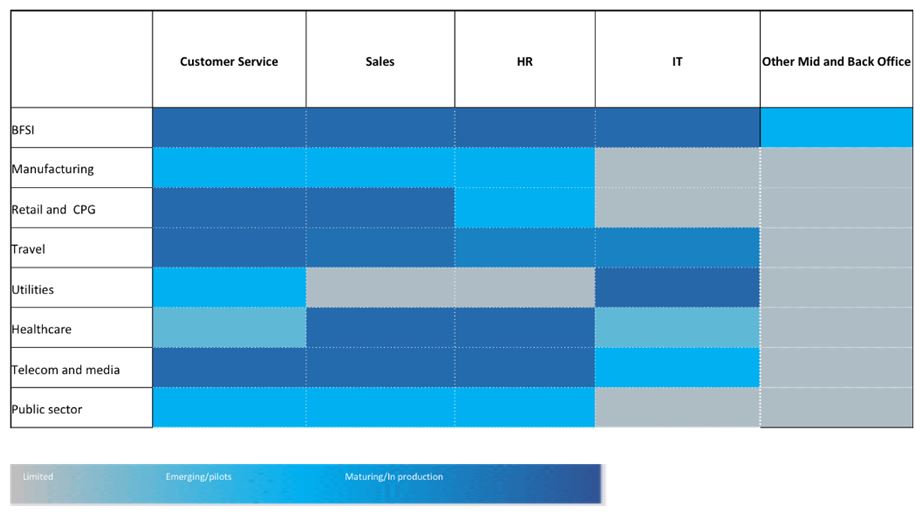 Source: www.hfsresearch.com/pointsofview/dont-fall-for-these-six-cognitive-assistant-myths (2018)
Thus, if we consider the adoption of cognitive assistants (to continue with the HfS terminology), the average IT organisation is "behind the pack" in all industries bar banking, financial services and insurance (BFSI). So, how can IT offer help with cognitive assistant adoption when other business functions are already ahead of them?
"But IT is Deploying the Technology in the Other Business Functions"
This might be the case, and certainly would have been so ten-plus years ago. But these days, as business functions are increasingly seeking to make their own technology decisions (and purchases), it might not be the case – even if IT says that it should be.
But let's put this technology expertise to one side for a moment. The introduction of new technology is so much more than the deployment of new hardware, software, and/or services. Take self-service as a good example – where SDI research in 2017 showed that only 12% of organisations had received the anticipated return on investment (ROI) on their self-service initiative. So, how do we prevent this from happening with AI investments, and with cognitive assistants as an example?
Look at Which Business Functions Do Different Things Well
The simple answer is that we need to learn from those ahead of us in the journey – from what works well to what doesn't. From how best to drive adoption to how existing support metrics need to change.
Traditionally, this might have been done at industry or functionally-focused events – such as the SDI conference – but, looking at the HfS chart above, surely IT can learn things from the successes of the customer service team (and even HR) when it comes to cognitive assistant adoption. As can other business functions.
The only question is whether this is a cross-business-function free-for-all, with business functions separately taking a siloed approach to improvement (and we know this won't work well). Or if the existing enterprise service management strategy can be refocused to accommodate good practices and technologies from different business functions – think of IT as the hub in a hub-and-spoke model. Or it could also be elevated up to a digital transformation strategy level, in particular the initiative(s) related to the transformation of back-office operations.
The important thing is to recognise the needs for, and benefits of, the convergence of support capabilities (albeit mindful of the necessary differences). And to then ensure that cross-business improvement is sufficiently organised and managed to bring the convergence about as easily, and painlessly, as possible.
So, when we look at the many challenges and opportunities faced by internal support teams, not only is there a case for enterprise service management (sharing from IT to others) but also the bidirectional – or multidirectional – sharing, of support good practices and the enabling technologies, between internal and external support functions. With the aim of significantly improving the operations and outcomes of all parties.
If you want to hear more about this, then Stephen will be presenting at SDI19, The Conference For Service Desk Leaders in March. Tickets are still available – click here to book!