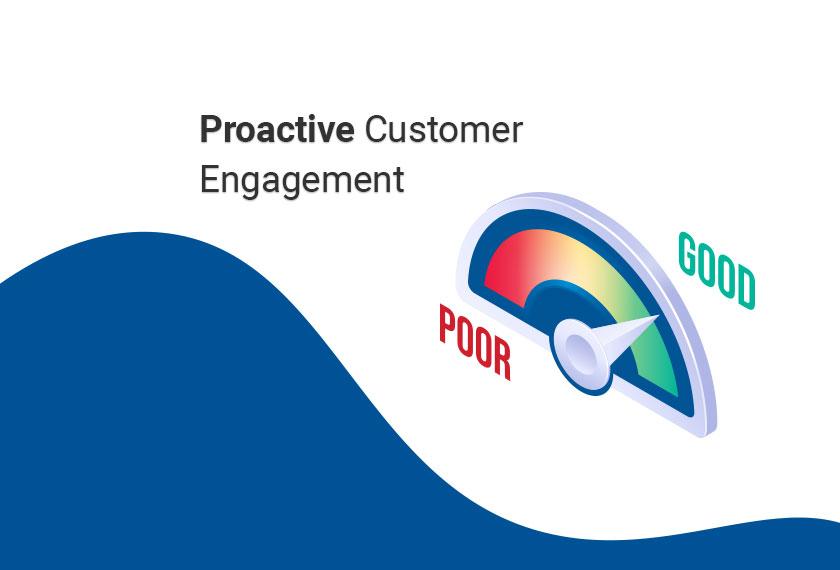 Proactive service engagement has been at the top of the list of customer service trends for many years. In fact, shifting from a reactive to a proactive customer engagement strategy is one of the ways to stay competitive in today's digitally native world.
So, why haven't more customer service teams not fully embraced it yet? 
In this article, we'll answer what proactive customer service is and why it matters. 
So, let's dive in! 
Reactive Customer Service Isn't Good Enough
When it comes to customer service, many organisations still operate in a strongly reactive manner. In other words, they only help customers after they have some issues and ask for assistance.  
Historically, the majority of Service Desks have seen themselves as a reactive, break-fix function. Although there's nothing wrong with sometimes waiting for customers to make the first move and reach out for help, it's not the most proactive way to provide support services. In many cases, reactive support can be ineffective. Fighting fires in support services is, unfortunately, very common.  So, the question has to be asked if this reactive approach is sustainable and if it really delivers effective support services and a great customer experience.  
 A reactive approach to service support leads to low self-service containment and customer dissatisfaction, which makes it easy for end users to disengage. 
So, even if you address this firefighting challenge, the likelihood is that end users will still hold onto that poor customer experience and, in turn, how they feel about your products or service. The damage is done and getting the customer's trust back is always challenging.   
So, how do you have more valuable interactions with your customers? 
Proactive Customer Service Serves Your Customers Better
 With proactive customer engagement, you anticipate issues before they even occur, which is time-saving and more efficient for both end users and support agents. It's also a customer-centric approach! 
Taking a more proactive approach can help increase customer engagement at every funnel stage, increase revenue and decrease churn.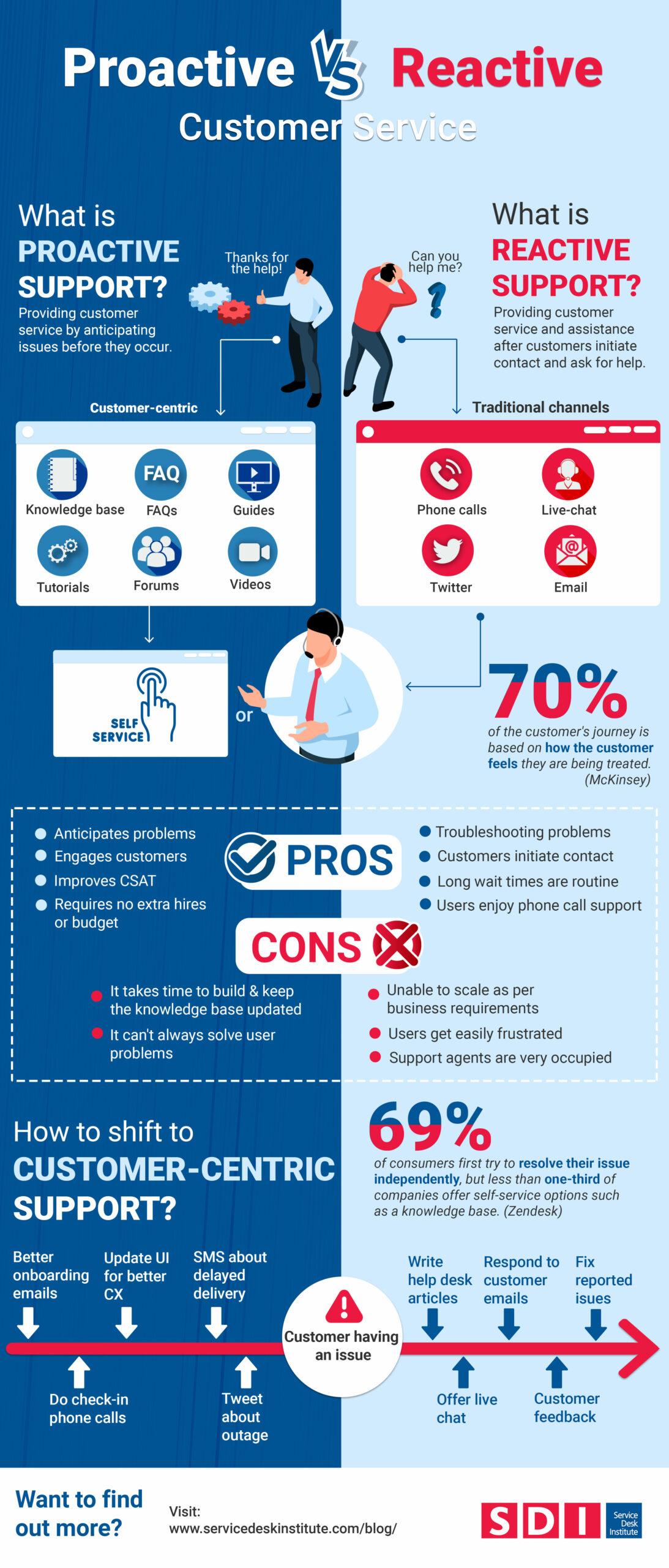 There are many benefits to proactive customer engagement, all of which ultimately help provide a better customer experience. Some of the benefits include the following: 
Anticipates customer problems

 

Engages customers

 

Reduces the number of issues that get through to agents

 

Encourages use of real-time channels (live chat, chatbots, video chats)

 

Easier to scale as your business grows  

 

Builds high customer loyalty

 

Higher customer satisfaction and improved CSAT

 

New customer acquisition and increased sales

 
Getting The Most with a Proactive Approach 
 Adopting proactive service engagement is not without challenges. However, they can be effectively remedied. To enjoy the proactive service benefits mentioned above, you must know how to prepare your organisation and team for a human-first approach.  
So how can you switch your mindset from dealing with current issues to solving them in the future? 
Let's look at the ways to implement a proactive customer support strategy: 
#1 Understand your customer's journey
 Understanding your customer's journey takes time, but it doesn't necessarily need to be complicated. Start by mapping out the customer's journey and planning proactive support activities according to the customer's needs. 
Think about the different paths customers take, issues that normally arise on the way, communication and notifications they receive and what they expect at each stage of the journey. 
#2 Ask customers for feedback regularly
 When it comes to service improvement, monitoring feedback is crucial. There are several ways you could gather customer feedback and capture your users' satisfaction. Conducting regular customer surveys is one way to do so. 
Some of the options are: 
Event Survey – asking for feedback after closing incidents or service requests 

 

Periodic Survey – sent to users on a regular basis, for example, half-yearly or annually

 

Pulse Surveys – a

short and regular set of questions to provide useful information on end-user satisfaction

 

Voice Call Survey – asking users to complete a survey after calling the service desk

 

Random Sampling Survey – calling customers randomly after the closure of an incident or service request 

 
#3 Knowledge sharing is important
 A huge reason for implementing some knowledge base and self-service channels is that customers prefer finding answers by themselves. According to Zendesk research, 69% of consumers first try to resolve their issues independently, but not many organisations are taking advantage of these opportunities. The same study shows that less than one-third of companies actually offer self-service options such as a knowledge base.   
 Think about creating a knowledge base for both customers and the customer support teams. This will help you provide effective and faster solutions to all customer queries and improve the overall experience. 

#4 Leverage new technology solutions
 Having the right tools and technology solutions in place is essential to improving customer experience and tackling an increasing number of customer requests. Think about leveraging solutions like: 
Live video and video chats

 

Co-browsing

 

Auto ticket creation systems

 

AI-driven bots 

 

Virtual Agents

 

Automation and remediation platforms

 
When it comes to real-time conversations, AI-driven bots are proven to be a great solution available 24×7. Moreover, they can help you understand your customers' habits and analyse the gathered customer data.  
#5 Empower employees with tools & training
 Another way to meet customer expectations is to invest in your agents. By putting more time into your agents and offering tools and training, you're ensuring they can provide better service, resulting in higher employee and end-user satisfaction ratings. 
Final Thoughts
 So, is proactive customer engagement the future of the support world? Is that the only strategy you need?  
Of course, you can't read customers' minds and anticipate every single need they have. So, the best strategy is the one that combines the two:  proactive and reactive customer engagement.  Understanding your customers and identifying areas where you can implement proactive customer service while still responding to their requests with reactive support is the best step in creating a more positive customer experience. 
The team at SDI are here to help you continually adapt, evolve, and innovate. Explore the Service Desk Manager Training Course and even more of our essential training services – here to support our amazing global IT service and support community. 

Written by Antonija Bozickovic, Content Creator at SDI