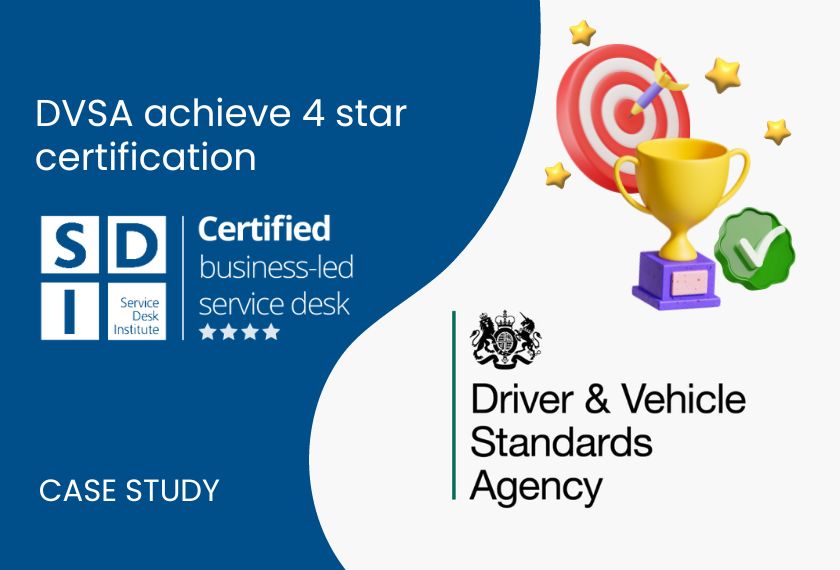 Who are DVSA?
DVSA is an executive agency of the UK Department of Transport (DfT). In June 2014, the Driving Standards Agency (DSA) and Vehicle and Operator Services Agency (VOSA) merged into a single agency, forming the DVSA, they employ just under 5000 staff. The Support Team proudly support DVSA's commitment to 'Keeping Britain's roads moving safely and sustainably.' In 2020 the DVSA support team began their Service Desk Certification (SDC) journey, this article explores the challenges and successes so far and how they came to achieve an incredible 4 star accreditation.
Reasons for joining the SDC Programme
Like many support teams, we faced the numerous challenges of the COVID-19 Pandemic head-on and continue to do so, looking for new, innovative approaches and employing key technology improvements to support our hybrid and front-line colleagues. We consistently go above and beyond to ensure users are satisfied.
"Over the last two years, we have put user experience at the heart of everything we do, which is why we decided to participate in the SDC programme, enhancing our skills and capabilities in providing technical support and assistance to our end users."


Making changes and seeing the benefits
There are several key changes that have been made since we started our SDI Journey but the main ones are:
1st Line Support and 2st Line Support merged to become a more technical Service Desk
Introduction of a User Experience Team – creation of Customer Avatars and Customer Journey maps
Introduction of a Business Relationship Management Team
Standard Process & Procedures document template
Enhanced reporting
Introduction of Priority on Requests (New Starters & Leavers = P1 / all other = P3 or P4)
At the end of 2021 we created a Innovation & User Experience Team and in January 2023 we created a Business Relationship Management Team who are busy implementing experience level agreements with directorates.
"For standard requests since July 2022 the Support Team now average 80 hours less in fulfilment/turn around time of P3 requests and 900 hours since July 2022 for P4's. Freeing up a lot of spare to deliver even more of an exceptional experience to their end users."
We have a strong focus on continuous improvement, using Happy Signals to gather user feedback using this to improve processes and service offerings. We embrace innovative approaches and adopt new technologies to optimize service delivery and ensure our customers receive the best possible experience. Examples this year are, automation of Hardware & Software Asset Management as well as implementation of Security Operations within ServiceNow.
Employee Experience
"It is important to us that our team feels valued and recognised for the work they do."
We ensure their voice is heard through regular surveys and we are delighted to find that our team feel they are listened to, feel they have a good work/life balance and that their work matters and makes a difference to the agency. This has meant that 'Happiness score' has remained consistent over the last 12 months.

We remain dedicated to providing our users an exceptional service and our commitment to them is reflected in our Vision and Mission statements:

Technology Services – it's not just a service desk!
"I'm so proud of the team. The journey over the last couple of years from the very first Health Check right through to this year's audit has been truly remarkable. Through the dedicated efforts, perseverance, and unwavering belief of the team we got the 4 star accreditation this year."

Photograph: DVSA team
Every single person in Technology Services has played their part for us to achieve this so it's a real team effort. It's helped to make our service simple, focusing on the needs of our end users so we can solve the real problems they have. To have a service operation reaching the standard of some of the biggest businesses in the world is something to be extremely proud of. We're all delighted with the result, and it shows hard work does pay off. Especially when you have a structured roadmap to focus your efforts on.
We were also shortlisted in 2022 and 2023 for Best Service Desk in the IT Service and Support Awards. In 2022 we made it to the final 3 and even though we didn't win we were extremely proud of everything our team had achieved so far. This year we made it through the first round but unfortunately didn't make it to the final stages. Again we are extremely proud how far we got and the fact we got our 4 star accreditation this year is amazing!
"I would highly recommend the SDC programme to others."

Service Desk Certification Enquiry