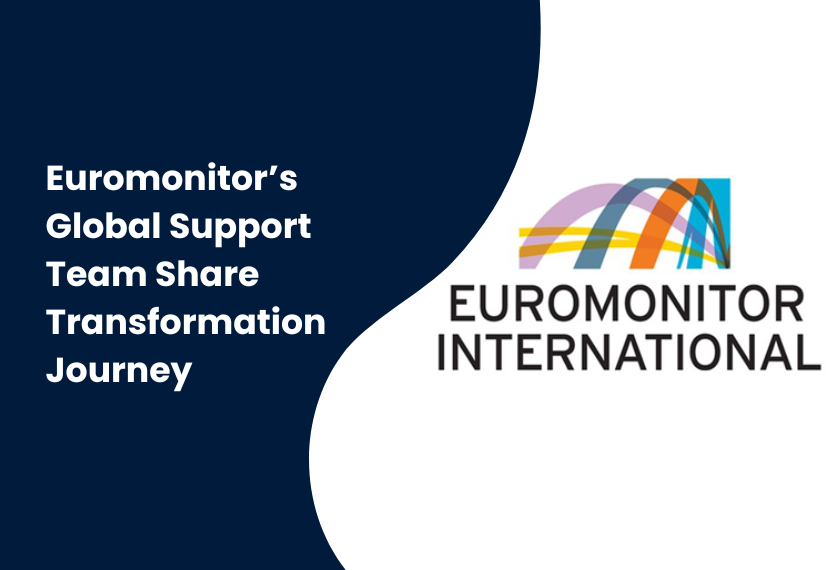 Euromonitor recently embarked on a global strategic service transformation journey and enlisted the expertise of SDI to make it happen! Utilising the popular SDI Health Check Service, Euromonitor has enhanced and grown its service operations, setting a new standard for customer satisfaction and efficiency.
Join us as we explore the remarkable partnership between Euromonitor and SDI!
Euromonitor is a London-based market research company founded in 1972. They are the world's leading independent provider of strategic market research, with a global network of analysts and market research on every key trend and driver.
Euromonitor's research reports aim to empower organisations and brands of all sizes with strategic data, analysis, and consumer trends. They have a total of 16 offices worldwide and a far-reaching customer base spanning 200 countries.
What was the main focus of the Health Check?
We've really focussed on bringing the team more closely together as a global unit. This has been done through a combination of suggestions from the advice provided by SDI. Things such as the creation of vision and mission statements for the team, a re-brand to call ourselves The Global Support Team, the documentation of globally used working practices and the recruitment of new Team Leader roles into the team.
We've also been working on better engagement with our stakeholders and have started to run a Support User Group to talk about issues, improvements and opportunities for change with the people that are using the services we provide.
In today's global economy, geographically dispersed teams are commonplace. This working arrangement brings its own set of unique difficulties, not least the challenge of working as a unified and cohesive team when spread out across the world.
What benefits have been achieved?
We have really benefitted from being able to spend some time dedicated to improvement plans, with the confidence that we are focussing our time and energy on areas that will really make a significant difference to the quality of the service we provide.
We've been able to organise a 2 year strategic plan from the findings in the Health Check report and then focus on making incremental improvements at a pace that the team can deal with effectively.
The ability to share these plans back to the business has really shone a light on what we do and served to encourage more discussion with the rest of the business on how we can better serve them.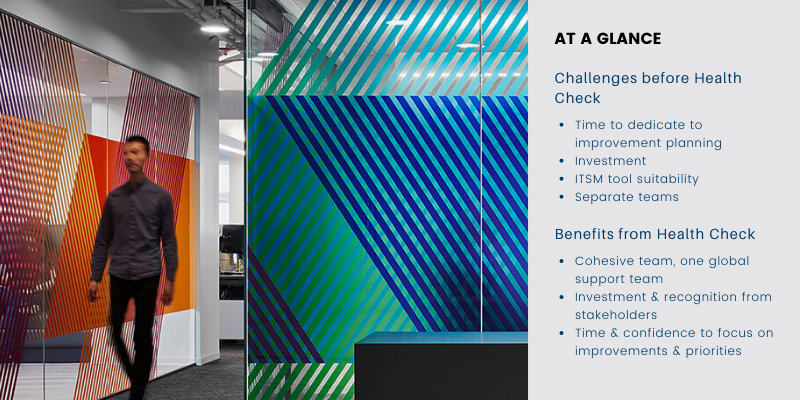 Impacts on the business 
As a department, we are more confident in the value that we add to the business and are now in a position to demonstrate that value in a way that the business can understand.
We are seeing more consistency in how we deal with work that comes to us, which has had the effect of not only improving ticket processing times but has also freed up some time to work on important transformation projects, such as the upcoming migration to Windows 11.
This puts us in a brilliant place for future conversations about the need to further invest in our team. We are going to be looking at replacing our ITSM tool with a more fit-for-purpose system in the near future, and I'm confident that we will be able to discuss requirements with the business with much less resistance than we previously would have experienced.
Results
Our incident response and resolution numbers are significantly improved generally, and we have managed to eliminate a long-standing issue with too many aged tickets on the system.

Our profile in the business is certainly a lot higher now than it was a year ago. This is due to more regular communication with stakeholders, interest in the monthly scorecard and high levels of participation in the Support User Group

Since the initial Health Check, I've been able to secure investment to work through process improvements with John and engage further with the SDI on selecting a new ITSM tool to suit our requirements.
"I would definitely recommend the Health Check to other organisations that are considering an improvement program. As a management team, we committed to being open and honest with our SDI Consultant about what we were doing and not doing. In turn, we got back constructive and practical advice on where to start and how to align ourselves with industry best practices.

We're seeing the benefits in how the team work together, the quality of what we do and how we are perceived by the business."

Simon Eldon – Head of Support & Service Delivery, Euromonitor

If you would like to support your organisation with their own transformation journey, read more about our service improvement offering here.
Or you can contact us today online, via live chat or email.