By David Wright, Chief Value & Innovation Officer at SDI
It's always great to see the service desk and support community assemble to engage at community events and conferences, and at the end of September 2019, I was fortunate enough to take part in two SDI conferences in Latin American, one in Mexico City and one in Quito. The quality and depth of the topics covered was truly inspiring, here's a summarised overview of some of the key points from some of the conference's speaker sessions.
The most constant themes were related to value and value creation. Examples of the co-creation of value and value streams were brought to life through contextualised stories, tracking customer functionality requirements or demand, to value. SDI's Chief Transformation Officer, Mauricio Corona's, presentation was based on Tesla – who have turned the concept of the automobile into possibly the most mobile of mobile devices – with a clear emphasis on innovation and continually improving the user experience through software deployment to create value streams. It was interesting to learn how user feedback is solicited in car; recorded via the Tesla console, in the same way IT user feedback can be solicited via web or self-service channels.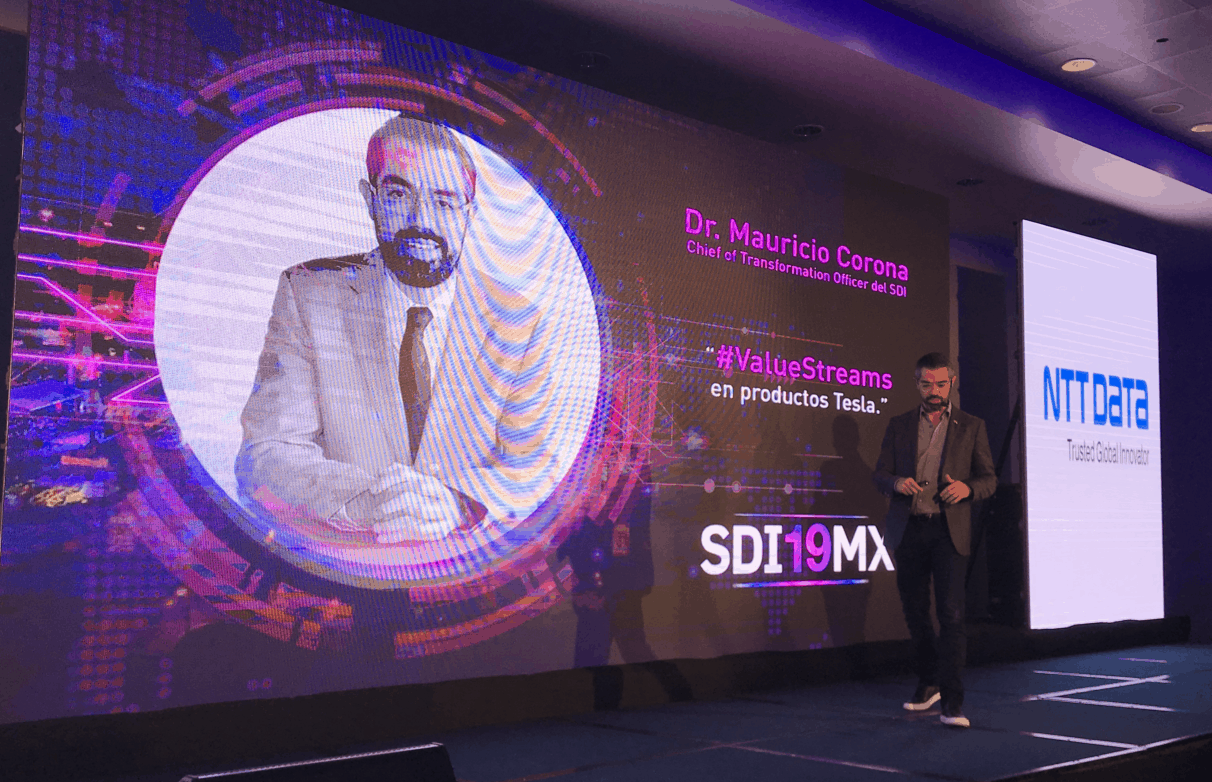 Intelligent automation, machine learning and artificial intelligence were reoccurring themes. Eduardo Corona, Director of Technology and Data Governance at Grupo Salinas, gave an incredibly in-depth presentation on the power of machine learning which included realtime activity of a deep learning neural network, visualising how sample and batch data is used by learning algorithms. Certainly much for ITSM people to learn here, so they can contextualise what this kind of technology will lead to over the coming months and years in an augmented and orchestrated service environment.
Transformation and disruption were brought into clear focus by Julie Mohr, author, international keynote speaker and thought leader; and Head of SDI MENA, Nabil Azar, who both showcased how transformation and disruption have impacted on business models over recent years (in many cases to the detriment of some of the oldest, most renowned international brands) and how at a regional level, the likes of Dubai and Saudi Arabia are strategically focussing on reinvention for the digital age with huge investment in technology and bleeding-edge innovation. From the economies of agriculture and industrialisation, to economies of knowledge, disruption and now the customer economy, the only thing we can absolutely count on as service management practitioners, is the ever-increasing pace of change. As Julie so eloquently said, that means the need for collaboration, knowledge, letting go of pre-established norms, innovation, new business and delivery models, personalised customisation and connecting with customers. German Pancho, Expert Consultant, Director and Postgraduate Teacher, also covered transformation and disruption, and introduced the audience to The Digital Vortex, disruption coping strategies and the working dead!
It was great to see plenty of real-life case studies on automation, change, disruption alongside Service Desk Certification journeys, with examples of how SDI's certification programme has helped major Latin American organisations innovate and improve. One service transformation case study by T-System Mexico, showcased how service orchestration, process automation and the implementation of a chatbot support channel, helped 'transform chaos' by handing 5000 service transactions and interactions every hour and achieved an 87% lifecycle management efficiency improvement. Ariana Bucio, SDI & Customer Experience Product Manager at BPGurus, also spoke about SDI's certification programme successes, along with what's being seeing in relation to service desk change. This included the concept of beyond omnichannel with the engagement of things (EoT) and the rise of the agile service desk. Carlos Regalado, Chief Executive at HAWA, spoke about trends including intelligent swarming, and customer journey mapping.
Paul Wilkinson, Director & Owner of GamingWorks.nl, made clear that the age-old issue of the standoff between IT and the business is still alive and kicking. IT is the business and its focus is creating value! Paul offered some great insight into service failure caused by some of the simplest oversights during the touchpoints between project management, governance, development, implementation and operations. These play out in a new simulation experience from GamingWorks, MarsLander. Again, the co-creation of value was at the heart of the presentation along with the need for collaboration, continual improvement, culture and the right behaviours. The old and the new, represented by the shift from conformance to performance, value leakage to value creation, non-value add to value-adding and costs & risks to value outcomes. I really liked mind-blowingly simple initiative Paul encouraged, 'Make Monday a 'Go & Meet a USER' day and ask them what value looks like!'.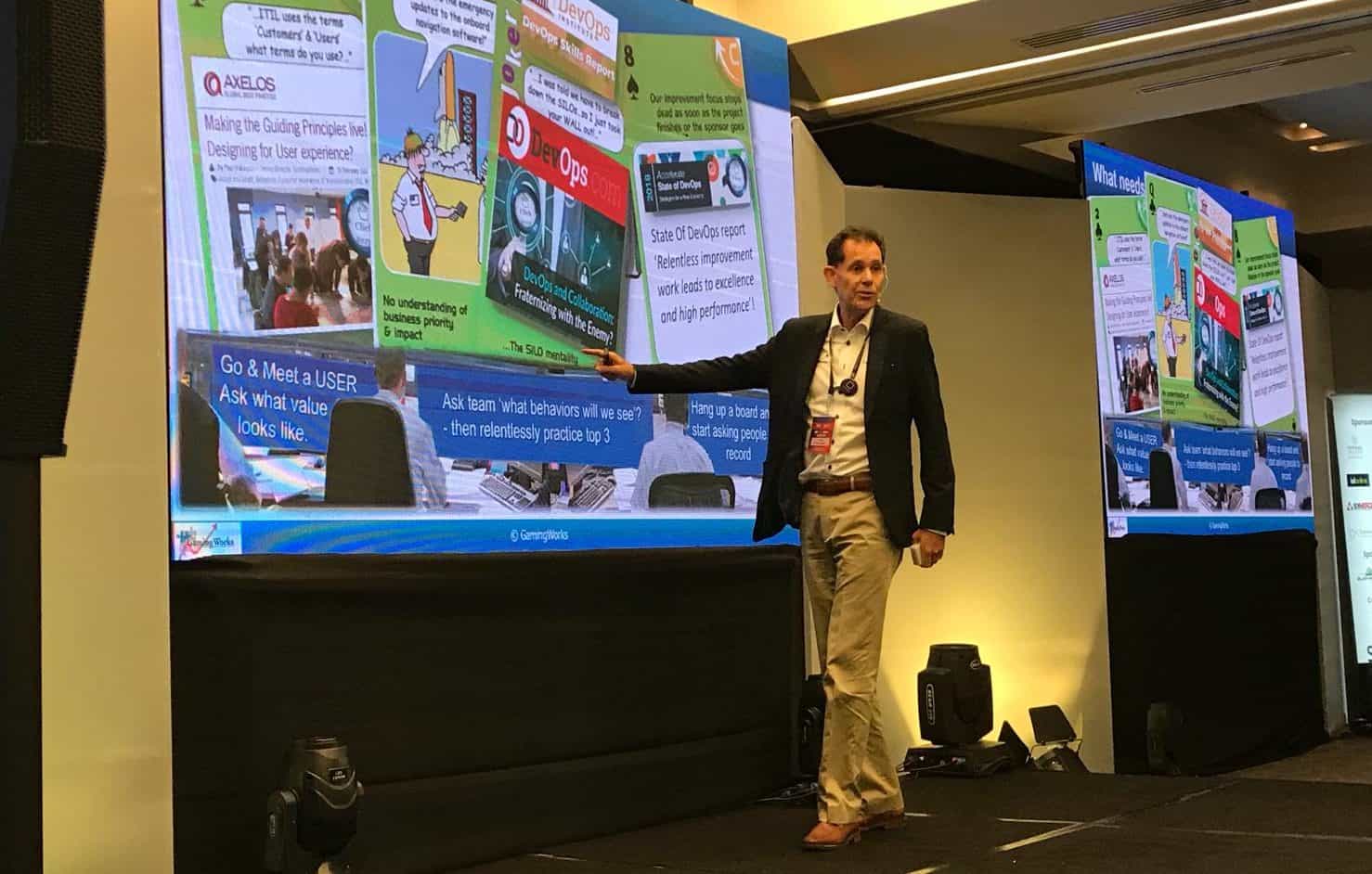 My overriding memory of these two conferences, however, will be the incredible and inspirational story of one person's obsession to unlock the potential of being alive. An absolutely amazing and very human story of loss, sacrifice, challenge, daring not to do the safe or easy, and overcoming adversity through sheer will. It was extremely humbling to hear Millán Ludena's story, who through loss, learned to understand how ephemeral life is and has re-thought what it is to be alive. Through running, he began to challenge himself to begin to live, 'beyond the simple act of breathing'. As a result, Millán progressed from running 5km to running against professional athletes during a 50km endurance mountain run, a 160km endurance mountain run in Patagonia, a 240km endurance desert run in the Sahara and a 100km endurance run in Antarctica. Millán has since become a Guinness world record holder, the first person to endurance run at the closest point to the centre of the Earth and at the furthest point from the centre of the Earth. A remarkable journey, and if you ever get the chance, a story to hear direct from the person who realised and accomplished those feats.
Congratulations

 to the finalists and winners of the Latin American IT Service and Support Awards. Who included: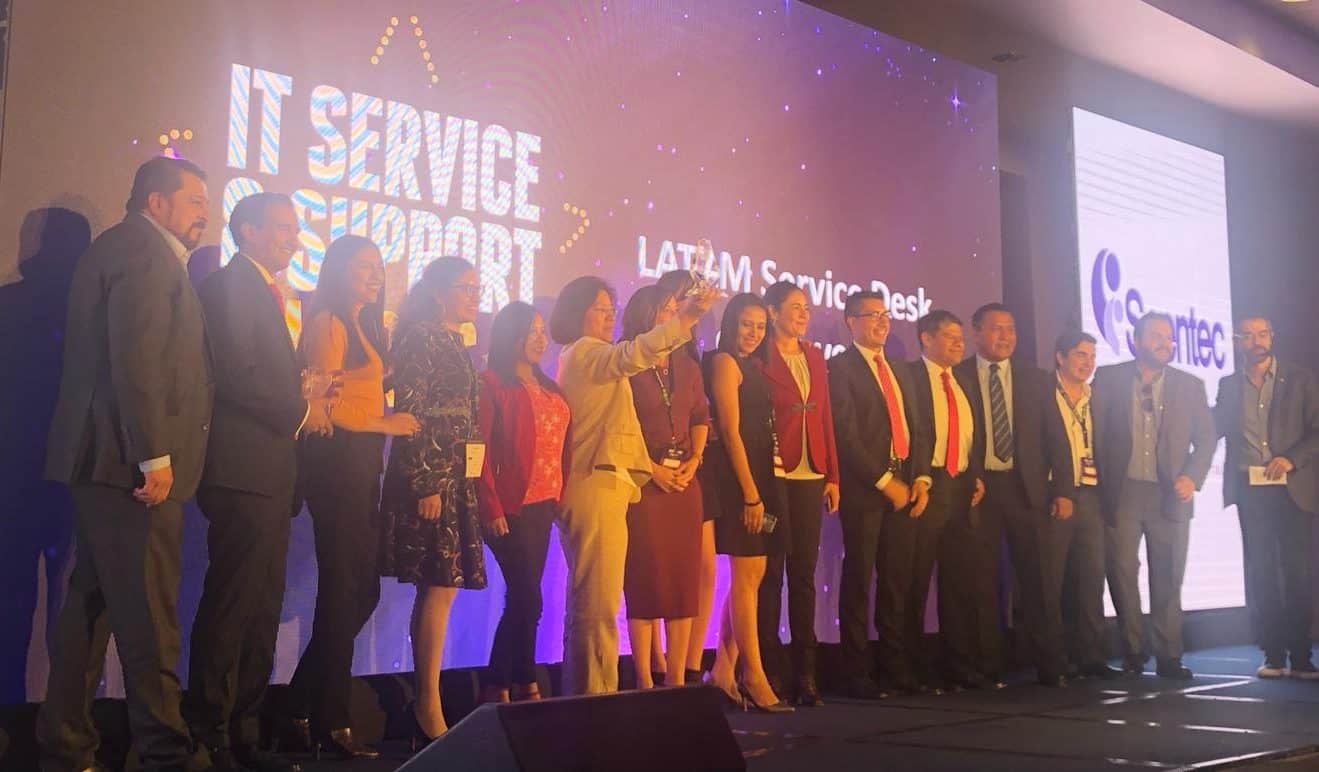 Inspirational Leader of the Year winner – Fabián Morquecho, Grupo Salinas
Best Innovation Project winner – NTT Data
Best Service Desk Improvement Project winner – Grupo Salinas
Service Desk of the Year winner – T-Systems
Congratulations also to NTTData Services Mexico who recently achieved Service Desk Certification as a customer-led 3 star Service Desk, and to T-Systems Mexico, who also recently achieved Service Desk Certification as a business-led 4 star Service Desk. Both organisations were presented with their trophies and plaques during the Mexico City conference. We wish both organisation, as well as the other Latin American organisation who have entered the SDC programme, the very best in their certification journies.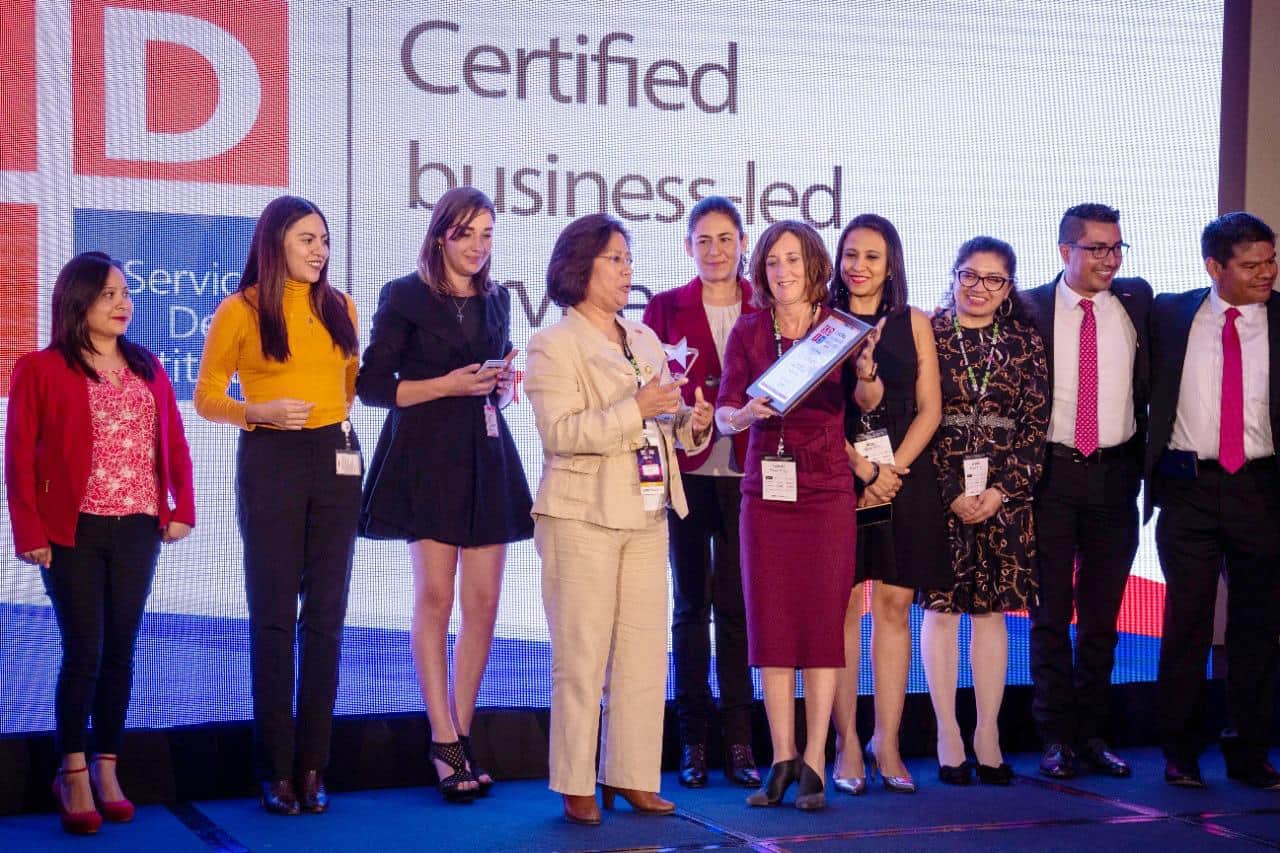 Thank you to our conference partners who joined us in Mexico City and Quito, they include Ivanti, Scentec, Axios Systems, isonline, Proactivanet, invgate, ManageEngine, PeopleCert, Axelos, servicenow, SYNERGY, OTRS, NEWDATA INNOVO, XenturionIT, MAINT, Aranda Software, bmc, capa8, REDICSA Topdesk, NTTData, freshworks, invarosoft, BUSINESS IT and UPFTONT.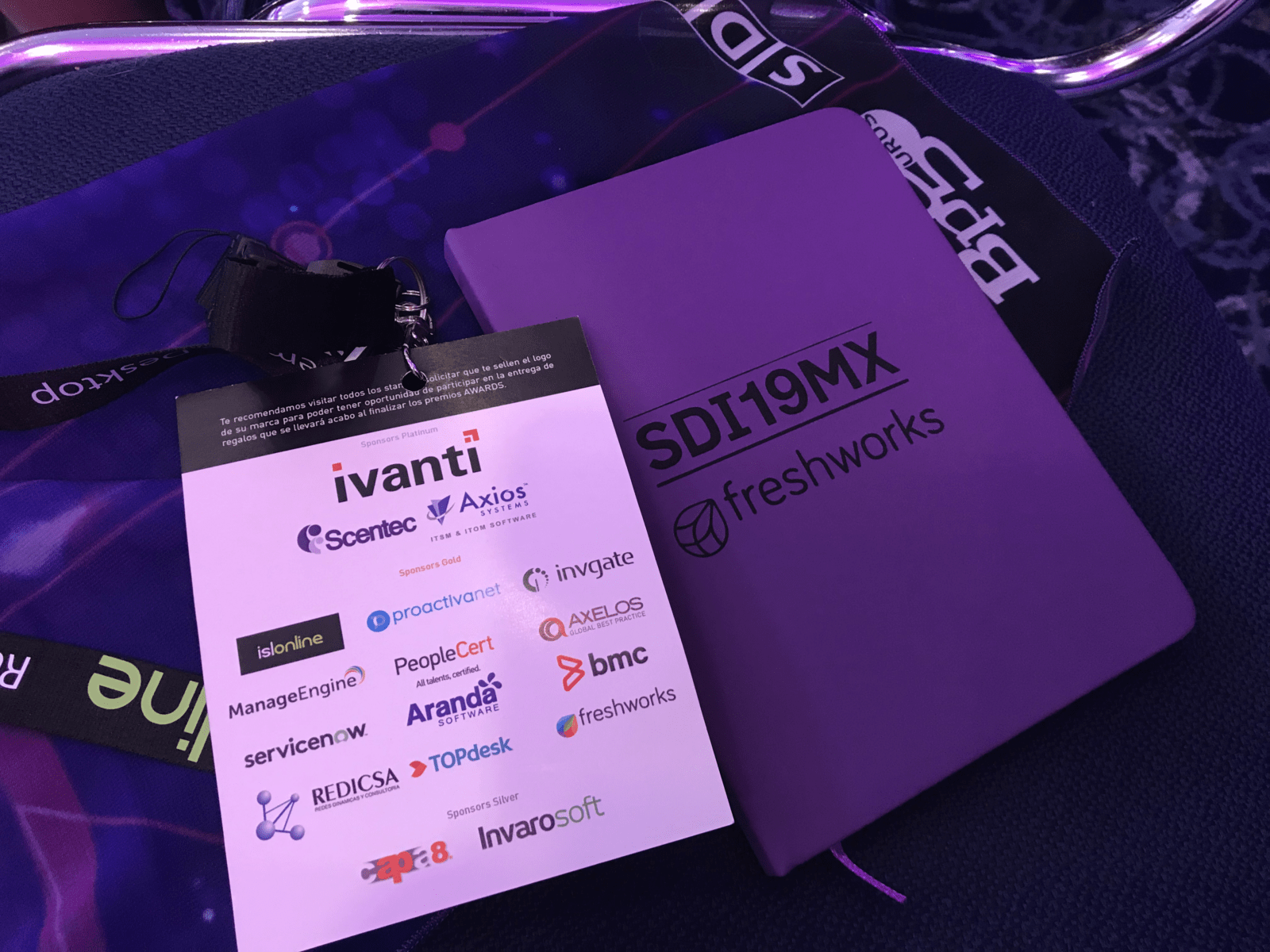 We're looking forward to our SDI19DXB conference on the 20th of October 2019 at The Address, Dubai Marina, Dubai. I hope you can join us there and I look forward to more inspirational presentations and learning! Book your free place to SDI19DXB, The Service Excellence Conference for IT Service Leaders here.