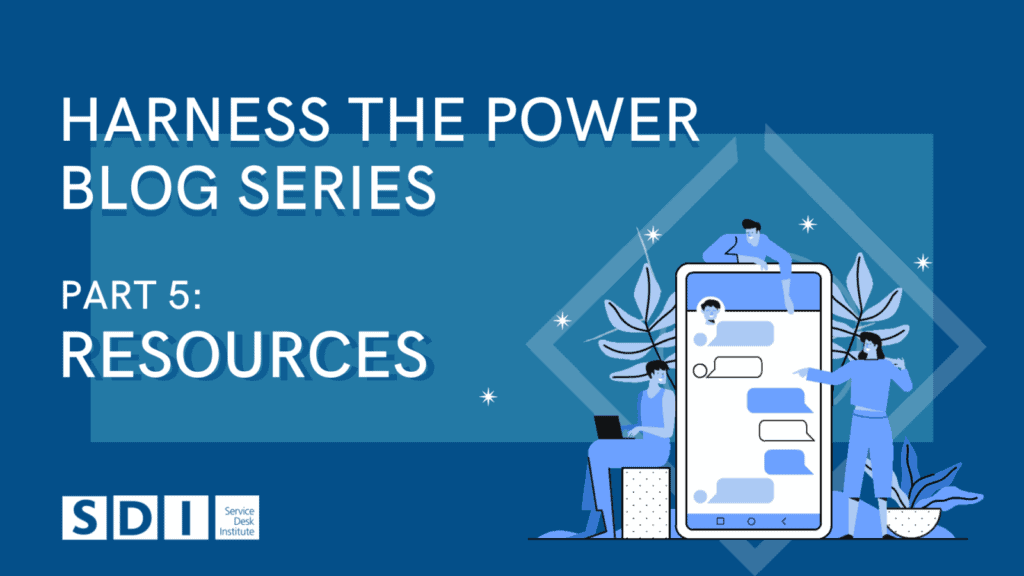 Harness the Power of the Service Desk Assessment
Harness the Power is a blog series written by ITSM experts and authors. The series will focus on the 9 concepts of best practice within a top performing IT service operation and explain how the 

Service Desk Assessment

 in particular, as a powerful transformation enabler will guide you on the path to global service excellence.
This is Part 5
By John Noctor, ITSM Best Practice Consultant & Trainer
Overview
SDI are the governing body behind Service Desk Certification (SDC) ; an internationally established service desk accreditation and improvement programme. The first stage in SDC is the Service Desk Assessment, a two-day evaluation of your service provision to identify key areas of strength and opportunity of your service, according to the Global Best Practice Standard for Service Desk (Best Practice Standard.)  The Best Practice Standard is made up of nine concept areas, policy and strategy forms the second area.
The resources concept is one of the larger areas covered during the Assessment and is the most technology -focused. For the interview sessions that take place as part of the Assessment, we recommend that there are representatives from the service desk leadership team as well as 1st, 2nd and 3rd Line (where applicable). It is also useful to include expertise on knowledge management and information security management. An important point to remember is that we do not to see any forms of documented evidence at the Assessment stage, should you move on to continue with the full Service Desk Certification (SDC) programme, the four day Certification Audit will required evidence to support affirmations.
Resources
The easiest way to think about the resources concept area is to envisage it as the key elements it takes to deliver a service desk and support operation from a technology standpoint. And to remember that we will also want to see your technology being service centric and focusing on the needs, objectives and values of your customer(s) and business.
During the Assessment we are looking at how you go about the delivery of support from a tools and technology perspective. This means your ITSM solution, its implementation, configuration and operation are a key focus.
When looking at this concept area from an auditor's perspective, I think of 3 words:
Consistency

Collaboration

Configuration
To score well in this concept area, you need to be able to describe how you are leveraging your technology to deliver services in an efficient and effective manner, this means a consistent approach to technology implementation and use is vital. Tooling without effective (and governed) collaboration leads to confusion, gaps and unnecessary re-work and ultimately a loss of confidence from users and customers.
Too often, I see support tools not being leveraged to their true capability, the excitement during the selection and implementation phases has been eradicated by the pressures of business as usual and "keeping the lights on". This leads to a lack of ongoing configuration and improvement and a lack of return in investment and in turn- return of value.
What type of criteria fits into the Resources concept area?
As with all 9 of the concepts areas in the Best Practice Standard, we take a comprehensive approach to get a true understanding of your capabilities within this concept. But in summary, for Resources we look for things such as:
Management of a reliable and well managed infrastructure

The implementation and use of telephony solutions (with a specific focus to the service desk)

Your approach to workforce management

The implementation and use of an ITSM (ticketing) solution

Integration of support technologies

The use of technology to aid communication and collaboration

How this use is governed

Effective triage and resolutions of issues on current and legacy systems

Using technology to visualise and report on service desk performance

The establishment, use and value of knowledge across your IT department including:

-Knowledge Base Articles

-FAQs / Guides

Do you have a service catalogue in place covering:

-User (request catalogue)

-Customer (service reporting and performance)

-IT (technical/supporting)

Your current and planned approach for automation

For all of the above are you able to articulate how this links to business objectives and the realisation of value
Some tips for success!
Consider a roadmap for implementation of integrations to and from your ITSM tool, remember to define:

-Business value

-Improvements to the user experience

-Improvements to IT efficiency and effectiveness

Think about visualizing the ticket management experience from a support perspective, this will help you understand what technology is involved, and end-to-end resolutions (telephony, ITSM tool, discovery tool, remote support, knowledge base etc)

Dashboards should be well designed, current, meaningful and visible

The self-service portal (knowledge and catalogue) should be aligned to a positive user experience (outside in)

Ensure you can describe the benefits on how you use and have configured your technology solutions
Benefits and value of focusing on these criteria
IT organizations invest heavily in technology but do not always use it to its full capabilities, one thing I love about this concept area is it helps IT organizations and in particular service desks to consider how they can leverage what they already have, and how they can harness thier technology to help them excel in service support and delivery.
Resources covers a wide range of technology-based approaches but does so with a strong focus on communication and consistency. My experience has been that this area sees the most evidence and examples of 'siloed' working practices with a gap between the service desk and resolver groups, this can hinder operation and support effectiveness and of course satisfaction.
Poor implementation, configuration and use of support technology can lead to staff stress and demotivation as they are continually having to battle against the things that should be making their life easier. By assessing the criteria within this concept area and following the recommendations from the Assessment, organizations can ensure they are:
Getting their full return on investment from support tools

Enriching the support staff operational experience

Giving a return on value to the business

Delivering a greater user/customer experience

Continually improving in line with business needs and organizational objectives

Using technology to its true levels of functionality and capability

Evolving into a streamlined, collaborative, innovative and accomplished partner to the business
If you think back to when you evaluated the support products you are using, can you say you have taken full advantage of the features you all thought would make a positive difference to your support organization and business? And have you implemented all the requirements you originally documented as vital, extremely useful, useful etc?
The feedback I get from service desks who have been through the Assessment (and in relation to this concept area specifically) is it gave them the opportunity to stop and think about what they are doing and how. But also, it enabled them to create and justify a roadmap for improvements for the technology they rely upon for success.
What customers say about going through Assessment and SDC:
"We considered this a great opportunity to improve the way we work, and to bring more clarity to it.
SDI being an independent organisation means they can make objective evaluations using standard criteria, enabling our current and future clients to have the correct expectations and recognise our service maturity."
Madalina Pop, Service Desk Team Leader, Endava
"Our customers have commented on how they have seen a significant change to the services we deliver and how we do things."
Michelle Aston, Head of IT Service Delivery, ReAssure
---
This is the fifth part in the Harness the Power blog series, which will look at each of the nine concept areas in the Best Practice Standard. Each part will detail how improvement and focus in these nine concept areas will make you a better service provider, bringing value to you and your customer.
The Assessment is now available for virtual delivery, saving £500 off the usual cost. It consists of a two day virtual evaluation of your service LEARN MORE>>
If you're interested in whether you're ready for an Assessment, fill in your details below and we'll arrange a call to chat about your current situation and determine the best next step for your service.
Service Desk Assessment Enquiry