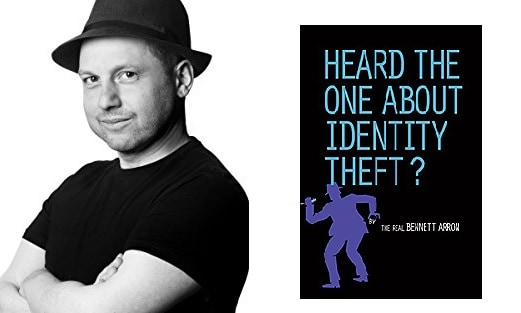 Comedian, BAFTA Shortlisted Director & Author Talks Identity Theft
We're excited to announce comedian Bennett Arron as a keynote speaker at SDI18!
In recent years, we have seen AI and machine learning emerge. Considering these new technological advancements, how do you see identity theft evolving in the next five years?
"Sadly I think the scale of the crime will continue to increase. Identity thieves always seem to be a giant step ahead. However much the advancement in technology, human error can still give out our personal data." – Bennett Arron
Bennett was one of the UK's first major victims of identity theft. According to the authorities he owed thousands of pounds to banks, phone companies and department stores, debt he knew nothing about. This fraudulent activity resulted in Bennett and his wife becoming penniless and homeless.
But being the comedian he is, many years later Bennett managed to make light of the situation and now tours the world telling his account of what it's like to have your identity stolen. Bennett will be joining us to talk about what it's like to have your identity stolen and the importance of IT security on your service desk.
Prepare to laugh and sympathise during Bennett's disturbingly true yet funny personal ordeal of identity theft. Bennett will discuss ways to avoid identity theft but also if it ever was to happen, how to deal with it.
Bennett went on to write and direct a BAFTA nominated documentary named 'How to Steal An Identity'. In the channel 4 documentary Bennett set out to prove how easy it is to carry out identity theft by first conning the general public, then moving on to the Home Secretary… For which he got arrested! The Documentary was Pick of The Week in The Guardian and The Telegraph and was called 'Fascinating and Disturbing' by the TV Times.
As a result of the documentary, the UK Driving Licence Application Form had to be changed…
"Hilarious… clever wit… razor sharp"
– The Standard
"Genuinely original and funny"
– The Times
Watch Bennett's BAFTA shortlisted documentary 'How To Steal An Identity' here. He has also written a book about his ordeal named 'Heard The One About Identity Theft'.
Book your place at SDI18 now, our discounted early-bird prices end on 31st December!