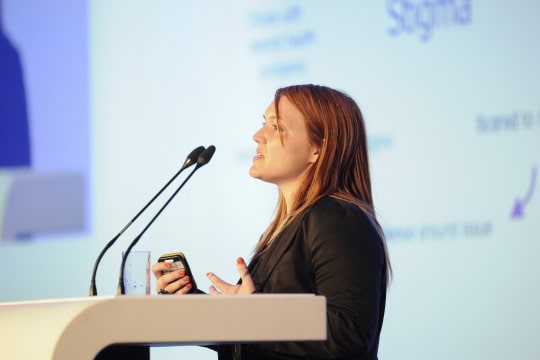 Campaigns for mental health awareness have achieved amazing results in the last few years, however, in regards to wellbeing in the workplace, arguably there's a long way to go… 
Emma Mamo, Head of Workplace Wellbeing at Mind, will be joining us as one of our influential breakout speakers at The Conference for Service Desk Leaders 2018 to discuss the importance of wellbeing in the workplace. 
Emma speaks about the 5 ways of wellbeing- see below:
Let's Talk Figures…
According to Mind charity; at any one time 1 in 6 workers are dealing with mental health problems including anxiety, depression and stress. The importance of mental health and wellbeing at work is unmeasurable, not only affecting an employees' quality of life, but also costing the economy between £70-100 billion per year!  
Many employees have reported that work is the most stressful factor in their lives; this can be triggered from a variety of factors, most commonly including; long hours, high pressure environments, negative relationships, unrealistic deadlines, job insecurity, lone working and high-risk roles. Statistics show that when an employee calls in sick to work due to stress, 95% didn't disclose the real reason for their absence to their boss- and nearly 50% of people have revealed they would feel uncomfortable talking to an employer about their wellbeing.  
What Can We Do To Tackle This?
Despite these shocking figures, 8 in 10 employers still have no mental health policy. Mind has put in place a best practise strategy for employers to change this culture of silence, and promote wellbeing to tackle work related mental health problems, and also support employees who are suffering due to mental illness.  
Just a few of Mind's strategies include; normalising conversations about wellbeing, promoting peer support and buddy systems and ensuring managers and supervisors are trained and confident with the company's mental health policies. An employer's support of flexible working hours and regular breaks has proven to decrease work stress too. Promoting a positive work culture is extremely important, as is making an employee's work responsibilities and expectations clear from the beginning of employment. 
Mind aims to encourage all employers to provide their employees access to support materials, and individual support when needed. 
MHFA England provides a great leaflet on Measuring the Impact of Your Workplace Wellbeing Strategy, click here to download it.
Emma Mamo, Head of Workplace Wellbeing at Mind
Emma joined Mind in 2007 and since 2010, has led Mind's campaigning for mentally healthy workplaces – playing a pivotal role in thought leadership to position mental health in the workplace as a key priority for employers and Government.  
Emma has led culture change through engagement with employers, health and safety professionals, HR audiences and Government on wellbeing in the workplace and back-to-work support for people with mental health problems. She also supports networks of employers and stakeholders to share best practice and develop business-to-business peer support. Emma frequently represents Mind externally as a spokesperson on workplace wellbeing.  
All facts and figures provided by Mind charity