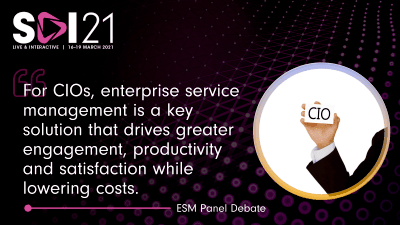 The Service Desk Of Our Times
The evolution of intelligent service management, and why AI has brought enterprises to the cusp of the next transformation.
As IT leaders from various industries increasingly pursue new strategies and technologies to digitally transform their organisations and optimise user experience, the role of service management has evolved in just a few years from an IT help desk to intelligent service management across multiple departments.
Service management is now at the cusp of a new transformation; it once fit within the confines of IT but is now expanding to every department throughout the organisation. This is the user expectation. This is the business requirement. Powering this evolution of service management is access to new technology innovations that businesses require to remain competitive.
IT departments have a unique opportunity to deliver services that drive the entire enterprise internal operations. By first looking to our past and how it shaped the service desk of our times, we can begin to make predictions about the evolution of tomorrow.
From IT service management to employee service management
By tradition and their nature as early proponents of technology, IT departments tend to be pioneers and early adopters and service management is a perfect example of this. For over two decades, IT departments have used service management solutions to create tickets and filter employee requests to quickly address important IT issues. Implementing cloud-based IT service management was no exception as it empowered IT teams to move from primarily handling break-fix tickets to implementing entire service catalogs that contain information about deliverables, contact points and processes for requesting a wide range of IT services such as software updates, backup checks and the rollout of new hardware devices.
With the new imperative of extending the productivity gains realised from service management outside of the walls of IT, enterprises in the last five years began to leverage cloud technology to quickly extend employee service management, prioritising employees with external customer-like levels of service in every department, such as HR to implement faster employee on-boarding processes. IT leaders have pushed to drive alignment and value to the business, giving departments that are typically not equipped with service management practices the ability to deliver more efficient updates and streamlined processes.
Today's service management – predictability and intelligence
Cloud-powered service management led to easier data consumption models, while driving productivity and total cost of ownership gains. As organisations continue to amass increasing amounts of data, that new cloud-based level of data insight has fuelled new breakthroughs in service management. At its core, service management helps people get their work done and the biggest advances in efficiency come from technologies that can harness historical user data to deliver smarter, more automated services. That's why today's service management solutions are tapping into the power of machine learning, using that data to offer a smarter service desk experience. With machine learning capabilities, organisations can automatically suggest resources or service catalog items within the service portal or through a mobile application, reducing the number of tickets and improving the accuracy of the tickets that are entered.
The expectations of employees have changed as the customer support experience within consumer-facing markets has become more immediate and comprehensive across a number of communication platforms, including the use of chatbots, email and social media channels like Twitter. Using AI, service desk teams can better deliver this type of consumer experience that suggests appropriate responses to service requests using predictive analysis of past tickets.
Tomorrow's service everywhere
As AI matures, enterprise service management will continue to proliferate across desktop, mobile, and IoT-enabled interfaces such as connected cars. I believe the evolution of a smarter service desk will culminate in a semi-autonomous service desk that enables service everywhere by performing and automating natural transitions between traditional self-service technologies and a human agent – what Forrester calls blended AI. By embracing the cloud, service management liberated enterprises from the restrictions of maintaining infrastructure.
Now, with faster data analytics and comprehensive insights enabled by the cloud, service desk providers can deliver even deeper customer value by giving employees smarter, efficient and more personalised services fuelled by AI. Business requirements and end user expectations will merge in an enterprise service management platform that drives greater productivity across departments, while delivering superior service experience and satisfaction for both employees and administrators.
For CIOs, enterprise service management is a key solution that drives greater engagement, productivity and satisfaction while lowering costs. Learning from our past, it is safe to say that the next five years promise even more innovation, which will further expand the footprint of service management across the enterprise, making it a standard service in every department in every company in every industry.
Are you a CIO or IT Director?
Claim your free VIP pass to SDI21 worth £249 + VAT now! Simply add the VIP ticket to your basket and use the code CIOVIP at checkout. Only valid for CIOs and IT Directors.