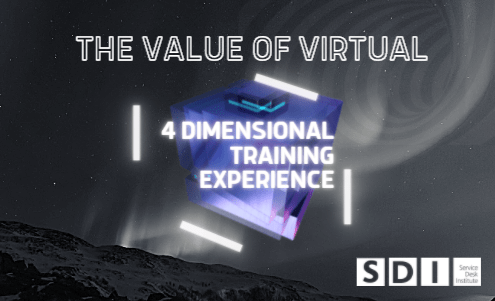 Whether you believe we are standing on the brink of the fourth industrial revolution, or are very much already amongst it, most will agree that technology is enabling us to fundamentally alter the way we live, work, and relate to one another. You may also believe that this means the ITSM industry has a duty to stay up to date (and ahead) of the rest of the world as everybody moves towards virtual options to stay safe, see – we always told you that you ITSM professionals are all superheroes !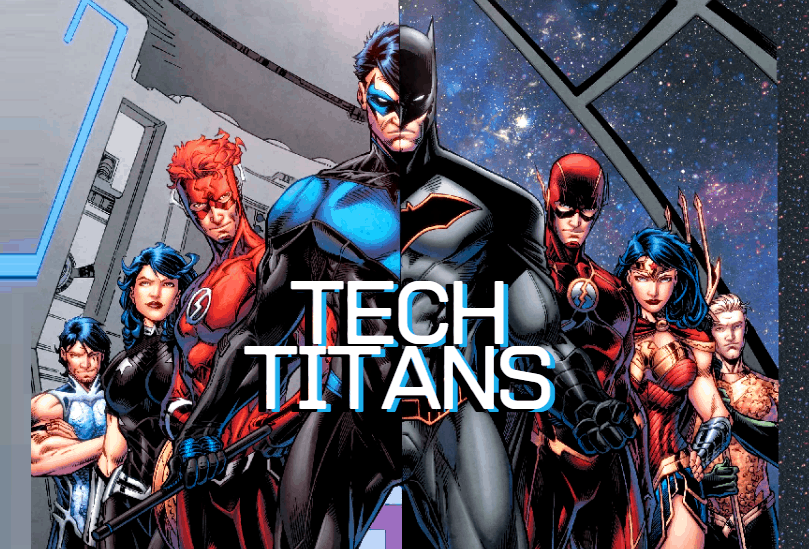 So now more than ever it is vital to understand and be able to practically deliver the latest IT service best practices to our customers and users- and virtual training courses are the ultimate solution.
Thankfully, SDI's live virtual training platform offers a highly regarded 4-dimensional training experience!….
---
The 4 Dimensional Training Experience:
• Engaging Delivery
You won't be left to teach yourselves, what people love about SDI virtual courses is the engaging and collaborative methods used by our trainers to motivate and inspire each topic.

• Passionate industry expert trainers
Who better to learn from than the experts who themselves help to set the global best practice standards? Their passion is contagious and you'll be enquiring to see what other virtual courses you can join us for!
• Latest global ITSM teachings and techniques
SDI and PeopleCert have recently refreshed the global Professional Standards, so you can be assured you / your colleagues are being introduced to the latest current (and future) techniques and methods of itsm delivery.

• Personalised learning styles
Everybody has their own preferred learning styles, and even these can differ for one individual depending on our mood /circumstances! So SDI's virtual training portal allows you to use and interact with the course and other delegates however you learn best. Use the flexible platform to suit your learning preferences with white boards, live chat, microphone, drawing…it's your learning experience!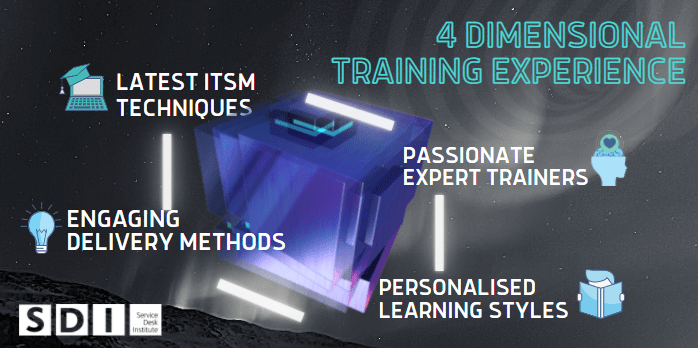 Join us on our virtual training courses and feel the buzz from a positive 4 Dimensional training experience.
"I can't imagine it could have been delivered any better in person!"
"I really enjoyed the virtual aspect of the course, the white board and chat sessions were a great feature"
SDI's virtual training portal gives you a live and fully interactive instructor-led course with other delegates, from the comfort of your home or office. It's a fully interactive, instructor led training experience, hosted through SDI's online Adobe ConnectPro training portal. Each delegate is provided with all of the resources and workbooks they need plus a collaborative workspace where they can share ideas with fellow delegates.
Watch this short video for more info on SDI's virtual courses:
Feedback from our virtual courses:
"I was avoiding doing the course virtually since I was afraid it might not be that feasible. Well, I am super glad I decided to go ahead, I can't imagine it could have been delivered any better in person!"

"I was on your virtual course for ITIL a few weeks back and just wanted to let you know that I recently took the exam and passed first time. I just wanted to let you know of this as I think you're a fantastic tutor and you made this process enjoyable and easy for me to pass."
'Hello John! Kudos to you for enhancing the ITIL training to an exceptional level with your commentary and examples! Your guidance during our selection of the Support Software has been valuable and truly appreciated. Thank you so much for your tutelage these past few days. And though I was on mute, I was definitely laughing at least 50% of the time. I'm actually sad it's over, it was a very enjoyable course and I learned a ton. "