About NTT DATA
NTT DATA is a leading IT services provider and global innovation partner with business operations in over 40 countries. NTT DATA offers a number of IT and system integration services, application development, big data, cloud solutions, digital, enterprise application services, infrastructure services, outsourcing services, technology solutions and consultancy services.
The service desk team is located in Birmingham and supports over 25 international customer organizations across 34 countries. The service desk is managed by Head of Service Operations, Safina Begum, who also project-leads the Service Desk Certification programme at NTT DATA.
Service Desk Certification
NTT DATA began their Service Desk Certification journey in August 2014 with the initial SDI Service Desk Assessment. This is a two day preliminary assessment which takes place before the full Certification audit. After the assessment, a provisional maturity rating is given alongside a detailed, tailored report outlining a service improvement plan based on global best practice. Although at the time of their Assessment NTT DATA did not quite reach enough to receive a provisional Certification score, this is a common outcome at this stage in the programme.  Furthermore, it was evident to the lead SDC auditor that the service desk and support operation were extremely committed to continually improve and enhance the overall service experience.
Journey to success
This dedication and commitment led to some fantastic achievements the following year, when the service desk team won the title of 'UK Small Service Desk of the Year 2015' in the IT Service & Support Awards.  They also worked their way to achieve a brilliant 'customer led 3-star' maturity rating in their Service Desk Certification audit in June 2015.
Continual Service Improvement
Never to take their foot 'off the gas' the service desk team set their sights on increasing their already fantastic 3-star maturity rating. In 2016 after completing their first Surveillance Audit, NTT DATA's overall score increased to 3.83 resulting in a 4-star 'business led' service operation. 4 stars is a significant achievement for any organisation and demonstrates the capability and commitment NTT DATA have to aligning with the Global Best Practice Service Desk Standard.
Implementing the road map of service improvement recommendations produced throughout their SDC journey, has led to maintaining this fantastic 4star maturity rating in 2017 and again in 2018 against an updated and vigorous new Standard.  As Head of Service Operations Safina Begum expresses 'With over 528 questions to answer and over 1000 pieces of evidence, the Certification process is never an easy task!'
"Big thank you to David Wright who has been with us since the start of the journey and has been a great inspiration and mentor along the way. Preparations to take our service to the next level are already under way – watch this space!"
Safina Begum, Head of Service Operations, NTT DATA UK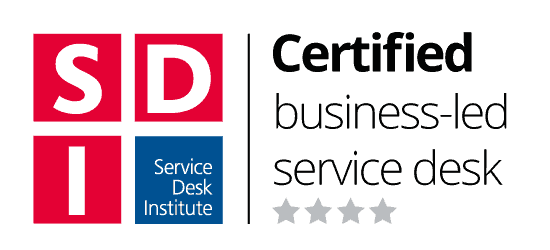 SDI would like to congratulate NTT DATA on maintaining their brilliant 4-star maturity rating in their third surveillance audit which took place this year. SDI Chairman Paul Rodrigues said: "I have every confidence that by implementing the measures and improvement opportunities listed in the latest report, NTT DATA UK is more than capable of continuing to improve it's star rating. I look forward to seeing your progress through 2018 and beyond!"
"Putting Clients First is one of NTT DATA's core values, and is at the heart of everything we do. This is very evident and is infused in the team spirit. I'm very proud of all the hard work the team has put in over the years and the results speak for themselves!"
Safina Begum, Head of Service Operations, NTT DATA UK.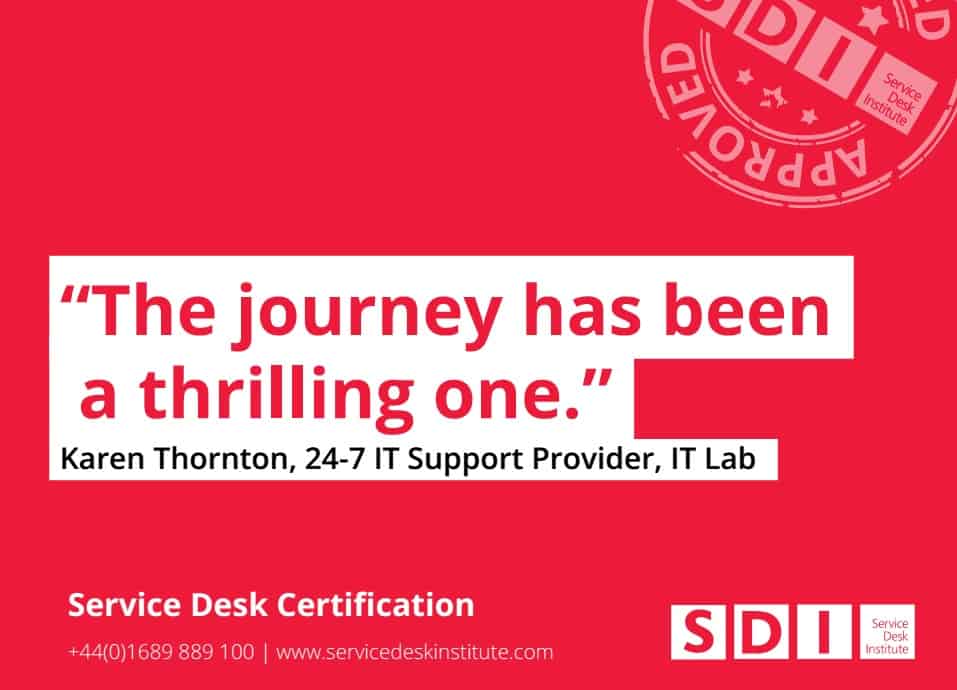 Download the Service Desk Certification Brochure >>
Note: The file may go straight into your downloads folder