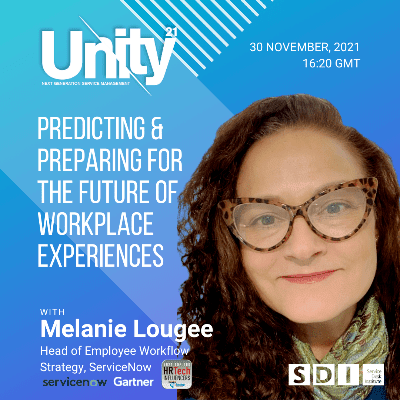 Banishing siloed services is the only way forward says Melanie Lougee, keynote speaker at UNITY21 on 30 November.
From work schedules and childcare to meetings and schooling, the pandemic has upended just about every aspect of our work and home lives. And while it's been a painful journey at times, when it comes to the workplace and employee experience, Melanie Lougee, keynote speaker at SDI's brand new UNITY conference on 30 November, sees the opportunity for a fresh start.
"The big reset button on the workplace has been hit, but it's going to take everyone collaborating across departments and a lot of trial and error to get it right," she said. "We now have a new way of operating, especially when it comes to the employee experience. Instead of over-analyzing, modeling and piloting, we're now looking at iteration over perfection."
Lougee is head of Employee Workflow Strategy at ServiceNow, a digital workflow management platform provider. Lougee will present the session "Predicting and Preparing for the Future of Workplace Experiences"  on 30 November. We spoke with Lougee about what she's seeing in the workplace landscape and what organizations need to do to ensure their employees are productive and thriving, no matter where they work.
Please describe what you see happening in the world of work and employee experience today.
Most companies are over the immediate hurdle they faced at the beginning of the pandemic and are now focused on how they can prepare for the longer haul reality of hybrid work. They're trying to determine how to ensure business continuity — whether they face another wave of the pandemic, or if they're affected by issues related to climate change. At the same time, employee needs have changed. They're expecting a lot more flexibility. They're concerned about whether they'll be going back to the office, and if so, are they going to be safe?
Employers will need to balance out business continuity with the need for high-touch employee care. And the digital employee experience is a big part of that equation. You want to be sure that employees feel connected to each other and to their employer no matter where they are or what kind of situation they're in.
How has COVID changed the future of work?
It's changed everything. It's been a time of reckoning. Many of the workplace trends we were beginning to see pre-pandemic were rapidly accelerated by COVID. Even before the pandemic, companies were already thinking about business transformation to make old, outdated processes simpler using technology. They were already thinking about using more artificial intelligence and more mobile capabilities. But when COVID happened and workplaces shut down or had to transform the way they were working overnight, changes that were probably on a five to 10-year time frame were put on a five to 10-week time frame. Companies had to make these herculean efforts, and some of the resulting changes are improvements that companies are going to want to keep.
Workflow solutions are critical for companies to ensure business continuity. There will continue to be major challenges with COVID in different parts of the world. There will be climate change events and global political changes. As these events continue to happen, companies need to take the agility that they learned during COVID and bake that into their culture and the way they operate.
Implementing digital workflows that can connect an organization across systems, time zones, and cultures is going to be essential. Remaining agile and possessing the ability to pivot quickly will allow these companies to keep operating smoothly.
Companies need to have a rock-solid backbone to balance business continuity and individual choice. Employees are going to expect more personalized experiences from their employer, and they'll have unique needs and priorities that will require different services and resources. Organizations need workflows that help maintain business continuity, while addressing the very real needs and expectations at an individual level.
The relationship between employer and employee has also deepened. There used to be so much focus on fancy perks in the office – massages, beautiful gyms, and fancy cafeterias. Now, it's like Maslow's Hierarchy of Needs has reemerged as the focus for many organizations. They are looking for the essentials of health, personal wellbeing, and the wellbeing of their immediate family. I predict, and I'm hopeful, that as companies recover, they will think hard about the benefits that have the most real impact on people's lives, more so than the superficial perks.
What does a great workplace look like to today's employees and how can it differentiate companies?
A great workplace is really in the eye of the beholder, which leads to the need for personalization. For example, if I'm a single mother living in California with a desk job, my idea of a great workplace is going to be very different than someone who is an hourly worker in a hospital. Within those ends of the spectrum, you really need to understand employees at an individual level, as well as the different requirements around jobs, locations and roles.
What really works is when companies listen to what their employees need, balance that out with what the business needs, and look for ways forward together. You won't get it right the first time. You'll go through an iterative process as you figure out what employees need when they return to the office.
"Historically, HR would solve for people problems, IT would solve for technical problems and so on. Today, departments need to collaborate to ensure employees have what they need, when they need it, regardless of where they're working. And this spans beyond HR and IT into facilities, legal and procurement."
What are some of the biggest challenges organizations are facing when it comes to finding the right mix of digital, physical and hybrid work environments?
First, you can't have a hybrid or an in-person workplace without digital. It's the connective thread that pulls everything together. The other challenge is organizational. Historically, HR would solve for people problems, IT would solve for technical problems and so on. Today, departments need to collaborate to ensure employees have what they need, when they need it, regardless of where they're working. And this spans beyond HR and IT into facilities, legal and procurement. Now that organizations are starting to understand that they're going to have to manage people and places together, we're seeing new titles emerge like head of people and places, or head of workplace experiences.
Another area challenging organizations is creating equity between different workforce populations, including remote, onsite, office and deskless workers. During the pandemic, deskless workers took a disproportionate hit and had more problems with childcare, homeschooling and health risks because they didn't have the option to work remotely. Companies are looking for tools that can give them insights and help them understand all segments of their workforce, and how to care for them going forward.
Please talk about some of the inefficiencies in today's physical offices that result in lost productivity, and how companies can overcome these.
A lot of employers don't really know how their workspaces are being used. They need insights to be able to plan a way forward, including how to organize their space. For example, if the office is open, you need to know who's coming in when, and which departments tend to collaborate and work together in order to adapt and prepare space usage effectively. In addition, with the move toward hoteling or flexible workspaces, organizations need to make it easy for employees to book a workspace or know when their colleagues or boss will be in the office. If employees don't have a regular workspace, you'll need to help them find where they're supposed to go so they can best connect with their colleagues. Ideally, employees will be able to do all of these things in one central place.
Can you give me some examples of how organizations are successfully supporting their workforce in a hybrid environment?
In some ways, the public sector was on the front lines with the changes needed to bring in new workplace policies. For example, early in the pandemic, we had a customer — the Toronto School Board — who was able to use our Safe Workplace Suite to put in place the procedures they needed to bring back teachers and 70% of their student population, and keep them all safe.
Another example is Coca-Cola. They were an early adopter of workplace service solutions to bring people back into the office. We're starting to see more adoption of these services as organizations are figuring out ways forward with their workspaces.
What are the top three workplace trends that organizations should pay attention to today and in the coming years?
One of the biggest trends I see is this concept of people and places. If you care about the employee experience, you also have to care about their physical workspaces. Employers will need to answer questions like: Are workspaces safe? Are they usable? Are they conducive to the work that needs to be done?
We're also seeing a move from employees thinking about perks and gyms to worrying about their health and safety, and job security. It's almost like Maslow's Hierarchy of Employee Needs went from the self-fulfillment level to basic survival. Now, organizations are looking at what investments really move the needle for quality of life such as childcare subsidies and flexible work schedules.
Finally, employees will be coming out of the pandemic with a lot more autonomy and choices. They have other places they can go, they have aspirations, and, in many cases, they know that they can work from anywhere. I expect we'll see more self-driven careers and collaborative relationships between employees and employers. For example, managers are now expected to help grow careers and be the connection between employer and employee. With remote and hybrid work environments, that connection has become more important than ever.
What would be the three action items that they should start trying to get themselves acclimated to for this new environment? 
The first thing I would say is that businesses can't manage a hybrid workforce with very individualized expectations and needs without technology.
The future is going to require empathy at scale. There must be a humanization of that relationship between employer and employee to keep employees interested and engaged and give them a sense of purpose. As the economy in the United States recovers, people who might have been staying in a job for the security this past year will start looking for new opportunities. I've heard statistics of up to 40% of workers are thinking about switching jobs, so it will be very important for employers to have that empathy, connection, and communication with employees to keep them committed, loyal and productive. Employers who already have a strong employee-centric culture stand to gain from the disruption – they can attract top talent from companies who haven't earned their loyalty.
Another piece of this puzzle is the role of the manager. If you think about corporate objectives and HR policy, the manager plays a very important role in an individual's ability to be productive in their job and, ideally, feel satisfied with their job and engaged with the company.
While there's a big difference between a retail manager, a healthcare manager, or a manager for desk workers in the tech industry, what they all have in common is that they must be able to quickly understand and support all their employees. As this "generation interrupted" comes in with a very different view of the world and different ideas about education and their career path, this could add more challenges for managers.
Managers need a toolset to help make sure there is equity, and that each employee is having their needs met, even if those needs are different. Technology can help managers have critical visibility into policies and an understanding of each person as an individual. A lot of the people that are in management now may not have gotten into management thinking that's what they wanted to do.
The manager of the future will need to be more of a coach, mentor, and guide. They'll need to be almost a talent agent, making sure that these employees have opportunities and that their work is visible. They must make sure that their employees are given the right opportunities. I don't think there will be a lot of space for managerial fiefdoms.
What are you most excited about when it comes to the future of work?
If I look back at what's happened during the pandemic, I'm excited to see that we've all grown. Sometimes it was painful, but as a workforce, as organizations, employers and people, we're far more resilient than we ever thought we could be. I'm really curious to see what our next generation is going to be like — these kids who have attended school remotely, who have seen parents struggle, and have looked at the world in a different way. I think they're going to come out pretty strong, and with some very solid belief systems and convictions.
Melanie Lougee is the Head of Employee Workflow Strategy at ServiceNow. She has more than 20 years of experience working in HR technology and HR service management, including four years as a Gartner analyst where she provided advisory services to C-level and leadership teams on technology, transformation, change management and HR communications strategies. Prior to Gartner, Melanie held various strategy positions at Oracle (and, formerly PeopleSoft) and enterprise software provider, Infor.