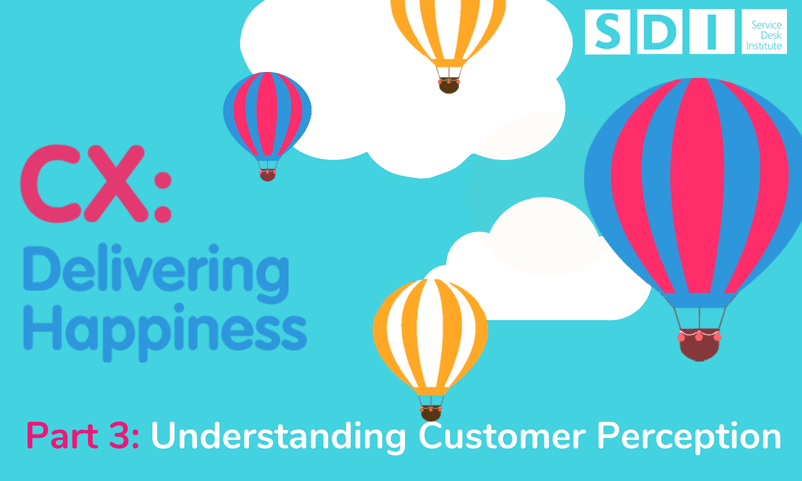 CX: Delivering Happiness
The 'CX: Delivering Happiness' Series is all about the shift in the ITSM industry which is beginning to steer the focus away from traditional metrics and towards recognising the significance of the customer experience.  It will focus on everything from the 'why' and 'how' to measure CX, what affect it will have on service desks in the future, and even ways to take part in upcoming industry opportunities, ensuring you don't get left behind. In part 3 we look at the below webinar which examines the influence of customer perception.
Part 3: Understanding Customer Perception
Customer Perception is a considerably important aspect of the customer experience; a customer's perception is influenced heavily by their experience and vice versa. Perception is formed of factors both internal and external to the service desk, such as marketing, peer's perception, and individual experience.
Customer perception is different to satisfaction. As mentioned in the first CX blog, CSAT focuses on how satisfied the customer is with one particular interaction with the service desk. For example, if a customer has one negative experience with the service desk, it does not necessarily have an adverse impact on their perception of the service desk on the whole. However, consistent negative experiences for many customers can be detrimental for the perception of the service desk.
It is important for the service desk to be aware of customers' perception and understand what they can do to maintain a positive perception. Soliciting feedback and suggestions from customers, identifying strengths and weaknesses, and understanding how different customers use services is vital to the success of a service and support organisation.
In this webinar, Sami and Fran talk about real life examples of collecting feedback from customers, including how, when and what questions to ask, and how this information can be used to drive service improvement and engagement with the business.
Looking to improve your customer perception? 
Take a look at SDI's  thought leading 

virtual XLA event

 on 2 February 2022 and CX WORKSHOP to discover how to drive customer-centric service improvement and define an end-to-end approach to managing your customers' experiences.