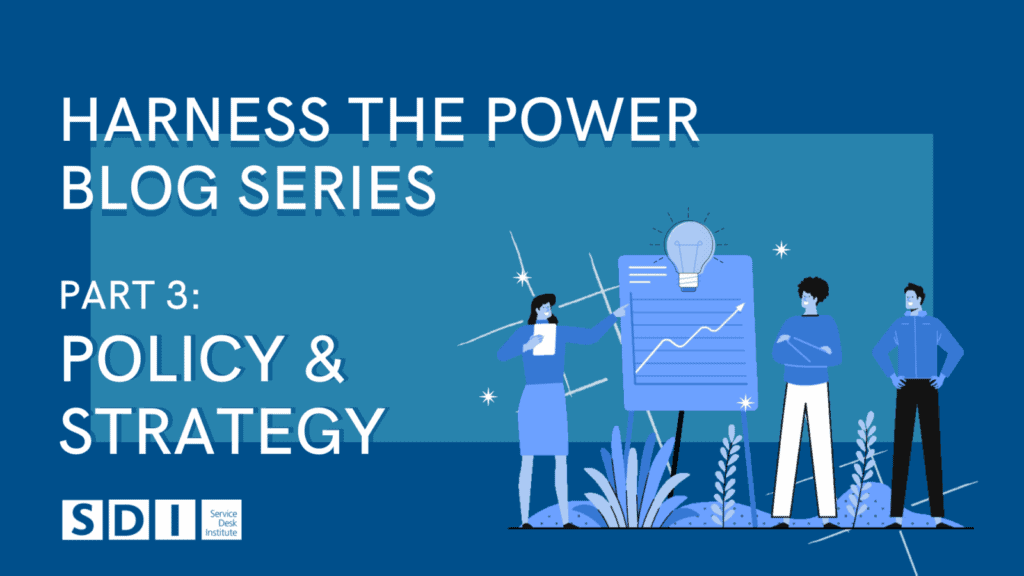 Harnessing The Power of Assessment – Policy & Strategy
Harness the Power is a blog series written by ITSM experts and authors. The series will focus on five of the 9 concepts of best practice within a top performing IT service operation and explain how the Service Desk Assessment in particular, as a powerful transformation enabler will guide you on the path to global service excellence.
This is Part 3
By John Noctor, ITSM Best Practice Consultant & Trainer
Overview
SDI are the governing body behind Service Desk Certification (SDC) ; an internationally established service desk accreditation and improvement programme. The first stage in SDC is the

Service Desk Assessment

, a two-day on site evaluation of your service provision to identify key areas of strength and opportunity of your service, according to the

Global Best Practice Standard for Service Desk

(Best Practice Standard.)  The Best Practice Standard is made up of nine concept areas, policy and strategy forms the second area.
The policy and strategy concept area essentially looks at whether what your service does is in-line with the objectives of the business it supports.
We are looking to make sure that you have a 'top down and bottom up' approach to strategic alignment. What we mean by this is the business strategy should drive your IT strategy, which in turn drives your service desk strategy; there should be clear alignment at every level. When this happens the service desk is seen as a business enabler with a true understanding of the goals of the organisation(s) it supports.
The basis of your strategy: Vision and Mission
We want to see that you have a vision for your service desk supported by a mission statement. Remember a vision statement is where you want to be, a mission statement is what you do and is your commitment to your customer. My advice is that whilst the vision can be set by leadership, it is imperative that the mission statement is driven and owned by the whole service desk team, this promotes buy-in and commitment. Vision and mission statements should be communicated to all stakeholders and be visible throughout the service desk environment. One tip is to consider adding your mission statement to email signatures!
Alongside and underpinning your service desk strategy should be a set of operational plans, these identify what you do and what is required to deliver a service desk operation (resources, training, projects and supporting technologies). Your operational plans should effectively show what you are doing to enable and deliver upon your strategy. Operational plans should include your Critical Success Factors (CSFs) and Key Performance Indicators (KPIs). One piece of advice I give from a best practice point of view is to have no more than 5 KPIs per CSF, around 3 to 5 works well, too few KPIs and you will always believe you are successful even though you are not achieving the benefits expected, too many KPIs and you never will be!
One challenge I often set customers when they show me a KPI is for them to articulate to me how that drives value to the business, this helps them understand the difference between an operational metric (still important!) and a true key performance indicator that underpins success and ultimately the strategy, your vision and mission.
Another key area we look at in policy and strategy is how (and if) the service desk identifies and engages with its key stakeholders; we want to see that there is a clear policy and procedure for engagement so that the service desk can interact accordingly. In particular we like to see a formal approach to the service desk interaction with a business relationship management type function, this allow the service desk to have both a tactical and strategic awareness of business drivers and plans as well as be able to contribute to BRM activities and thus be promoted and seen as a strategic asset to the business.
What type of criteria fits into the Policy & Strategy concept area?
As with all concept areas, we take a comprehensive approach to get a true understanding of your capabilities, in summary for policy and strategy we look for criteria such as:
• Does your service desk understand the vision and mission of the organisation it supports?
• Do you have a defined strategy for your service desk?
• Is your strategy underpinned with meaningful CSFs and KPIs
• Do you have an operational plan(s) for your service desk?
• Is there a vision and mission in place for your service desk?
• Can the service desk as a coherent team influence operational decisions?
• How do you identify and engage with stakeholders?
• Does the service desk have a defined budget with associated accounting methods?
And where your service may not meet these criteria, at the end of the Assessment we provide a thorough and tailored road-map report, providing recommendations for how to best improve  your service. 
Benefits and Value of the focus on Policy & Strategy
Most often the feedback I get from organizations who have been assessed in this area and implemented the improvements recommended, is that they have gone from a position of capability into one of maturity.
This concept area drives the service desk to understand how it is a business-enabler and how it can demonstrate its alignment in everything it does to the objectives of the organization(s) it supports. Having a vision and mission statement aids teamwork, collaboration and commitment to the aims of both the service desk and the wider organization. Service desk staff go from being the "break/fix" people behind locked doors to business assets who are able to show their value to the business and have a drive for continued success.
"Huge thank you to John Noctor for bringing out the best in the team and making the assessment such a positive experience. It's a pleasure working with you!"
Remember, you want to be brilliant and we want you to be brilliant too! The Assessment
 

exercise and subsequent continual improvement programme means you will be able to PROVE that YOU ARE BRILLIANT!
---
This is the third part in the Harness the Power blog series, which will look at each of the nine concept areas in the Best Practice Standard. Each part will detail how improvement and focus in these nine concept areas will make you a better service provider, bringing value to you and your customer.
If you're interested in finding out whether you're ready for an Assessment, fill in your details below and we'll arrange a call to chat about your current situation and determine the best next step for your service.
Service Desk Assessment Enquiry