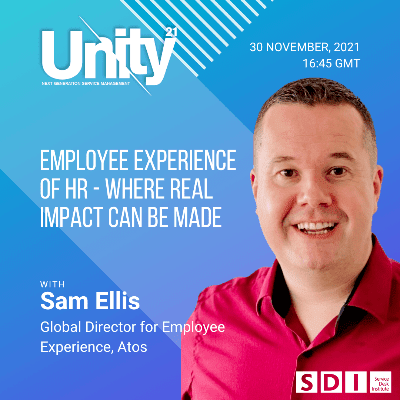 Transforming employee engagement through better tool and process adoption will help your company save money as well as valuable time and effort says Sam Ellis from Atos, speaker at UNITY21 on 30 November.
Companies know that a better employee experience means a better bottom line. Successful organizations work together with their people to create personalized, authentic, and motivating experiences that tap into purpose to strengthen individual, team, and company performance.
The HR team plays a crucial role in forming employee experience. Organizations in which HR facilitates a positive employee experience are 1.3 times more likely to report organizational outperformance, McKinsey research has shown. This has become even more important throughout the pandemic, as organizations work to build team morale and positive mindsets.
HR should facilitate and coordinate employee experience. Organizations can support this by helping HR evolve, strengthening the function's capability so that it becomes the architect of the employee experience. Airbnb, for instance, rebranded the CHRO role as global head of employee experience. PayPal focused on HR's capability and processes to create a better experience for employees, including coaching HR professionals on measuring and understanding that experience, and using technology more effectively.
What is the digital employee experience?
Today, employees expect their experiences at work to mirror their experience outside of work. They want to be able to search for information on their own, whenever and wherever they need it, like how they use Google. They want the information to be personalized, in the same way Netflix and Amazon makes tailored recommendations. And most of all, they want to be able to get things done quickly. In the workplace, processes and tasks are designed with long runways and multiple steps to help make them feel human or personal, but from an EX perspective, those processes are only time-consuming and cumbersome.
Designing for the digital employee experience (EX) is about closing the gap between how people get things done in their personal life and how they get things done in the workplace. If an employee doesn't have to wait for information they need at home, why should they have to wait at work? Employees want to be able to take action on information once they have it, without having to go offline or log into another system.
Digital EX is part of the technological work environment. But even though digital experiences are only one component of EX, they can make their mark faster than the others. The physical takes time to build and make a lasting impact, and the cultural takes even longer. But digital experiences produce a point-in-time feeling that can leave a lasting impression—for better or for worse. Whether an employee has an easy, delightful experience requesting paternity leave—or a frustrating, confusing one—that one-off interaction for such a major life event can define his or her experience at your company.
The future of employee experience
To understand the future of the employee experience, just look at the technology in your own home. Today, instead of typing our question into Google, we ask Siri or Alexa. Virtual assistants may soon be how employees get help from HR. Though it can seem strange to talk to a device at first, these conversational experiences provide a much more natural, human experience.
But voice isn't the only way HR transactions are becoming more conversational and human. Think about how we communicate through text. We have asynchronous (or real-time, if we choose) conversations within a single channel that threads together all exchanges with a certain person on a certain topic. In HR, providing employee service using this conversational style is part of a positive digital EX because it mimics the way employees communicate outside of the workplace.
So how can HR lead the future of employee experience? First, be sure to get comfortable with emerging technologies, such as AI and RPA—they're not going away. Second, keep an eye out for any employee touchpoints that are complicated and messy. Technology is getting better and better at helping reduce manual, repetitive actions that bog down HR and employees. The result? HR is free to focus on strategies that support engaged and productive employees, who in turn can better focus on making an impact on the business and their career.
On 30 November at UNITY Sam Ellis, Global Director for Employee Experience at Atos, will explore the pitfalls many organisations make in focusing efforts in the wrong places. He'll show how prioritising areas of accountability and influence can transform employee engagement, encourage better tool and process adoption, save money as well as valuable time and effort. Register here>>