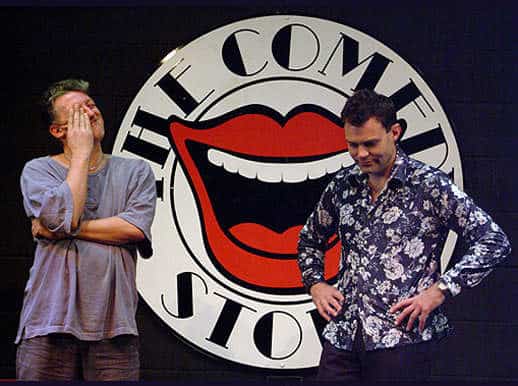 Neil Mullarkey, Author, Comedian and Coach will be joining us as a keynote at #SDI19. As well as hosting his session '7 Steps To Improve Your People Skills' he will also be joining us for the Wednesday morning conference energiser…
After an evening of sparkles and celebration at the SDI Awards, Day 2 of the conference kicks off again in force with Neil's high energy, high impact comedy improv session which will get you laughing your socks off. We guarantee you will be ready to face the day ahead full of smiles and happiness!
Improv Theatre – What's That Got To Do With Business?
By Neil Mullarkey
It's a question I've been pondering over the last twenty years. I met a very clever business school professor of strategy who said, "I think improv is the answer. I'm just not sure what the question is."
Maybe you've watched "Whose Line Is It Anyway" but have you seen a live improv performance? There is an amazing atmosphere, a trust between audience and performers. The crowd give suggestions and the actors use them to create impromptu scenes, stories and songs.
My improv troupe, the Comedy Store Players improvise an entire show twice a week. There are moments of hilarity and vulnerability. There are moments when we fail and moments when we soar. But we do it together – with our fellow players and with our audience. The customer knows they are special. They know we are doing it for them. They are sharing in the experience and we are doing our best. They may not remember exactly what we said but they do remember how they felt.
There is enough structure – we know start and finish times, who's in the team and which games we are going to play – but not too much. In improv, you really have to listen to your fellow player. You have to work with what s/he gives you.
So far, so applicable? In sales, in leadership, in negotiation and sales, for sure. Maybe the service desk community?
Do you have to deal with people?
Do you have to listen to people?
Do you have to solve problems for people who don't have quite the same frame of reference as you?
Do you have to deal with people who might be a tiny bit emotional?
You must be adaptable, keep calm and remain respectful. You might be dealing with a customer, a team-mate or a supplier. We are told that robots will soon be doing most jobs. But IBM are employing poets and playwrights – to make their chat-bots seem more human.
Robots are good at repetitive tasks and giving "Yes" or "No" answers to specific binary problems, but what about "Maybe" or "Not Yet" or "Don't Tell Phil"?  What if it's the wrong question?
Social interaction is more of a grey area. Humans muddle through, not with algorithms but with nuance and empathy. And a smile. Context is vital in conversation. Rational is not always the same as reasonable.
In many ways, improv is not about making stuff up but using what is given you. You can see why this approach is at the heart of the way I help teams to work better together and individuals to have a better impact. It's about paying attention to our language and body language and how it's being received.
So improv is the answer to so much. Let the robots find the question…
Head to the conference website to book or view the full programme!