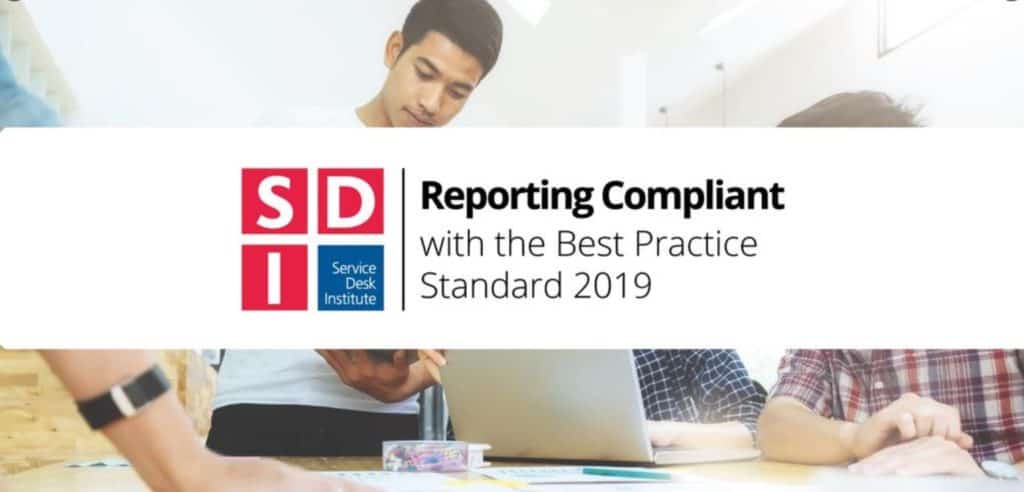 Marval's IT service management (ITSM) software has once again been accredited by the Service Desk Institute (SDI) as SDI Best Practice Standard – Performance Results Report Compliant.
For organisations planning to achieve SDI's Service Desk Certification, MSM provides a series of pre-configured reports that make it easy to generate the performance metrics required. Ensuring easy, efficient and intuitive access to core service desk metrics will prove invaluable for all service desk operations taking part in SDI's Service Desk Certification programme.
SDI is passionate about inspiring service desks to be brilliant and its mission is to help service desk professionals find solutions to common challenges and enable service desks to achieve the recognition that they deserve.
SDI works with many of the service management industries leading minds and practitioners, bringing together a wealth of experience to develop and maintain the Global Best Practice Standard for Service Desk. Version 8 of the standard, released in March 2019, is the most comprehensive, detailed, and future-proofed set of standards for the Service Desk yet.
The latest version of the standard reflects positive attitudes towards different ways of working, diverse cultures and interests, as well as mental health and emotional wellbeing. Additionally, to drive the right behaviours through Service Desk metrics, version 8 refines existing Management Information and Performance Results criteria as well as introducing measurements for Problem Management. David Wright, Chief Value and Innovation Officer at SDI, said:
"I've been impressed by Marval's approach to maintaining its compliance with the Management Information and Performance Results concept in version 8 of SDI's Global Best Practice Standard for Service Desk. The ITSM software solutions space is a very competitive market. More than ever, IT practitioners want simple, centralised, easy access to service management data, and great tools that help them rationalise, contextualise and leverage data holistically, to support continual improvement. I'm delighted that ITSM software companies like Marval, not only understand that but also offer a best practice aligned solution to support their customers' needs."
Commenting on the accreditation, Lisa Howkins, Managing Director of Marval added:
"More and more of our customers are embarking on the SDI's Service Desk Certification and it is important that we help them in their service improvement goals by simplifying the way in which they obtain required metric evidence from data recorded within our ITSM software. Marval MSM has been certified for more than five years and we are proud to have to have met the latest criteria requested by the SDI in our recent audit." 
To find out how your service desk tool can add out-of-the-box SDI certified metrics for your customers, please get in touch [email protected].
Looking for a new service desk tool?
Visit SDI's unique and free online ITSM tools exhibition to see videos of live product demos. With real-time product demonstrations plus an introduction from each supplier, it's a great place to begin your tool selection project. Watch the videos and discover the on-demand exhibition you can visit whenever you choose.
"I needed a one stop shop where I could view multiple products side by side. The online expo allowed me to narrow down my choices quickly. Seeing the products in action was much more efficient than signing up for demos and having to trawl through myself."

Dave Woods, IT Support Manager, Utilita