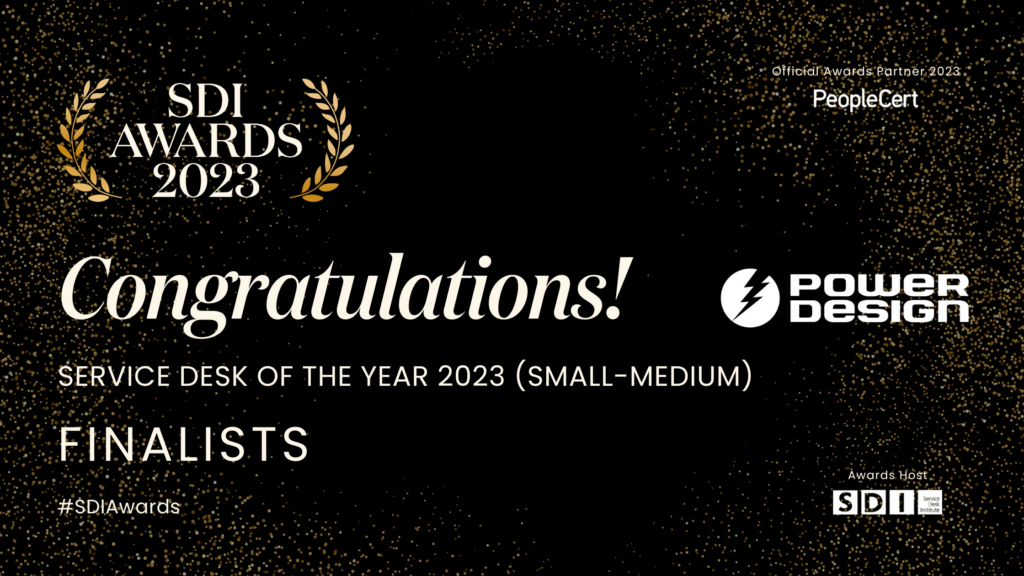 In the run up to the SDI Awards 2023 gala dinner and prize-giving on 30 October, we've been asking our finalists about their experiences, reasons for entering and hopes for the future. Here's the story from PowerDesign Inc: 
Finalist – Service Desk of The Year 2023 (Small-Medium)

What made you decide to enter the awards? 
Our desire to enter the SDI awards was all about the chance to recognize the exceptional commitment and dedication of Power Design's support team in a tangible and meaningful way. This team consistently goes above and beyond to help our customers navigate any issues or challenges they may face. Their hard work and tireless efforts never go unnoticed, and I truly appreciate everything they do to provide the best possible service.
What part of the awards process did you enjoy the most?  
Throughout the awards process, we enjoyed being able to personally acknowledge each individual contributor's success as we presented to the judges. It was truly rewarding to highlight unique strengths and invaluable contributions from each team member. By showcasing these exceptional qualities, we were able to effectively illustrate how ATLAS's (All Things Logistics And Support) efforts propel our team towards unparalleled levels of quality and service. Doing this really brought me genuine delight and satisfaction.
In the last 12 months, what has been the most successful initiative your team has implemented to help your business improve its performance?   
In the past year, our team conducted multiple "Hackathon" events that included all facets of Power Design's IT team: Support, Programs, Operations, Development, Experience, Release, and Adoption. This initiative significantly challenged our conventional processes by introducing extraordinary ideas, resulting in substantial enhancements to our customer experience and technology capabilities, boosting our ability to provide business value, and improve overall performance.
What are your top 3 tips to make a service desk successful?  
Invest in your people – they are the only appreciable asset your company has!
Never sacrifice the important for the urgent – always make sure you are focused on what's best for the future and never be too busy to do what's right.
Have fun – we spend a large portion of our life working, so we want to be able to enjoy what we do!
What one thing do you think really makes you stand out as a service organization? 
At Power Design, we've established one central point of contact for all aspects of end-user technology experience. Our unique approach contains a multi-tiered system of support including release management, user assistance, and technology adoption. This comprehensive framework ensures that every interaction is seamless and tailored to the diverse needs of our users. Our dedication to offering a unified and holistic technology experience redefines the standards of user-centered support, making our organization stand out.
How are you preparing to evolve your service desk over the next few years? Please share your most exciting plan with us!   
We believe in a proactive approach to support, and are committed to identifying potential issues before they become incidents, so that we can address them in a timely manner. As we look ahead to the future, we are excited about integrating even more IT systems and tools to help us maintain that level of proactiveness. Our goal is to have over 50% of remedies initiated by our team, rather than by our users, enabling us to anticipate potential disruptions, allocate resources more efficiently, and provide unparalleled service quality.
If you could choose any celebrity to work on your service desk, who would it be?  
Ryan Reynolds, known for his wit, charm, and adaptability, could bring a unique set of qualities to our ATLAS team. While unconventional, having a bold personality like Ryan Reynolds could bring a fresh perspective, improve user interactions and relationships, and contribute to a more dynamic and engaging work atmosphere.
What does it mean to your team to be a finalist in the 'Best Small-Medium Service Desk' category? 
Being named a finalist for the best service desk of the year award is a testament to our unwavering commitment to excellence and user-centered experiences. It's a validation of our dedication and hard work, recognizing the strides that we've taken to provide exceptional service. This acknowledgment highlights our team's collaborative spirit, innovative approach, and focus on delivering meaningful interactions. While we haven't won yet, being a finalist already affirms that our pursuit of excellence is making a significant impact in the realm of service.
What advice would you give to anyone entering the awards next year?  
Be honest with yourself. Acknowledge your weaknesses but celebrate your strengths. Even if you don't win, if you believe your team should even be considered for this award, you're likely already on a winning team!
What would you do to celebrate if your team won 'Best Service Desk 2023'?  
The team will need to weigh in on that when we win 

😊

 

They all share strong relationships amongst each other both professionally and personally, so ultimately, they always come up with the best celebratory events, together.  Rest assured, though, it will be AWESOME!!!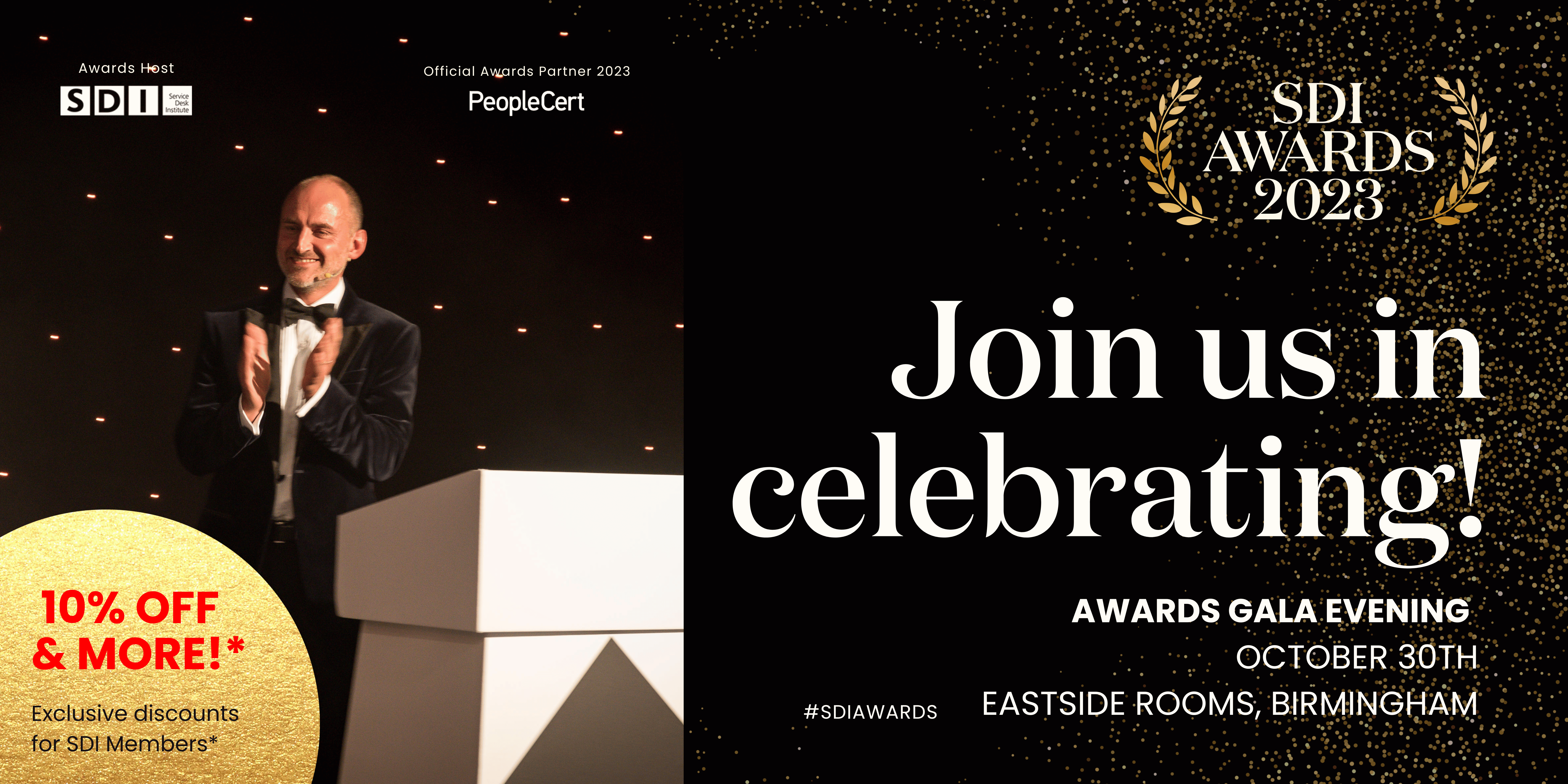 We cordially invite you to join us for our special Awards Gala evening to show support for your company and celebrate its successes. Are you an SDI member? Don't miss out on our exclusive discounts and special offers. Please fill in the form below for more information and ticket pricing.
We are excited to welcome you in October and look forward to an unforgettable evening together! 🎉