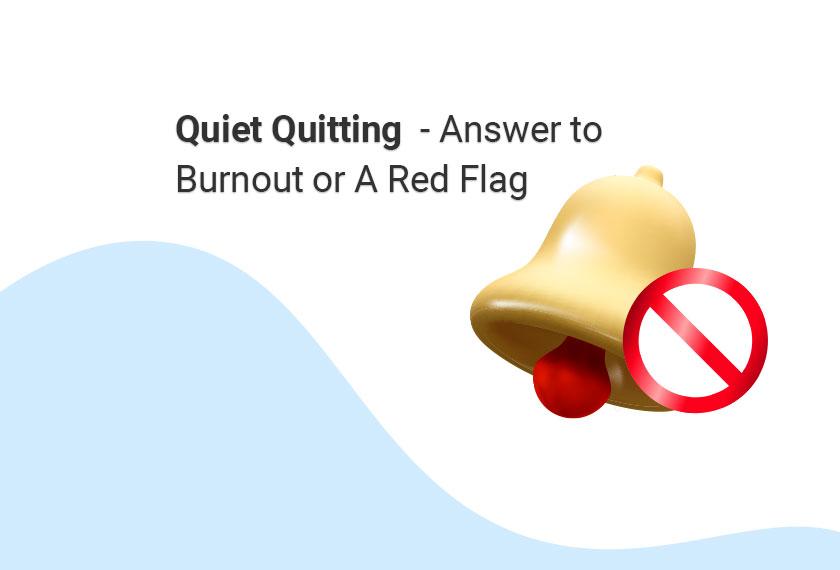 It's been months since we have faced the "resignation waves" for the first time or "back to office battle", and we're already being introduced to another phenomenon called "
quiet quitting
".
You've probably heard about the record number of employees who voluntarily quit their jobs or the so-called Great Resignation. But quiet quitting isn't what you think it is.
In this article, we'll discuss quiet quitting and answer if this is another phenomenon organisations should worry about. So, let's dive in!

What is Quiet Quitting?
Quiet quitting doesn't actually involve quitting a job. It's not even about doing only the bare minimum at work, but just about doing what's required and not going above and beyond. In other words, people are changing their approach to the work they do and their ambition. In fact, some controversies around quiet quitting surround whether this is a healthy approach to work or whether people are just slacking at work.
Sure, this may not seem like that big of a problem. After all, it's really a new term for an old concept. A concept that is growing into a popular movement across social media.
However, some would argue that, yes, people are keeping their jobs, but what happens in the long run if employees are unhappy, unmotivated, or lack ambition?
Wouldn't this ultimately negatively affect an organisation's potential? Does not going the extra mile to demonstrate their worth to employers mean that employees are disengaged? And why are there so many quiet quitters?
To answer this, it's important to understand some facts about this concept.

Quiet Quitting is Nothing New
Is quiet quitting really a phenomenon we haven't seen before?
The truth is, it's been happening for decades. However, its latest popularity says a lot about how the workplace and people have changed. Undeniably people have different approaches to personal life, so it's not surprising to see they have different approaches to professional life and work.
If you think about it, there has always been a difference between people who work to live and see a job only as a necessary tool for existence and those who identify themselves closely with the work they do or, should we say, live to work.
Read more about  The A – Z Of the Great Resignation
Volunteering for an ambitious project or putting in more hours might not seem like a massive deal to some people. In fact, people have been traditionally encouraged to do so to demonstrate their worth to an employer. It still is an expected part of many labour practices and cultural attitudes toward work.
"It's time to change the communication between employees and employers."

But things have clearly started shifting to different ways to work – to a more employee-centric workplace. As more people see no point in going the extra mile if they don't feel they are being appreciated by the organisation.
Employee Expectations Are Changing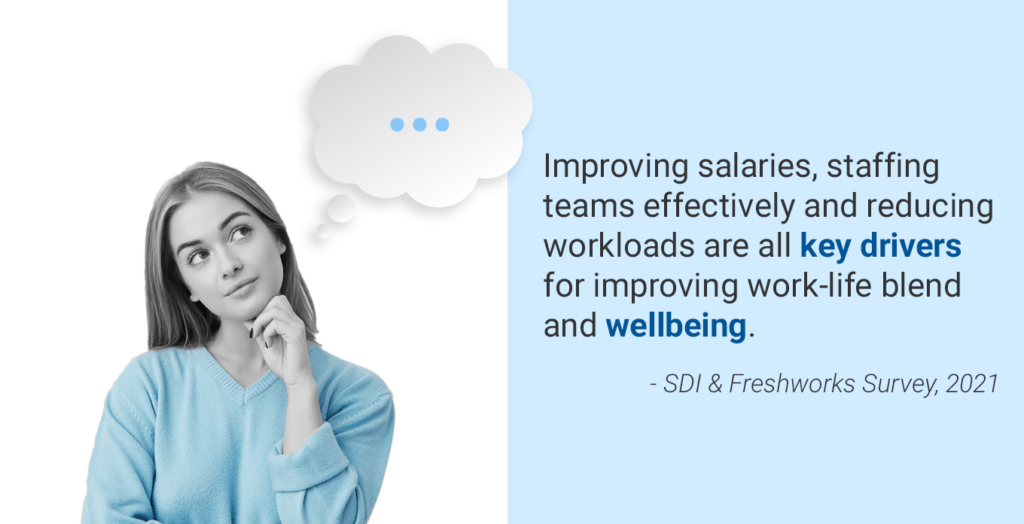 The quiet quitting will probably always be present in the work environment in one way or another.
The last two years have only accentuated this trend. The pandemic has opened the door to new challenges and changed employee expectations, which means this is more than just the action of an individual.
People are rethinking what they want from their professional life and changing their perspectives on well-being.
After all, we spend around one-third of our life at work. So, in a way, over time, we all become more cautious about how we spend that time. Most people seek work-life balance flexibility and are more open to seeking new fulfilling opportunities.
Shaped By Generational Changes
Every generation of workers has a different approach to work. And this trend appears to be shaped by generational changes.
According to Gallup's survey data for the U.S. market, employee engagement across generations is falling.  Gen Z and millennials, born in 1989 and after, are at the top of the list, with the lowest engagement of 31% in the first quarter of 2022.
In the end, no matter what is fuelling quiet quitting, this is clearly a signal that a growing number of employees are disengaged from either their job or employers. And we could all agree that in the long run, that doesn't benefit either the employer or employee.
Genuine or Fake Response to Burnout?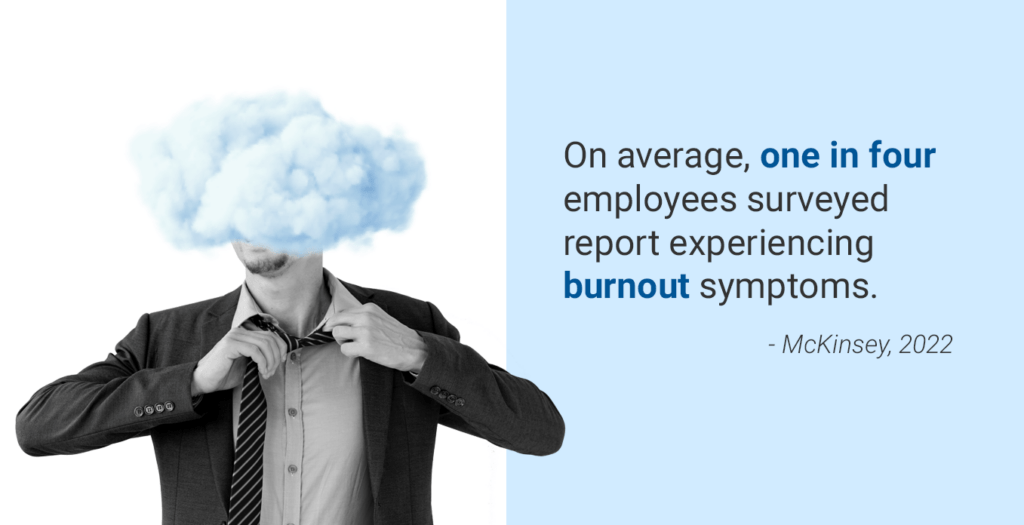 Putting in extra hours, accepting ambitious projects or agreeing to work at weekends might lead to exciting new opportunities and success. But it could also lead to burnout.
Diagnosing burnout in a remote "out of sight" setting is complicated but more important than ever.
"Many people choose quiet quitting to respond to burnout, stress, and discontent at work. "
People are still doing the required work but are trying to remove the feeling of stress or pressure to put more than 100% at work and outside working hours.
They see quiet quitting to reclaim their life back and prevent future burnout, which might not necessarily be a bad thing. However, it's up to the organisation to educate themselves, as well as employees within the organisation, on what excess stress and burnout are and how to prevent them.
Ambition Isn't Dead
Some may argue that the influence of recent years has seen a rise in individuals who no longer subscribe to the neoliberal 'hustle' culture, which puts profits and success over human-centred values, such as compassion and self-development. However, this doesn't mean these individuals are less ambitious. It simply means they have different values and needs.
So, organisations can choose to create either positive or negative experiences for their employees, which will affect quiet quitting. How? Knowing what motivates people, creating purpose and setting up objectives to keep them engaged and satisfied can fuel their ambition at work and improve business performance.
Final Thoughts

If ignored, quiet quitting can have a negative effect on the organisation. However, there is a way of still being engaged with work while having clear boundaries.
The solution? Communication. Communication.
Talking to employees, gathering their feedback, and discussing what is causing the stress, dissatisfaction or disengagement in work can help organisations to shape a better employee experience.
What's your view on this?  Do you think quiet quitting is a harmless response to burnout or a red flag?

If you enjoyed this blog, you'll love chatting with our expert resourcing team at SDR. Service Desk Resourcing (SDR) is SDI's specialist recruitment service that provides highly skilled professionals for every ITSM requirement – including roles beyond the service desk. We have the largest network of ITSM professionals from the relationships we've built over 30+ years. You won't find a more experienced expert team for hiring, specifically in the IT and Service space. SDR resources for all roles related to IT service delivery & their wider organisations such as HR and administration. We even offer SDI-certified training qualifications to follow each professional hire in their career to help you attract and retain new team members you hire through us. Make sure to use your time efficiently by working alongside our resourcing experts at SDR.
Find the perfect candidates for your team! Whatever your challenges, share them with us and discover how SDR can help you today – email [email protected] or explore SDR.

Written by:
Antonija Bozickovic
Content Creator at SDI