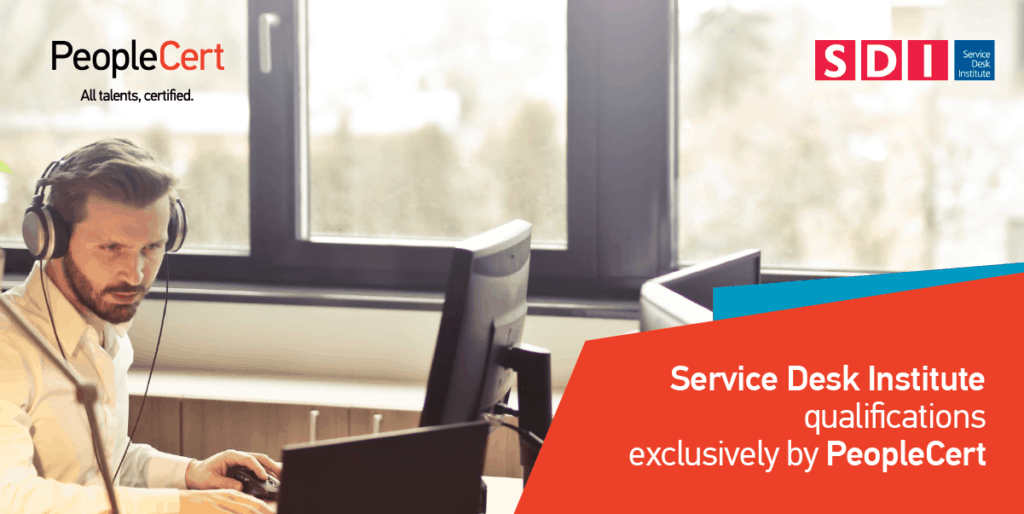 Service Desk Institute (SDI), the worldwide organisation for setting best practice service desk standards in the IT service and support industry, recently selected PeopleCert, a global leader in the examination and certification industry, as the exclusive group to deliver SDI's Service Desk Manager (SDM) and Service Desk Analyst (SDA) qualifications from June 1, 2019.
Certifying competency in IT service professionals
SDI's internationally recognised standards for service desk and IT support professionals set out clear definitions for the key service desk roles and form the basis of these two exceptional qualifications. The SDA qualification is designed to provide service desk and support analysts with the skills to work consistently within industry recognised standards and in-line with the best practices guidelines; while the SDM qualification recognises an individual's knowledge of the competency requirements and skills required to be a manager of a service desk.
"Service Desk qualifications are becoming even more in demand for IT support professionals to get ahead in our ever-changing workforce of today," noted Dimitris Nicolaides, PeopleCert International Business Development Director & Deputy CCO. "We are thrilled to be partnering with SDI in providing valuable certifications with the highest level of quality and experience."
Demonstrating excellence in IT service management
SDI qualifications give assurance to employers that the learners aspire to be truly proficient in the vital roles they play within the service desk. These qualifications demonstrate that candidates are knowledgeable about service desk global best practice and have developed their knowledge in order to deliver excellent levels of service to end-users and, for managers, excellent leadership of the service desk.
The route to professional certification
PeopleCert will manage the entire certification process, from accrediting training organisations in SDI qualifications to managing candidate exam registration, delivering exams, certificates and more. The examinations will be delivered through PeopleCert's systems, both in a classroom environment and through PeopleCert's award-winning online proctoring solution, enabling candidates to complete them whenever they want, from any place they choose, with a live proctor guiding them through the entire process, while verifying the exam results.
"The team at the Service Desk Institute is excited to be partnering with PeopleCert to deliver certifications based on SDI's world-renowned Best Practice Standards for service desk professionals. Together, PeopleCert and SDI will collaborate to ensure the examinations and training materials continue to be industry-leading across the globe" added Tessa Troubridge, SDI CEO. "Passionate about inspiring service desks to be brilliant, we believe that learning and development are fundamental in achieving continual service improvement. We look forward to more and more service desk professionals becoming SDI certified in companies across the world."
Find out more about SDI's qualification courses for service desk professionals here.
About PeopleCert
PeopleCert is a global leader in the assessment and certification of professional skills, partnering with multi-national organisations and government bodies to develop and deliver market-leading exams. PeopleCert delivers exams across 200 countries, in 25 languages, through its state-of-the-art assessment technology, enabling professionals to reach their full potential and realise their life ambitions through learning.
About the Service Desk Institute (SDI)
The SDI company mission is to inspire service desks to be brilliant. To achieve this mission, SDI has developed a set of goals by which it aims to inspire service desks:
To raise the quality of service delivery by valuing and embracing best practice
To create an inspiring and engaging customer experience
To invest in and empower their teams to be inspired, take action and be better
To shine by demonstrating and delivering exceptional business value
SDI sets the globally recognised best practice service desk standards that provide clear and measurable benchmarks for service desk operations and professionals. The standards are designed to encourage service desks to embrace best practice to in order to raise the quality of service delivery.