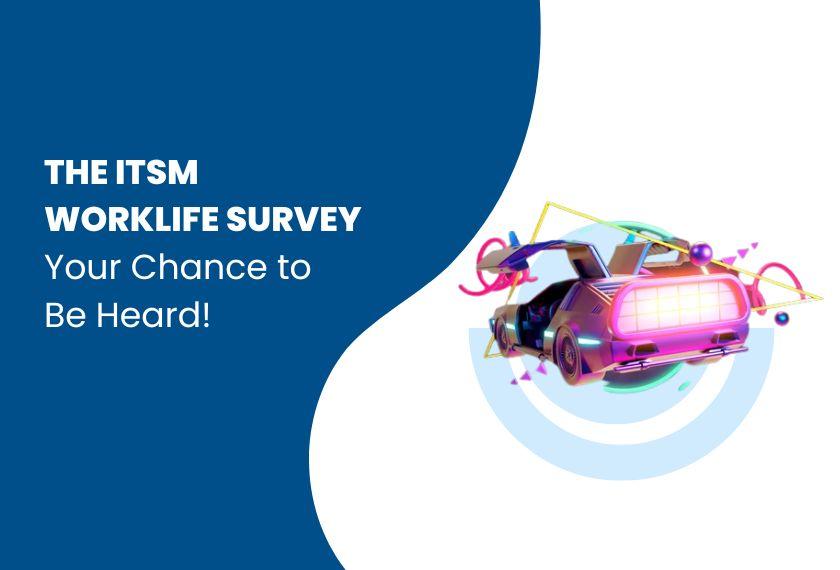 The world of ITSM is constantly evolving. With new emerging technology trends (such as
ChatGPT
or DALL·E 2) shaping the future of many industries, it would be an understatement to say businesses will have to face some new challenges but also have some exciting new tools to work with!

So, as ever, businesses need to keep up with the latest trends and stay ahead of the competition. In fact, what we've learned in the last few years is staying up to date with the latest industry and workplace trends can mean the difference between success and failure.
That's why we're excited to be conducting vital research on the future of working life in ITSM, focusing on technology, trends, and the human factor.
By exploring these key areas, we aim to gain insights that will help us better understand the needs and expectations of IT service professionals and identify opportunities for improvement and growth within the industry.
Our research aims to address some common industry challenges, predict trends and more!
So how can our research help?
First, it can help us better understand the challenges and opportunities facing the ITSM industry today. Moreover, by identifying key trends and growth areas, we can develop more effective strategies to deliver high-quality services and better customer experience.
In addition, research like this can also help us better understand the evolving human factor in ITSM. We want to address some common factors shaping the modern workplace, such as health and well-being, employee experience, skills development, and upskilling.
Many organisations have shifted to remote or hybrid work models and offered flexibility and convenience to their employees. But this has also created challenges for the employee experience and well-being. From feelings of isolation and lack of work-life balance to difficulties with communication and collaboration – these are some of the many challenges we want to address!
By taking a more holistic approach to ITSM, we can create a more stimulating and engaging work environment that fosters innovation, creativity, and collaboration.
Overall, our research into the future of working life in ITSM has the potential to spark some conversations, and we're excited to share our findings with the world.
We invite you to join us, share your thoughts and be a part of the conversation!  
Thank you for taking part!

On day 1 of SITS23 on 10th May, SDI's Chief Value & Innovation Officer David Wright is hosting a panel discussion with expert industry practitioners to discuss the new research findings!
This discussion isn't to be missed, as it won't be based on subjective points of view of the past but on the latest facts affecting our ITSM community right now and in the years to come!
Meet our team at stand 625 at SITS, The Service Desk & IT Support Show, on 10-11 May 2023 at ExCeL London – Register for your free ticket here.
Visit the SDI team on our stand for an exclusive QR code providing early access to our survey findings for SITS23 visitors – be among the first to discover the future of worklife in ITSM!