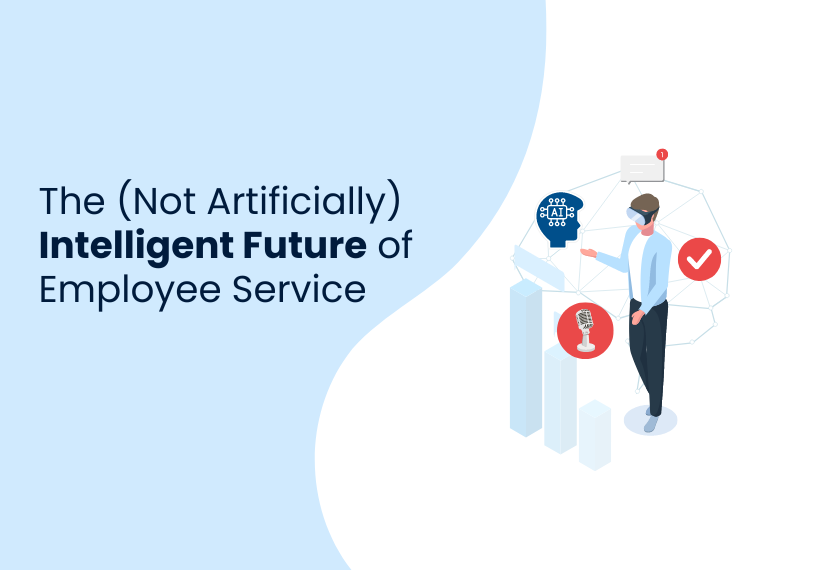 Your colleague will soon be a bot. And that bot will help you become the best version of yourself. Here's how…
Better service experiences are on the way. They're what employees deserve. There's nothing artificial about them, even though they'll make automated decisions on your behalf.
Work will never be the same!
Gone are the days of being treated like a ticket, asked the same question multiple times, and put on hold. The traditional service portal is becoming immersive, interactive, proactive, and intelligent.
Meet your personal digital concierge.
The personal digital concierge knows who you are and how you work. It can book travel and conference rooms. Set your preferred temperature in the conference room. Invite your guests to meetings and get them on WiFi. Upgrade your laptop before it breaks and keep you secure on the network.
No employee should feel penalized for not knowing where to ask an HR question vs. an IT or facilities one. Personal digital concierges orchestrate requests across bots, channels, and languages. Most of the time, they take action without help.
When they need to involve another bot or live agent, they find the right resource and own the task until it's complete.
Answers find you everywhere.
The personal digital concierge remembers everything you ask. It can reference past conversations. It picks up where you left off when you move from laptop to mobile to voice to AR headset.
Enter the post-ticket world. Conversations are the new unit of record. Tickets are structured to help computers store information. Humans think and act in unstructured ways. So does the personal digital concierge.
Ask using natural language and get natural language responses so you'll never again need to know why categories need three tiers.
The personal digital concierge learns from feedback. You tell it when it's helpful and not. It learns like a human to help employees feel trusted, valued, and respected. It's not a replacement for human interaction, but it eliminates the friction that prevents employees from doing their best work.
Voice is the new app. AI is the new UI.
Employees use modern technology outside work to find the next best movie to watch or parallel park their cars. They expect similar interactions at work. Increasingly, mice and keyboards are being replaced by voice assistants and personalized digital experiences.
Software ate the world. AI is eating software.
Experience service in 3D.
The workplace of the future will involve traditional work augmented by contextual information delivered via new wearables like headsets, wristbands, and smart clothes. Sensor networks will provide the personal digital concierge with everything it needs to deliver proactive service.
When intelligence is ambient, technology will recede into the background, and every employee will feel like a "company of one" – treated like an executive whose time is valued.
Artificial intelligence uses neural networks that mimic how the brain processes thoughts.
The outcomes it enables make us better humans, and there's nothing artificial about that. The future of employee service is immersive, interactive, proactive, and intelligent.
It will make tickets and call centres seem as antiquated as square wheels and rubbing twigs to make fire.
Experience the world's most sophisticated and responsible AI-powered personal digital concierge by PeopleReign that can answer your questions, perform tasks, order items, and browse the web using conversational AI. Watch the machine in action

HERE
.