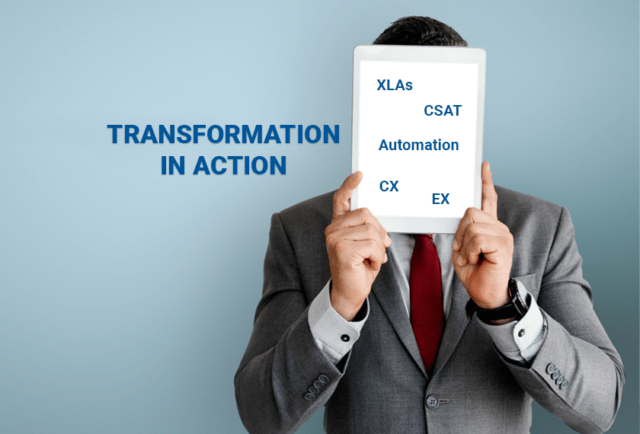 Meeting customer expectations has always been challenging, and when COVID-19 forced many employees to remain at home – this became even more demanding and daunting. Why? Well, for many organisations, the IT service desk was rarely physically able to operate remotely pre-pandemic. To continue providing outstanding IT services, most organisations were forced to adapt traditional support channels with little preparation. And as we've seen in recent SDI research, organisations that embraced the changes quickly performed better than others.
So, you may ask: what did they do right?
On the 18th of May, SDI held its latest virtual event on the subject of digital transformation, where we welcomed a host of guests including practitioners and industry thought leaders to share their thoughts, best practices, stories, and experiences. Have a look at what they said about automation, employee experience, XLAs, and more – and we'll share 5 practice tips we learned from the event!
#1 Rethink how work is done
To successfully manage expectations in the new employee-centric hybrid working model, both leadership and employees should embrace the new workplace culture. How? By being more open to changing their mindset and skillset!
But what does that really mean for IT support? Organisations should rethink how they manage new service expectations, enable remote service tool access, reduce IT service desk demand, and manage integrity and risk. They should be proactive and always think about preparing for the other long-term changes.
The office should be seen as an interactive and engaging space that encourages people to utilise it. It should enable people to connect, teams to accelerate interactions and output, and departments to form a sense of identity.

– Pronay Bhattacharjee, Computacenter
Most organisations should also think about reimagining the use of office space. They should move toward creating a remote version of the IT Service Desk workstations to limit any interruptions of the service desk.

Find out more in the recorded session 'Service Desk Anywhere'
#2 Empower your employees
A massive part of delivering service effectively is actively managing employee expectations. Giving employees a purpose allows them to deal with changes more effectively and ensure that their efforts align with the organisation's objectives.
At Fujitsu, they have regular check-ins and an open culture where people can ask questions and still feel like a part of the organisation no matter where they work.
"It is important for organisations and teams to see themselves as part of the same ecosystem."

– Iliana Oseguera, ITIL Product Manager, BP Gurus
Check out the recorded session 'View of a Digital Workplace in the new hybrid working models'
#3 Focus on automating the right things
When it comes to automation, organisations shouldn't focus only on automation opportunities that will reduce costs and free up resources but also support employees and lift a chunk of the mundane workload from them. The most successful organisations evaluate their processes and discover how to shift to a more proactive and automated workplace.
At Serco, they remove some of the high volumes of low technical service requests to help their Service Desk focus on other important tasks and more exciting work.
If you are automating something – it has to be for the right reasons and benefits.

– Mike Wallace, Public Sector Automation Lead UK at Fujitsu
Find out more in the recorded session 'Service Management – Exploitation to Innovation'
#4 Automation should support wellbeing
Nowadays, employees want flexibility, and they are more open to making career changes that will prioritise personal goals and wellbeing. Employee wellbeing is one of the top priorities at Fujitsu – and flexibility is a key part of enabling this.
Our wellbeing approach is underpinned by 4 key pillars: social, financial, physical, and mental wellbeing, and these are all interlinked

– Amanda Hammond, Wellbeing Programmes Lead, Fujitsu
Automation plays an important part in employees' wellbeing and empowerment. Automating workloads that are dragging IT service employees down enables you to free up their time and headspace. This ultimately supports their wellbeing and increases performance. So, a more 'human' takes on automation can enhance customer and employee satisfaction.

Watch the full recorded session 'Automation for Headspace'
#5 XLA isn't just a fancy name for CSAT
Experience is a journey, not a single transaction, and it needs to be viewed over time! Most organisations often measure only single transactions with Customer Satisfaction Scores (CSAT) and annual surveys. There's nothing wrong with measuring those!
However, this means they only measure technical data such as SLAs/KPIs and operational data. They don't measure how customers genuinely feel about their services.
With XLAs, you are asking about important things and questions you know you can improve upon. So, it's actionable insight data.

– Sean Burkinshaw, BT

To succeed with digital transformation, your IT department not only needs to add new or improved technological capabilities but also needs to deliver better experiences and outcomes. With Experience level Agreements (XLAs), you can acquire insight into a more accurate measure of service performance.

Check out the recorded session 'XLA – It's Just A Fancy Name For CSAT Isn't It?'
If you'd like to know more about the best practice tips, automation, collaboration tools, customer, and employee experiences, and more, watch all sessions with thought leaders on our SDI BrightTalk channel
Written by:
Antonija Bozickovic
Content Creator at Service Desk Institute