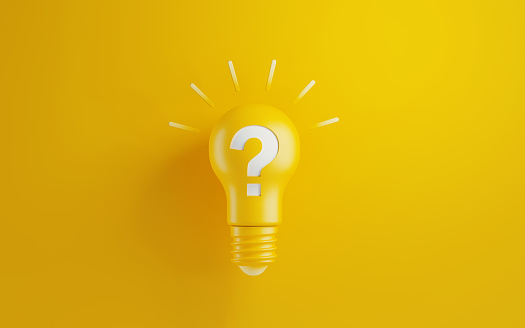 by David Wright, Chief Value & Innovation Officer at Service Desk Institute.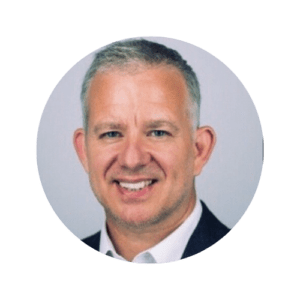 Is information knowledge? Albert Einstein's answer to that question was a resounding no, on the principal that the only source of knowledge is experience. Effectively turning information into knowledge and managing knowledge – its creation, consumption, usage and value – is still a conundrum that organisations wrestle with today as we hurtle through the 21st century.
Technology and information management have exponentially advanced since Einstein's time, but does that principal still hold true? And what other principals does the modern organisation need to consider as it wrestles with managing knowledge?
During a recent SDI Knowledge Management event we welcomed some brilliant minds to discuss topics like knowledge management strategy, optimising knowledge discovery, implementing a successful knowledge management platform, establishing the parameters for a knowledge management programme and using knowledge management to transform organisations. Here's some of my personal take-aways from what proved to be an absolutely brilliant event.
Culture
Culture has always been king, knowledge is nothing without fostering a culture of collaboration, learning and sharing, to encourage the right behaviours. That's proven to be most successfully achieved through employing people and teams that are dedicated to developing and managing knowledge as a practice, and by composing communities of practice comprised of subject matter experts and stakeholders. The knowledge management practice operates as a conduit, the glue that holds the communities together, as explained by Ria Brookes, Assistant Knowledge Manager, EQUANS – part of the ENGIE Group.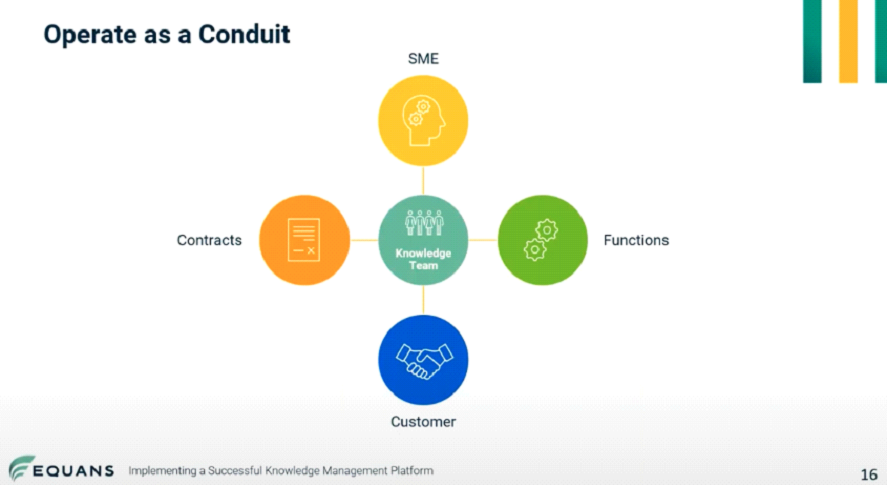 We ran a number of event attendee polls during the event, and in relation to dedicated knowledge management ownership, we asked our event attendees, 'Does your organization employ a dedicated practice or process owner responsible for Knowledge Management in IT?'
⦁ 37% of our event attendees said they have a dedicated Knowledge Manager in IT
⦁ A whopping 59% of event attendees said they didn't have a dedicated Knowledge Manager
⦁ And 4% said they have a dedicated Knowledge Manager who sits outside IT
That really does call out a key issue when considering how to create the right knowledge culture.
Search and context
As a species of hunters and gathers, the act of searching is woven into the fabric of our DNA; and for the 21st Century's knowledge hunters and gatherers, search is the way we interact with answers to questions and problems through technology interfaces like a search engine, or a knowledge base.
Hannah Price from TopDesk explained that when we search for answers using these interfaces, we tend to search for our pains or experiences in our own words, rather than for solutions or answers. That's because the majority of the time we don't actually know what the solution to a problem is. Knowledge Centered Service (KCS) describes this as 'context', searching for what we are experiencing in our own word and phrases. As a result, optimizing knowledge base search functionality is directly connected with the need for a deep understanding of what your end users are searching for, and what they find as a result of their search. Turning context into findable 'clickbait' knowledge content, stops demand to the service desk. Which means, the service desk is able to use the demand differential, additional time, to create other value.
KCS is a methodology focussed on knowledge and integrating the use of a knowledge into working practices. That's achieved through a solving and evolving structure to capture, structure, reuse and improve knowledge content.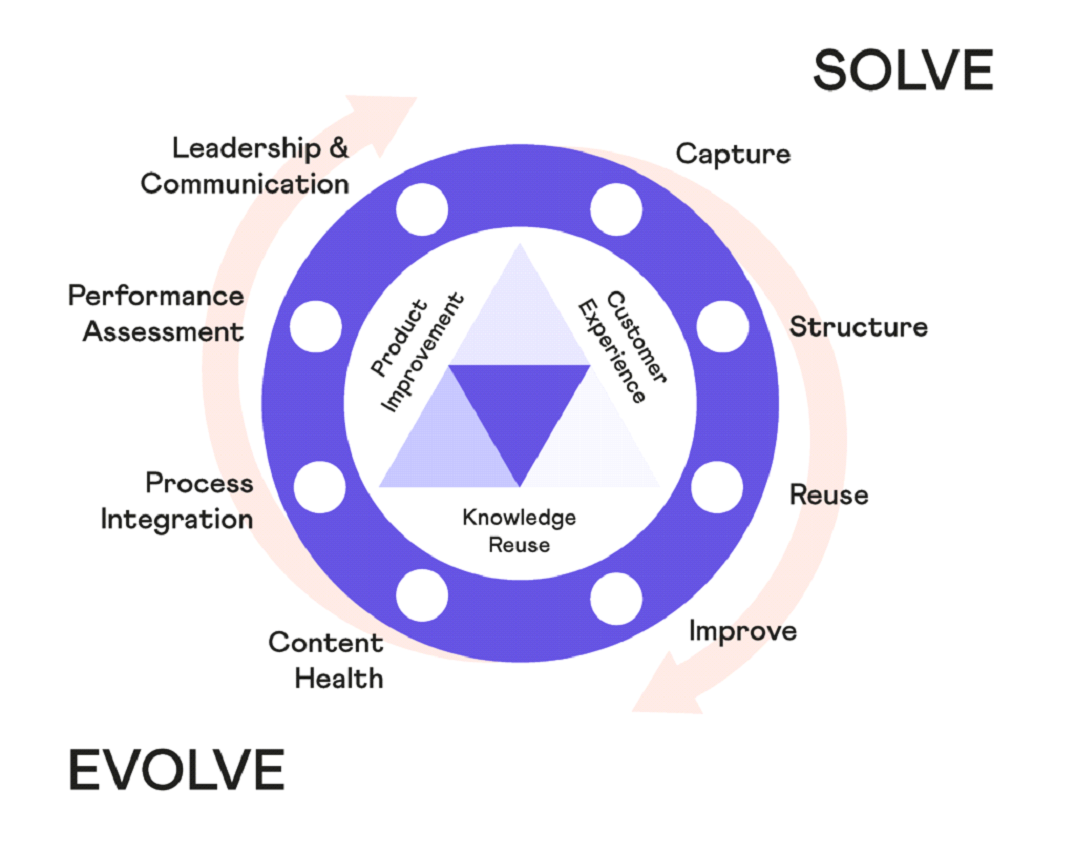 We asked our event attendees, 'Do you use, or follow, Knowledge Centered Service (KSC) methodology to support your knowledge management practices?'
⦁ 22% of event attendees said yes
⦁ 22% of attendees said that they were are actively exploring KCS to potentially implement it
⦁ 14% of attendees said no
⦁ 42% of our event attendees said that they'd never heard of KCS before
Top tip: Go and search for KCS!
Knowledge mapping
Over the last 20 years, the world has fundamentally changed for business, the speed of change has overtaken our capacity to learn. Jonathan Norman from Major Projects Association explained that this means what we've learned up to now may have no relevance, or can't be trusted, or may be just plain wrong. This is a very interesting concept, and a concept that resonates with Socrates, when he said the only true wisdom is in knowing you know nothing, which is pretty cool way of coming to terms with learning.
Jonathan went on to encourage a group exercise of physically building a map of a knowledge landscape in collaboration with other business areas. Such an exercise can help to cognitively contextualise the topography of knowledge, understand knowledge to knowledge relationships and develop a common knowledge language.
A knowledge map could incorporate:
⦁ Explicit knowledge (such as processes, procedures, policies, risk registers, services, products)
⦁ Tacit knowledge (skills, ideas, experiences that are possessed by people but are not codified and may not necessarily be easily expressed)
⦁ Data blackholes (no knowledge, unshared knowledge, inexplicable knowledge)
⦁ Map boundaries (emerging frontiers, the future, yet unknown knowledge)
A key consideration for any knowledge management initiative, is to start with the end in mind. Defining objectives and outcomes that articulate knowledge management as a convincing, strategic goal. This should include how and why knowledge is valuable to the business, and how it will enable employees to exploit knowledge and help inform the business on how it will change.
We asked our event attendees 'What is the main challenge you face in relation to effective knowledge management?'
⦁ 31% of event attendees said that is their main challenge is encouraging people to use knowledge effectively
⦁ 26% of attendees said that lack of knowledge management ownership and direction is their main challenge
⦁ Only 5% of attendees said that their main challenge is lack of knowledge tools or tools that are not fit for purpose
I think this clearly demonstrates the old adage that knowledge is like paint, it does no good until it is applied.
The rise of the knowledge worker
A clear observation from the day, was that things are changing rapidly when we consider the increasing need for data to be in a managed state, and what that means for the speed that an organisation is able to transform and be competitive. In a world where technologies like machine learning, edge computing, 5G and IoT are lighting a fuse on an unprecedented data explosion, we have to come to terms with all that means to a service environment.
The total amount of data created, captured, copied, and consumed globally is forecast to continue to increase exponentially. By 2025, global data creation is projected to grow to more than 180 zettabytes. How on earth do we keep up? To put that into perspective:
⦁ 1 gigabyte = 1,000,000,000 bytes.
⦁ 1 zettabyte = 1,000,000,000,000,000,000,000 bytes or 1,000,000,000,000 gigabytes.
⦁ The volume of data created, captured, copied, and consumed globally in 2010, was 2 zettabytes
⦁ In 2020, we created, captured, copied, and consumed 64 zettabytes globally.
Bit Rambusch, VP eServices & Knowledge Management at Dell Technologies, discussed the need to appreciate that knowledge content is multi-dimensional and can include articles, videos, pictures, images, white papers, and more, and that knowledge must cater for different personas in the enterprise and the customer base. Also, the relationships between customer intent, clear knowledge tenets, clear measurements, and business outcomes need clear definition.
In the last 3 years, Dell has trained employees in KCS, which has supported a culture knowledge evolution. An evolution that encouraged a move away from what many of us would recognise, a meritocracy culture of competing with piers and knowledge hoarding, to a culture of contribution, knowledge sharing and a knowledge enabled workforce. The outcomes of this shift are truly remarkable, borne out by metrics such as reducing time to search for a solution, yielding efficiency gains, and new knowledge assets created every quarter viewed by customers.
As a result of process automation, service orchestration, machine learning and intelligent platforms which help remove unvalued work, traditional job roles are changing. Shifting away from people doing work, to people who are knowledge workers, creating, curating and sharing knowledge in collaboration. This is fast becoming a business imperative, the foundational capabilities needed to create organisational plasticity and the ability to scale, includes the need to catalogue and organise data, using meta data strategies, taxonomies and ontologies. Most organisational data is stored in silos, if you're not connecting the data between the silos, you'll never be able to connect the end to end experiences across all enterprise lifecycles. It's clear that organisations who don't recognise this shift, will at the very least lose competitive advantage and in the worst cases, will no longer exist.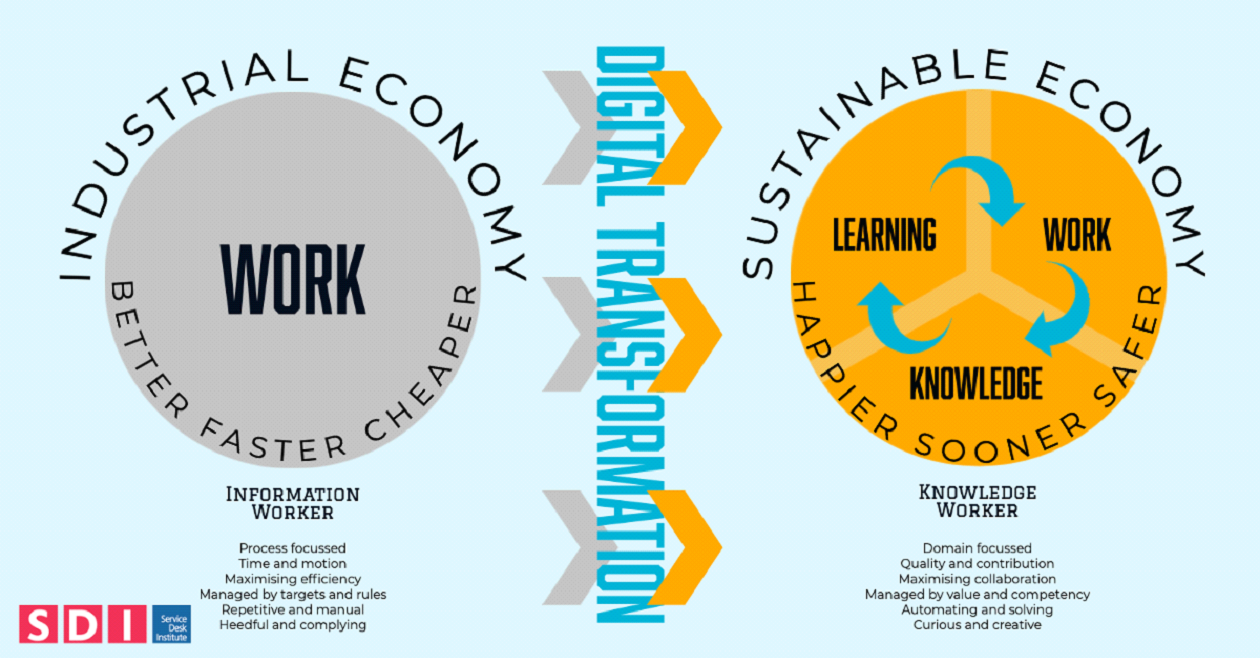 We asked our event attendees 'From a knowledge base perspective, which option best describes your current circumstance?'
⦁ Only 16% of our event attendees said they have a tried and tested knowledge base and mature repeatable processes
⦁ 54% our event attendees said that that they had either recently implemented a knowledge base, or are developing a knowledge base that will be implemented soon (40% recently implemented, 14% implementing soon)
⦁ 30% our event attendees said that they don't yet have a knowledge base and are exploring the best way to build and implement one
Top tip: The shift to the knowledge worker as a digital superconductor has long started for progressive organisations. Don't get left behind!
Thanks for reading my reflections on this thought-provoking event – I hope it's given you some insight in to what others in our industry are doing and ideas for your own knowledge management improvements. I'd also like to extend huge thanks to the delegates whose views I've shared here, and all the individuals who contributed during the event – your input and willingness to share is so appreciated.
Unfortunately Einstein missed out on this event, I'm sure he would have been enthralled, and you know what, he would have gained an awful lot of knowledge as well, irrespective of his take on information.
Intrigued to find out more about upcoming SDI events? Take a look here
---
Want help with building a robust knowledge base? Download our report here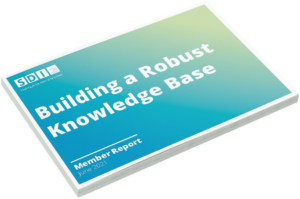 ---