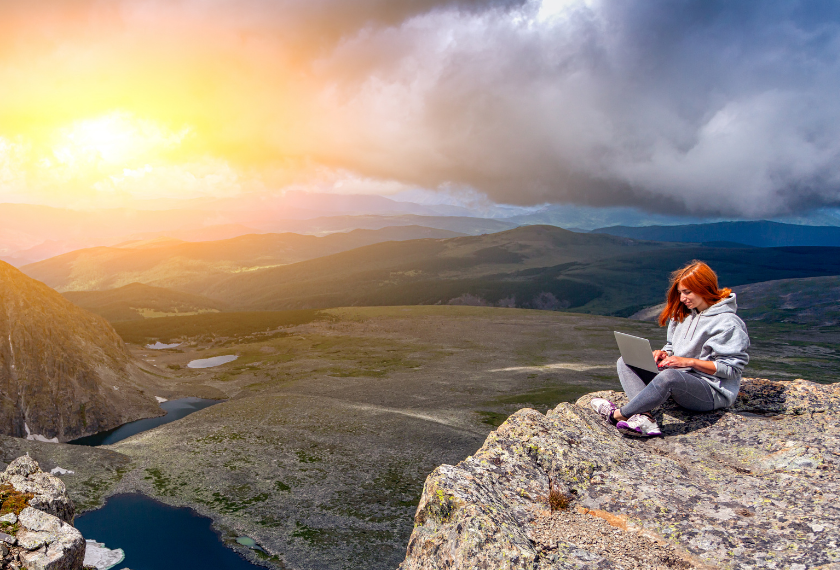 Remote working, virtual work, teleworking, home-office or whatever you call it, the Covid-19 global pandemic turned it up a notch- and now it's here to stay! A

recent study

by 'findstack' found that 77% of remote workers feel more productive working from home, and 85% of managers believe that having teams with remote workers is the new norm. So it's time to join the remote workers culture club!
SDI recently welcomed Gurpreet Jheeta to our team as our brilliant Account & Sales Support Administrator. To get to know Gurpreet a little better, we asked a few 'just for fun' questions, and a few about her experience in starting a new role with us completely remotely:

What's your favourite film?   
Sister Act – I have loved it since childhood, just love all the singing!
What can't you live without?    
My daughter
Where's your most favourite place that you've visited?   
Mexico. I loved Coco Bongo! But the whole place is lovely, we went for our honeymoon.
Are robots going to take over the universe?   
Definitely!… Or a more intelligent species.
How have you found joining a new company virtually?  
The transition was pretty straightforward, I have found settling into the team easy, everyone has been so friendly and helpful. In the beginning I did find it strange not having met anyone in person other than David, and just meeting colleagues online over teams. So before I first met everyone, I didn't know how tall they were! Or really know their personalities, as I don't think you can get to know someone fully- until you meet them in person.
It's lovely to know the management team like to ensure everyone is happy and have a real care for each individual. I feel so grateful as we are given such amazing gestures of gratitude to show appreciation of how well everyone has been working. I really have enjoyed my first 6 months here, and feel I have settled in well.
Have you experienced any key challenges so far?  
Not as yet, I feel happy to ask for help when required, so haven't experienced any difficulties yet.
What has been your highlight so far?  
The SDI Awards, it was so nice to see the team together, and meet some of our auditors, partners and members who I hadn't met yet.
What did you think of your first SDI Awards Gala Evening? 
I thought it was amazing!! You could see how much effort had gone into planning it, down to the smallest details like the branded wraps on the pillars. It was lovely to put into context what everyone had spoken about for the Awards event, like the saying goes, 'you have to see it to believe it!'
I certainly loved seeing how passionate the members and finalists were, and how much effort they put in to their Awards entries . It was so refreshing to see the comradery among the teams and how much enthusiasm they all had. It gave me a better understanding of our industry and how my role plays a part in the bigger picture. It genuinely has been my highlight so far!
What are you looking forward to the rest of this year? 
I look forward to getting an insight to the other events we do, doing some training, and just learn more about our industry. In life you constantly learn and grow, and I'm still learning new aspects of my role daily.
What advice would you give to somebody thinking of starting a new job remotely without meeting the team in person yet?
I would say that working remotely isn't for everyone, as some people rely on actual interaction, so you need to have a strong will power to keep focused and not get distracted. You also need to be open minded, as every team and organisation is different. A key part to working from home, for me, would be to ensure your work space is set up and to keep the clear distinction between work and home space.
---
Collaboration tools enable remote work
Statistica.com article: The remote working concept mainly works for jobs and tasks that involve a large amount of screen work. The advancement of digitalization and the shift to a more knowledge-based economy in many countries have made the option of remote work more realistic for employers and employees.
This emphasizes the role modern technologies play in enabling different remote work concepts. Not only are information technology decision makers looking to improve IT infrastructure and work-from-home-capabilities, but employees are generally acknowledging the many different applications and devices that can positively impact their work environment.
Global perspective
The below image shows the percentage

of

businesses within each country reporting a

flexible workspace policy vs employees

who consider flexible working to be the new normal. Taken from Merchantsavvy.co.uk
The effect of remote working on wellbeing
80%
of remote workers say they are happy with their job, compared to just 55% of on-site workers
50%
number of workdays lost (15.4million days) to workplace stress and anxiety in the UK alone
77%
of people say that working from home has improved their overall health and wellbeing
Further reading
There is a huge remote working culture and community growing out there, so if you're thinking of updating your employee flexible working policies, looking to learn the pros and cons, interested how remote work is evolving or wondering if remote work will…work for you, here are some great articles to help: