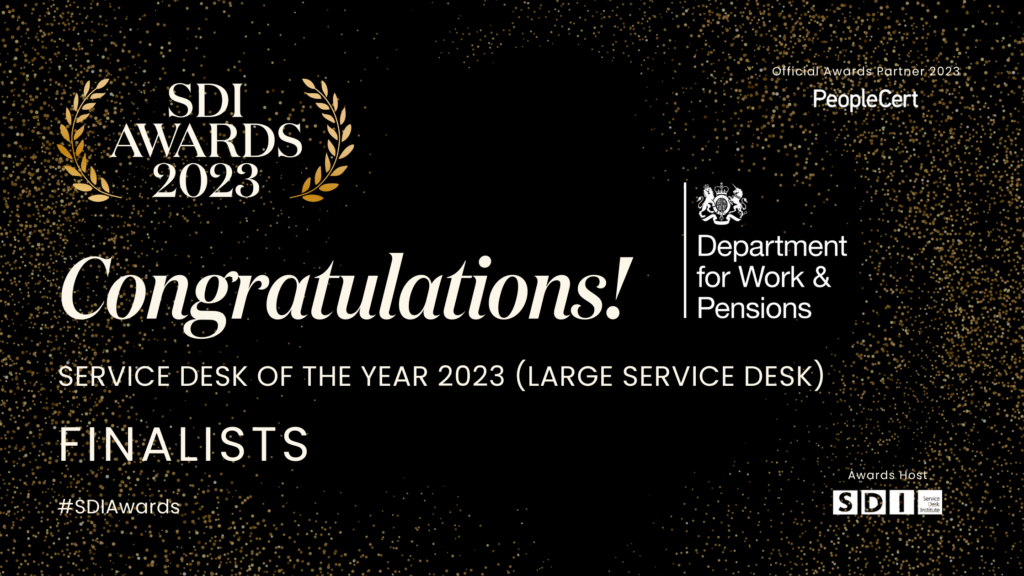 In the run up to the SDI Awards 2023 gala dinner and prize-giving on 30 October, we've been asking our finalists about their experiences, reasons for entering and hopes for the future. Here's the story from Department of Work And Pensions: 
Finalist – Service Desk of The Year 2023 (Large Service Desk)

What made you decide to enter the awards? 
User Support Services have undertaken a widescale transformation over recent years including insourcing arrangements. We wanted to test how far we have come in our journey, as well as to see where else we could go. Our operating model has matured, our performance and our customer satisfaction has achieved a stepped increase and we continually review our ways of working to improve service operations. We are very proud of what has been achieved and viewed the timing was right to potentially gain industry standard acknowledgement through the SDI Awards. It has also been an opportunity to celebrate the hard work of our team.
What part of the awards process did you enjoy the most?  
The whole process of working as a team in User Support Services, to bring the submission together has been enjoyable. It has provided a great platform for us to reflect on and celebrate what we have achieved and has confirmed what a great collaborative team we have.
In the last 12 months, what has been the most successful initiative your team has implemented to help your business improve its performance?   
Our focus on improved capability, effectiveness and efficiency across our team has enabled us to run more efficiently, meet and exceed our service performance measures and free up resources to assist other areas of Digital, all leading to improved outcomes for over 90,000 DWP colleagues, which in turn results supports them in providing DWP services to over 20 Million citizens.
We are in the early stages of introducing a new Level 0 channel to provide greater focus on improving our virtual agent (Digi) and focus on improving/increasing self-serve.
What are your top 3 tips to make a service desk successful?  
Prioritise customer needs and user experience and seek out opportunities to improve and iterate
Engage, collaborate, and consider ways of working across all support channels, and with all service owners, plus engaging outside of DWP to identify and share industry best practice
Embed continuous service improvement across all aspects of service operations.
What one thing do you think really makes you stand out as a service organization? 
Our people and the excellent service they deliver, evidenced by high the high level of customer satisfaction rates we achieve
How are you preparing to evolve your service desk over the next few years? Please share your most exciting plan with us!   
We will continue to analyse colleague feedback to continue improving and exploring the potential of increased automation with pro-active resolution of issues before colleagues even know they have happened. 
If you could choose any celebrity to work on your service desk, who would it be?  
Martin Lewis – a celebrity who people generally recognise as working to drive activity in the best interests of the customer/user.  He often identifies and addresses things in a simple, easy to understand language to gain the best outcomes, which fits with the purpose of DWP Digital to improve our services for millions of people.
What does it mean to your team to be a finalist in the 'Best Small-Medium Service Desk' category? 
It already acknowledges the transformation we have achieved and provides a brilliant "good news" story for everyone in our business which has been a great motivation – to be recognised at an industry level across the range of diverse public/private sector businesses.  Recognition on this scale is a huge boost for the team in seeing that what they do really matters and motivates us to continue improving.
What advice would you give to anyone entering the awards next year?  
Go for it – it is a great opportunity to step away from day-to-day business and reflect on what you have and are achieving. It tangibly demonstrates to colleagues that you are proud of the excellent service they deliver day to day.
What would you do to celebrate if your team won 'Best Service Desk 2023'?  
Promote the win internally within the business to acknowledge the contribution the team have made. Also promote this externally via social media channels, to use the award as a platform to continuously improve our future service delivery and attract new recruits to DWP Digital as an award-winning service desk.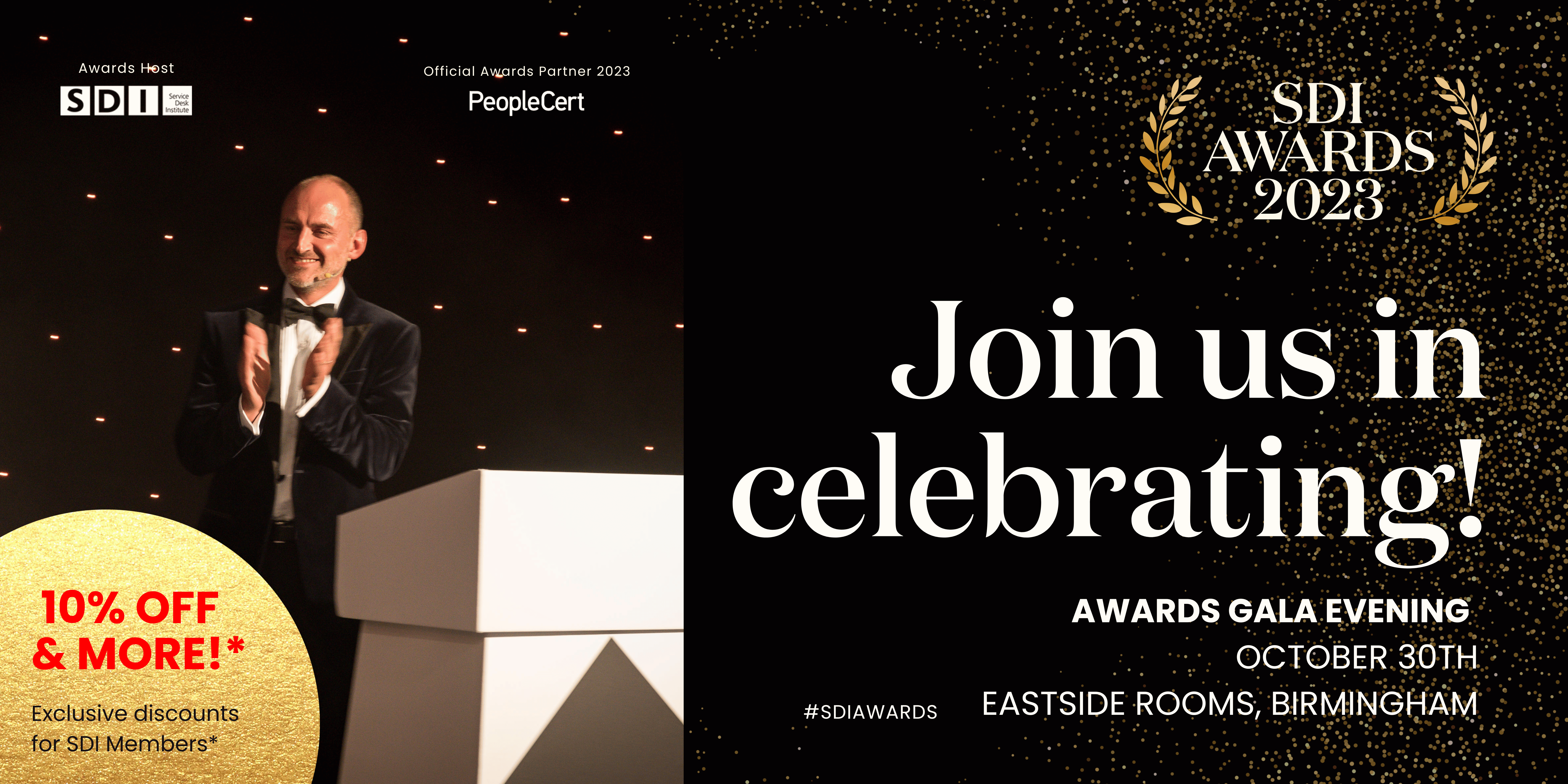 We cordially invite you to join us for our special Awards Gala evening to show support for your company and celebrate its successes. Are you an SDI member? Don't miss out on our exclusive discounts and special offers. Please fill in the form below for more information and ticket pricing.
We are excited to welcome you in October and look forward to an unforgettable evening together! 🎉