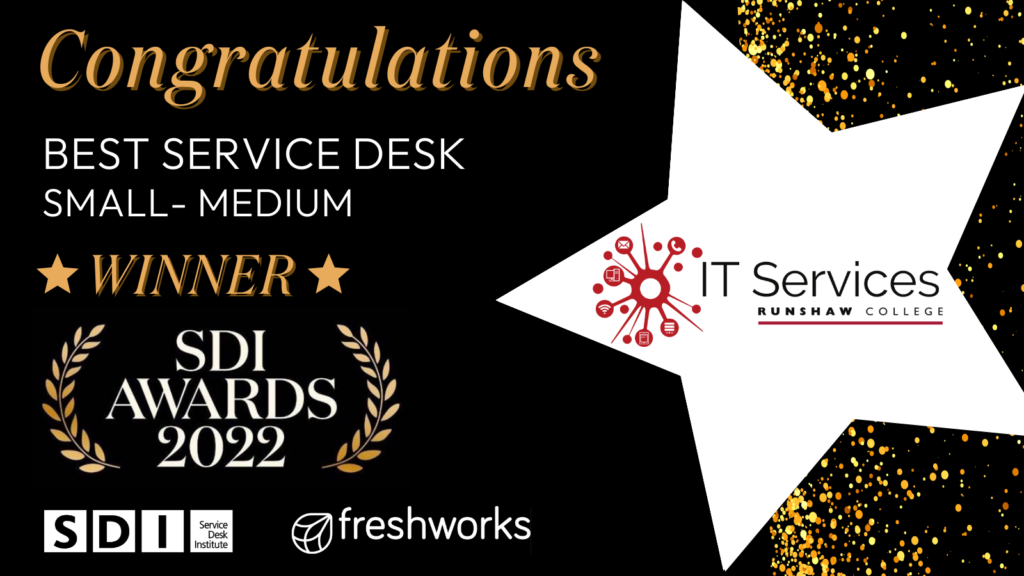 In the run up to the SDI Awards 2022 gala dinner and prize-giving on 22 March, we've been asking our finalists about their experiences, reasons for entering and hopes for the future.
Here's the story from Runshaw College, who were named winners on the night!

WINNER! Best (Small-Medium) Service Desk 2022
What made you decide to enter the awards?   
After coming so close in the last awards; just losing out to Ticketmaster in the final 3, as well having increased our rating from 3 star to 4 star last year, we wanted to enter it again! It also fits really well with the College's track record of Outstanding Ofsted, Results, etc. We also see the award as a valuable assessment asset, and it's also a brilliant way of achieving industry recognition which we're super proud of! 
What part of the awards process did you enjoy the most?  
The judge's virtual visit, planning a fast paced two hours for them jumping from one thing to the next (much like life on a Service Desk) was good fun and it turned out great; really good fun couple of hours! 
In the last 12 months, what has been the most successful initiative your team has implemented to help your business improve its performance?   
Being asked to come up with a solution for the business to handle urgent first aid calls quick and efficiently with as few lost calls as possible. We created a solution in terms of process, telephony, training, etc with all of those calls now being handled by the Service Desk which has been hugely successful and massively worthwhile, a really proud achievement for the whole team! 
What are your top 3 tips to make a service desk successful?   
Get your technologies right, your processes in place and get the right people in place and look after them, does that count as four?  
What one thing do you think really makes you stand out as a service organisation?   
The fact that not only are we a technical Service Desk in terms of IT but that we also handle Facilities tickets, Urgent First Aid, Data Protection, Security, etc, our scope is very wide and we also drive various key Programmes as well including Business Relationship, Customer Experience, etc. 
How are you preparing to evolve your service desk over the next few years? Please share your most exciting plan with us!   
We are always evolving to support the business as best as we possibly plan and we always have exciting projects to get involved with, but for the Service Desk itself we are currently exploring the possibility of achieving the five star certification rating which would be an amazing achievement if we can get there, we'd got an eye on becoming the first ever Public Sector organization to achieve that level! 
If you could choose any celebrity to work on your service desk, who would it be?   
Sid James, although he'd have to smoke his pipe in the designated smoking area of course and we'd definitely have to get him on the Professional Boundaries training! 
What does it mean to your team to be a finalist in the 'Best (Small-Medium) Service Desk' category?    
It really means a lot to us, to receive that recognition from our industry peers is amazing, really shows that we're doing the right things as well! 
What advice would you give to anyone entering the awards next year?   
Fill out the form with as much detail, think of key improvements in each area, be open and honest and above all have fun with it! 
What would you do to celebrate if your team won 'Best (Small-Medium) Service Desk 2022'? 
We're not sure yet but we'll certainly be celebrating some time afterwards! Perhaps a meal out coupled with an activity like an escape room, or a zombie experience, we like to think outside the box where we can!  
Official SDI Awards 2022 partner:


Would you like to be the official SDI Awards Partner of 2023? Enquire now at [email protected] for more information.