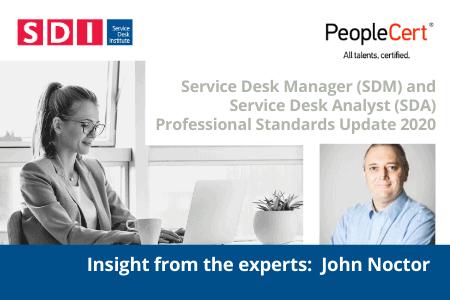 Thoughts on the new Service Desk Analyst (SDA) and Service Desk Manager (SDM) Professional Standards Update, from John Noctor…

John Noctor, Service Management & Best Practice Consultant, Trainer, Service Desk Certification Auditor and ITIL Expert
Dedicated to driving customer success and delivering exceptional customer experiences, John is a continual improvement evangelist, well known for his broad range of Service Management capabilities. As well as a wealth of knowledge (stretching  over 20 years) in ITSM tools, implementations and change, John is one of SDI's senior service desk auditors and a key contributor to SDI's Professional Standards for Service Desk Professionals.
---
Later this year will see the launch of the latest versions of the Service Desk Analyst (SDA) and Service Desk Manager (SDM) professional standards. As one of the authors of these refreshed standards I wanted to share some of our approach as to how we have looked to align SDA and SDM to best practice, specifically ITIL 4 and the Service Desk Certification (SDC) programme.
As an ITIL trainer and consultant I've long been a fan of the guiding principles introduced in v3 practitioner and was pleased to see that these had been further enhanced in ITIL 4, into a set of 7 clear recommendations that organisations can adopt to aid service excellence.
I think it's fair to say as SDI associates we would always espouse these approaches to service management, however they have been central to the thinking of the new standards, whereby we want value to be at the core of your thinking: (Focus on value), for you not to reinvent the wheel (Start where you are), stop trying to boil the ocean (Progress iteratively with feedback), engage effectively with all teams and key stakeholders (Collaborate and promote visibility), see the big picture (Think and work holistically), don't over complicate things (Keep it simple and practical) and streamline what you do and use your technology investment to make you ever more effective and efficient (Optimise and automate).
The updated professional standards
If we look specifically at one of the core modules in the new standards, Practices, Processes and Procedures, we can see that we have made it easier for students and practitioners to align the standards with the global framework of ITIL and SDI's 'Global Best Practice Standard for Service Desk', which form the basis of a service management approach for many of our customers. In this module we cover:
Incident Management
Service Request Management
Problem Management
Change Enablement
Release Management*
Deployment Management*
IT Asset Management*
Service Configuration Management*
Knowledge Management
Information Security Management
Service Continuity Management
Service Level Management
Service Catalogue Management
* Covered in SDM standard only
Of course for those organisations who have not adopted or aligned to ITIL we ensure that we position all of the above in line with how they manage their IT services, after 20 years of teaching/consulting around best practice, whether an organization is "ITIL" or not I've yet to find a service provider who doesn't have users logging faults (Incidents), asking for things (Requests) and of course things change (Change Enablement), knowledge is generated/obtained (Knowledge Management), targets are established (Service Level Management), I could go on, but a rose by any other name…..
One point of note is that to ensure alignment of terminology we mirror the definition of the term "Practice" in our professional standards to that of ITIL 4 but don't worry we always ensure students understand the positioning and use of this term in line with those of policy, process and procedure.
Whilst the SDA and SDM standards needed this refresh to bring them more in line with modern thinking and operational approaches there was also a need to have a more seamless join to the SDI Best Practice Standard. As such, our SDA and SDM standards now underpin the concept areas covered in the SDC programme, in fact for those of your familiar with SDC, you will be pleased to find that our SDM standard has modules for "Policy and Strategy", "Leadership and Management", "People Management", "Resources", "Practices, Processes and Procedures" and "Performance Results", all those subjects that as auditors we like to know about and as customer you love to tell us about!
Oh, and on the subject of modern thinking mentioned above, we wanted the standards to recognise current thinking on the direction of service management and adoption of technologies so we look at such things as automation, AI, machine learning and the future of the service desk as a critical component and strategic asset to your organisation.
To conclude, we've intentionally made the new professional SDA and SDM standards more relevant to a modern ITSM provider, streamlined the content and ensured alignment to best practice and the SDC programme. I am sure you will like what we've done to evolve the standards and I, and all my SDI colleagues look forward to being able to take you through them in person.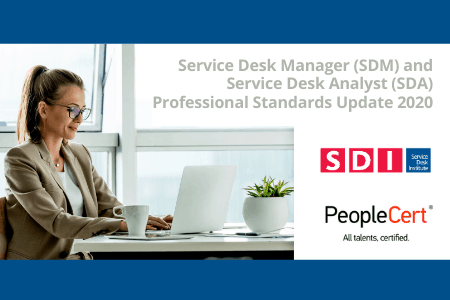 19 August 2020
Free Webinar: Understand the changes to the new Professional Standards and the value they will provide your organisation. Plus Q&A opportunity to ask the experts your questions

REGISTER FREE >>