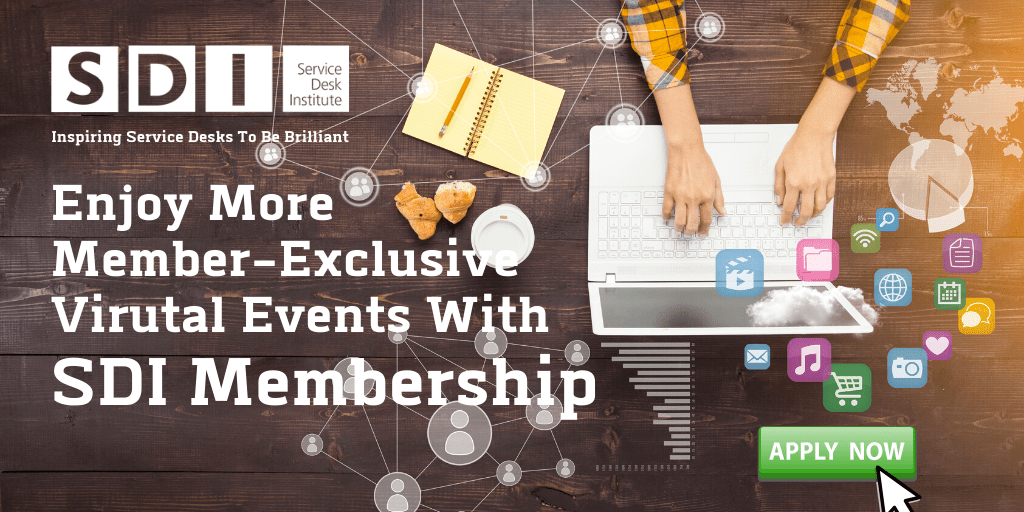 SDI Creates Additional Membership Value During These Uncertain Times
SDI could not be the organisation it is today without its members. Their input, trust, loyalty, shared experiences, and engagement are a massive part of what keeps us motivated and wanting to surprise and delight as well as inspire service desks around the globe to be brilliant.
To support our industry and community during these unprecedented times, SDI has adapted many of our services to ensure that organisations can continue to have access to our wealth of Best Practice standards, guidance and content. Here are just some of the things we have done to enhance our value proposition:
Converted all training courses and workshops through 2020 and in to 2021 to a virtual delivery method
Invested in software to enable both our training attendees and trainers to benefit from a brilliant virtual learning/teaching experience
Expanded our ITIL4 training portfolio to incorporate the latest ITIL 4 course releases
Launched a powerful self-assessment tool to allow service desks to understand their strengths and weaknesses with a comprehensive report
Converted all experience events through 2020 and in to 2021 to a virtual delivery method so members from around the world can now easily access everything
Worked with our partner MetricNet so members can now choose from up to 7 complimentary benchmarking data packs and download a free Service Desk Essential Toolkit packed with every metics calculator you might ever need!
Added additional live webinars exclusively for people with tickets to the postponed SDI20 Conference for Service Desk Leaders and for SDI Members
Increased the number of experience event places across all our membership packages, which new and existing members can enjoy from immediately
Adapted our Service Desk Certification programme to allow for remote auditing, remote interviews, and remote observations
SPECIAL OFFER! Take out a new membership in November 2020 and you'll receive a free improvement workshop of your choice!
….and we continue to adapt, evolve, and innovate even more of our services to support our amazing global IT service and support community.
If you'd like to know more about what we are doing to support our community and how to get your hands on a free improvement workshop, then please get in touch with us via livechat, email to [email protected] or telephone +44 (0) 1689 889 100