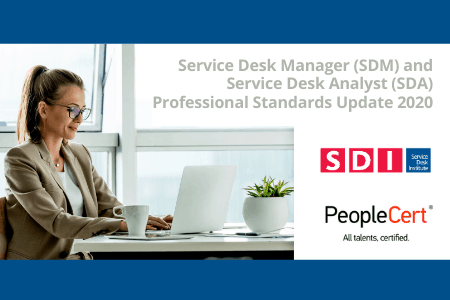 Press Release:
The Service Desk Institute (SDI), an international organisation known for setting best practice service desk standards in the IT service and support industry, and PeopleCert, a global leader in the examination and certification industry, have recently worked together to update the Service Desk Manager (SDM) and Service Desk Analyst (SDA) professional best practice standards. The revised course syllabuses and qualifications will be available for candidates from September 2020 (SDA) and November 2020 (SDM)
The new SDI service desk professional standards, now aligned with ITIL 4, have been revised to enable service desk analysts and service desk managers to enjoy the latest in best practice guidance, training courses and qualifications from across the IT service industry.
The revised SDA and SDM best practice standards expand on previous versions by providing the newest trends in the industry, helping service desk professional supporting organisations on their digital transformation journeys. The revised standards provide an end-to-end competency model for the delivery and operation of tech-enabled IT services and enhance the analyst and manager roles, enabling IT support to play a crucial role in the wider business IT strategy.
Certifying Competency in IT Service Professionals
These two exceptional qualifications are based on SDI's internationally recognised standards for service desk and IT support professionals, which set out clear definitions for key service desk roles. While the SDA qualification is designed to provide service desk and support analysts with the skills they need to work within industry-recognised standards and best practice guidelines, the SDM qualification validates an individual's competency in the skills required to act as a manager of a service desk.
"The demand for service desk qualifications for IT support professionals has grown exponentially over the last year. The critical nature of IT support means that more organisations are looking to enhance their team members' competencies to keep ahead in our ever-changing support technologies of today," said Dimitris Nicolaides, PeopleCert's VP Business Development & Marketing.
"We continue to be an active partner of SDI translating the professional best practice standards into valuable certifications for professionals with the highest level of quality and experience."
What Has Been Revised?
The development of SDI's professional best practice standards is a community and industry-led initiative. We have been working with a team of industry experts based around the globe to ensure the certification is as relevant and up-to-date as possible, including trainers, ITSM consultants, service desk auditors and contributors from the wider IT industry. The latest versions of the Service Desk Manager and Service Desk Analyst standards now include resilience, wellbeing, and emotional intelligence.
"This particular update has been made to enable more open conversations between managers and staff, and the SDA and SDM standards have been more closely aligned for that very purpose.
"For managers, there is now more emphasis on leadership skills and the importance of providing a clear vision and purpose even in difficult times, inspiring teams to rapidly adapt, ensuring they have a clear framework for decision making" says Lynne Nash, SDI trainer and a member of the refresh team.
For analysts, the focus remains on ownership, accountability, professionalism, and the customer experience, in practice as well as in theory.  The standards have been updated to reflect the modern work environment but maintain the same focus on quality and professionalism.  Communications, dealing with conflict, and building strong relationships continue to be the foundation skills for all service and support staff.
As well as the topic of wellbeing, core modules of Practices, Processes and Procedures have been made easier for students and practitioners to align with the global framework of ITIL 4 and SDI's Global Best Practice Standard for Service Desk. This now covers: Incident Management, Service Request Management, Problem Management, Change Enablement, Release Management*, Deployment Management*, IT Asset Management*, Service Configuration Management*, Knowledge Management, Information Security Management, Service Continuity Management, Service Level Management and Service Catalogue Management. (*covered in SDM standard only)
David Wright, SDI's Chief Value & Innovation Officer, says:
"We wanted the standards to recognise current thinking on service management, new ways of working and the adoption of the latest technologies. For the first time, we have included modules on automation, AI, machine learning and the future of the service desk as a critical component and strategic asset to organisations; a significant evolution to the standard."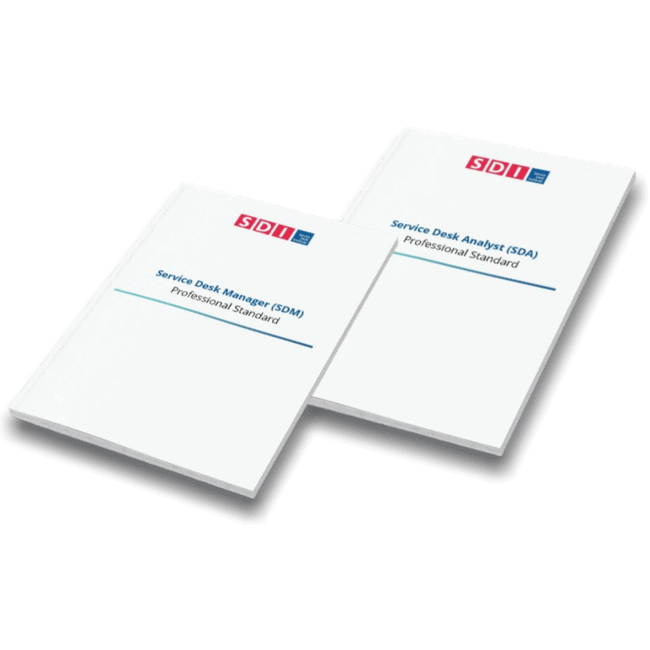 Demonstrating Excellence in IT Service Management
The updated SDI professional standards allow employers to be sure that candidates have been trained to be fully proficient in service desk roles, and are knowledgeable about the very latest developments in service desk global best practice.  Candidates are able to deliver excellent levels of service to end-users and, for managers, provide effective leadership of the service desk.
The Route to Professional Certification
PeopleCert manages the entire certification process, from accrediting training organisations to managing candidate exam registration, delivering exams, certificates and more. The examinations are delivered through PeopleCert's systems, both in a classroom environment and through PeopleCert's award-winning online proctoring solution, enabling candidates to take exams around their schedule, from almost any place they choose, with a live proctor guiding them through the entire online exam process while ensuring reliable exam conditions are applied.
"We're thrilled to be partnering with SDI and have updated the Service Desk Manager (SDM) and Service Desk Analyst (SDA) professional best practice standards with a view to deliver service excellence"  says Dimitris Nicolaides, PeopleCert's VP Business Development & Marketing.
"The Service Desk Institute training team continues to work hand-in-hand with PeopleCert to deliver certifications based on the latest Best Practice Standards for service desk professionals and to be industry-leading across the globe"
"We've intentionally revised the professional SDA and SDM standards to ensure they are even more relevant to a modern ITSM provider, streamlined the content and aligned to ITIL 4's best practice as well as SDI's Global Best Practice Standard for Service Desk. We will continue to certify more and more service desk professionals across the world and welcome them to align their practices to the professional standards which are available open source for all." says Tessa Troubridge, SDI's CEO.

About the Service Desk Institute (SDI)
The SDI company mission is to inspire service desks to be brilliant. To achieve this mission, SDI has developed a set of goals by which it aims to inspire service desks:
To raise the quality of service delivery by valuing and embracing best practice

To create an inspiring and engaging customer experience

To invest in and empower their teams to be inspired, take action, and be better

To shine by demonstrating and delivering exceptional business value
SDI sets the globally recognised best practice service desk standards that provide clear and measurable benchmarks for service desk operations and professionals. The standards are designed to encourage service desks to embrace best practice to raise the quality of service delivery.
About PeopleCert
PeopleCert is a global leader in the assessment and certification of professional skills, partnering with multi-national organisations and government bodies to develop and deliver market-leading exams. PeopleCert delivers exams to over 200 countries, in 25 languages, through its state-of-the-art assessment technology, enabling professionals to reach their full potential and realise their life ambitions through certification.
Insight from the Experts:

19 August 2020
Free Webinar: Understand the changes to the new Professional Standards and the value they will provide your organisation. Plus Q&A opportunity to ask the experts your questions

REGISTER FREE >>