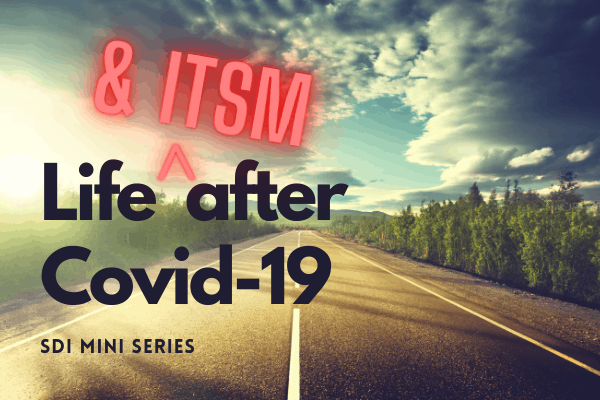 The Path out of Covid-19: rebooting the business and back to the future
by David Wright, Chief Value Officer, SDI
Oh, for a DeLorean with a weird 1980's digital dashboard and a hover board. The chance to go back to 2017, knowing what was to come in 2020, and have enough time to make ready for the tumultuous change to come. Anyway, back to the future.
In early July, I caught up with Partick Bolger from Hornbill in a series of SDI Coffee Breaks, where we discussed a Hornbill keynote publication focusing on the journey back to the new normal in the Covid-19 future; and, what organisations should be considering right now as they reboot. We covered quite a bit during the Coffee Break series, here's 4 key messages taken from some of our discussions to whet your whistle.
Customer demand is evolving and it's a moving target
But how will that impact on the enterprise, operations and support services? Over the coming months, consumer behaviours will continue to evolve, which could pave the way for new products, new services, new tools, new support propositions and different ways of working. Understanding the changes in customer behaviours will have a significant effect on the way organisations source, manage and optimise their resources. Understanding customer behaviours and developing strategies to adapt to their evolving needs is more important than it's ever been. For those waiting, or hoping, for a return to the how things were, the stark reality is that there will be no return to 'normal'.
The beginning of the end of the organisational silo, them and us
A key purpose of being part of any organisation is to collaborate. Collaboration helps people problem-solve, learn from each other and creates efficiency. The inward-looking organisations or teams, those who resist sharing information and resources with other people or departments, build and sustain wastage and inefficiency. The path out of Covid-19 will require the appetite for true collaboration, to co-create the conditions to sustain the enterprise as business needs evolve, and to develop sustainable support services. The silo is doomed and thank goodness for that.
Maintaining the delivery of a reactive, break-fix 'function', doesn't cut it anymore
But did it ever? Over the 10 years or so, IT service management has evolved significantly; so much so, that many thought leaders in the space now remove the 'IT' in ITSM, because service management good practice that was developed by IT can be applied across the Enterprise. We can offer guidance to business areas that traditionally may have never before leveraged the tried and tested approaches to managing things like processes and services. Enterprise Service Management (ESM) is the term used to describe this, the application of IT Service Management concepts and practices in other business areas, outside of IT. During the journey out of Covid-19, proactively reaching out to other areas of the business to consult with them, establish business challenges, offer solutions, influence positive outcomes, help to create cohesive ways of working together and eliminate waste, will not only help to remove silos, but also help to change the reactive break-fix relationship between IT support and the rest of the organisation.
End users will need to become more self-sufficient
But that doesn't mean we have to compromise on the user experience. The user adoption of self-service has been an issue many organisations have wrestled with. In my experience, rarely do we see organisations who have really got it right, we still see organisations with user adoption rates of less than 10%. It's time to understand why, and it's time to address that. The path out of Covid-19 will see many organisations focus on new business models, cost control, waste reduction and efficiency improvement. Harnessing the full capability of modern service management tools, automation, integration, self-service, as well as establishing workloads that can be shifted left into lower cost centres, will have to move to centre stage. However, don't expect that to be successful without the people at the end of the service. Customer centric isn't a buzz phrase, it's a cultural service anchor. It's been proved that placing the user at the heart of a self-sufficient user experience strategy, centring on the experience and user perception over just cost saving, is paramount to the success and adoption of self service.
The harsh reality of where we are right now means that organisations who understand their path to the future, are the ones most likely to be devising coping strategies while rebooting and reinventing support services. These organisations are also more likely to have for example considered preparing for a second wave of Covid-19, or the economic impact of a recession. There's still time though right? You may not need that DeLorean after all?
Thanks for reading. You can download the Hornbill publication Path Out of COVID-19: Creating the Blueprint for Digital Service Transformation here ….. and watch the SDI Coffee Break series here.
You can also use SDI's Best Practice Standard for Service Desk to help address the points raised above and more, it's a great resource to help create sustainable service improvement.
Finally, you can access expert advice and help on dealing with where you are right now using SDI's Ask The Expert service.