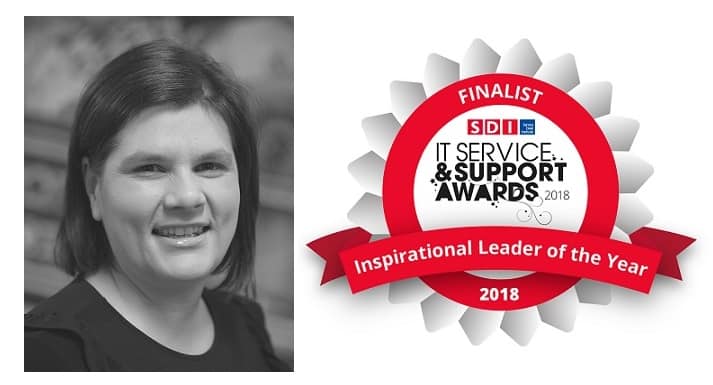 Myra Fulton, Director of Engineering at Skyscanner answers our questions ahead of the IT Service and Support Awards after being announced as a Inspirational Leader of the Year finalist.
What made you decide to enter the awards? 
I am very passionate about the work that all IT Support teams do and the impact they have on their business. These awards are a fantastic opportunity to ensure that we can recognise the work that so many do in this area. This award is a great way to recognise the inspirational work that my team have been doing in this space and how they have helped me to become a better leader.
What part of the awards process did you enjoy the most? 
I really enjoyed the Judging day. It was great to meet the judging panel and hearing a little about them. It was a great opportunity to share our journey and share our learnings and challenges that others can find useful.
Why did you choose IT Support as a career? 
I was introduced to IT support when I started my career in the Clydesdale Bank where my first graduate role was in the IT helpdesk. From there I caught the bug for helping people, getting to the root cause of issues and making sure actions were taken to prevent reoccurrences. Since then I have had a number of different roles however get the most enjoyment and satisfaction in IT support.
In the last 18 months, what has been the most successful initiative you have implemented to help your business improve its performance? 
As an IT support team our role is to ensure that all the Skyscanner team have as minimal down time due to IT issues. Our team mission is therefore:
"To Provide an environment that empowers our people to do the best work of their lives"
With that mission brings lots of opportunities. One area we wanted to focus on was to remove any friction for the Skyscanner team when they have a problem. With that in mind I introduced the Techbar initiative. The philosophy: no more hunting for an IT person to help or  have to raise a ticket to get your issues resolved. Issues are answered quickly at our physical techbar or posted in the #techbar slack channel for a quick response to any issue.
Clear and simple ways to reach people and no more worrying about categories or queues.  People are on hand when you need them. Removing friction and providing a global service. One of the key things that has always stuck with me from my ITSM foundation training.
Resource your help desk with senior engineers. So our Techbar is resourced by all levels on engineers. No more 1st,2nd, 3rd line, increasing first time fixes. On average a person's issues will be answered within 1 minute. How do know that we are helping the business? We could see the responses to issues, track the issues people have been raising, but how do we truly are we making a difference? To find out we asked the Skyscanner team and this is what they said:
"It is truly remarkable that at Skyscanner we have IT Services which are an integral part of the success of the business; from my experience working in other companies, it is rarely the case"
"#TechBar is one of the things that defines this company and its attitude towards enabling staff." 
"Among the BEST initiatives we took in Skyscanner" 
What are your top 3 tips to make a service desk successful? 
1. Put the customer first
2. Remove friction by simple processes, we should do the hard work
3. Put Senior engineers on first line
What one thing do you think really makes you stand out as a support professional? 
My adaptability to ensure what we provide works for my team as well as the wider team delivering business impact.
How are you preparing to evolve your service desk over the next few years? Please share your most exciting plan with us! 
I think there are a number of really exciting opportunities ahead. One area that I am really excited about is introducing more AI into our process mixing with the personal touch that we know people love.
What does it mean to you to be a finalist in the 'Inspirational Leader of the Year' category? 
I am very honored to be a finalist. There are so many people doing amazing things within the field. Through leadership we can do amazing things and to be recognised in this category is very special.
What advice would you give to anyone entering the awards next year? 
See this as an opportunity to share what work you are doing. No matter how large or small a company you work for, we work in an amazing industry and through amazing leaders we can make great changes in supporting our users.
The 2019 IT Service & Support Awards will take place on Tuesday 26 March at the Birmingham Hilton Metropole. Entries are now open – start working on your submission today for your chance to be recognised as one of the shining stars of the IT support industry.