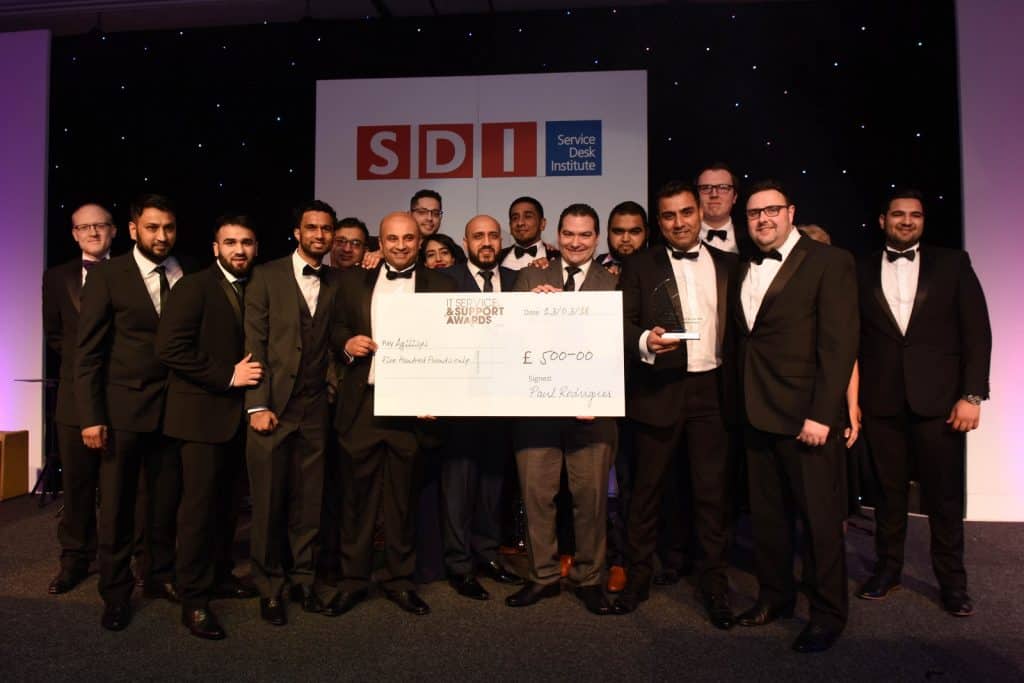 Best Medium/Large Enterprise Managed Service Provider award winners Agilisys
share with us what makes them a stand-out service organisation.
What made you decide to enter the awards?
We wanted to show what great work we're doing within the Service Center and show all of our staff how important it is to be on the most forward thinking and innovative team within our field.
What part of the awards process did you enjoy the most?
We really enjoyed the visit day and being able to showcase to the judges what we do daily. It's always something to look forward to. Knowing that after the presentation phase of the award process, we get to invite some of the top Service Delivery thinkers to our own backyard and show them what we have been doing to innovate and improve our service offerings.
It's a great opportunity to show them our processes and innovations face to face and get feedback on what we do. It also provides a lot of excitement in the lead up to the day within the Service Centre and the buzz is infectious.
In the last 12 months, what has been the most successful initiative your team has implemented to help your business improve its performance?
We transitioned from our old, knowledgebase into a new online knowledgebase. The knowledge base is easily searchable, our agents and users can rate the articles that they find the most useful, it also allows us to audit our knowledgebase extensively to ensure it is up to date. This has also been useful with the transition of new transformational services and office 365 to share already sound processes between our Service Desks.
However, it isn't just a knowledgebase. There is also a BOT within the site that agents can ask questions to and receive immediate answers and instructions. The BOT is a useful way to provide solid information and processes quickly. We are aiming to add a similar BOT into our self service portal to give users this functionality and reduce contacts to the service desk and improve user "self-help".
What are your top 3 tips to make a service desk successful?
1.       Happy people that have been invested in and incentivized
2.       Define processes and advertise these
3.       Knowledge transfer and communication
What one thing do you think really makes you stand out as a service organisation?
We are a not just a Service Desk. We have multiple Service Desks and second line resolver teams that come together under the umbrella of the Service Centre family. This makes us one tight knit group that will support each other whenever possible to ensure we all succeed. This is what sets us apart, we help each other out and when we innovate, if there is something wrong, we look back and plan again to bring the organisation forward.
How are you preparing to evolve your service desk over the next few years? Please share your most exciting plan with us!
We want to be on the forefront of the robotic automisation in the industry. This means, virtual service desk agents that can undertake menial tasks, that in turn free up our staff to more shift left opportunities and more technical training. Being able to offer more shift left opportunities to our agents gives us a much greater pool of skilled analysts.
If you could choose any celebrity to work on your service desk, who would it be?
We would pick Peter Kay, when a user calls a Service Desk, they want a friendly, helpful individual to speak to. I think that sums up Peter exactly. He's also only 20 minutes down the road!
What does it mean to your team to be a finalist in the 'Best Medium/Large Enterprise Managed Service Provider' category?
This is our second year in the final three and it's a massive achievement for us. We're overwhelmed to be involved again and can't thank SDI enough for the opportunity and supporting us.
What advice would you give to anyone entering the awards next year?
Do it! It'll help you celebrate how well your staff are doing and give you the platform to showcase this to the profession.
What would you do to celebrate if your team won 'Best Medium/Large Enterprise Managed Service Provider'?
We would all go out and celebrate!
The 2019 IT Service & Support Awards will take place on Tuesday 26 March at the Birmingham Hilton Metropole. Entries are now open – start working on your submission today for your chance to be recognised as one of the shining stars of the IT support industry.