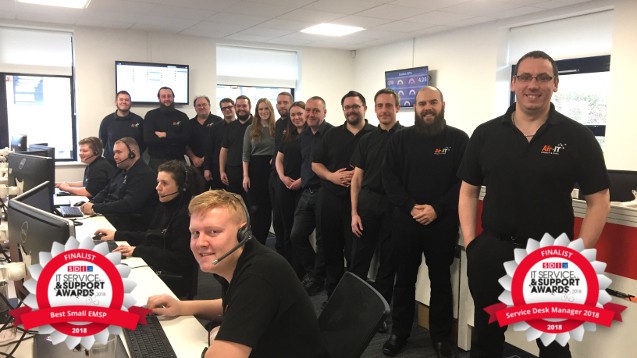 Air IT made it as finalists in an impressive two categories at the IT Service and Support Awards 2018- for Best Small Enterprise Managed Service Provider and Service Desk Manager of the Year, Jamie Hissitt
Find out the key to Air IT's success and why they've convinced us that James Bond would be the perfect edition to their service desk…
What made you decide to enter the awards?
Over the last year-and-a-half we've made a lot of changes within the organisation, many of them focused on our Service Desk. We've been striving to become a World Class MSP. We have a way to go still, of course. We know that the SDI is a worldwide organisation, and the award is one of the most prestigious in the industry. There can be few better ways to be impartially recognised for all the work we've done and to instill pride within the Service Desk and in the wider organisation.
What part of the awards process did you enjoy the most?
The way it has involved all parts of the company in one way or another. Some of us were outside our comfort zone at times, particularly during the site visit, but rising to the challenge, having fun, and being in the finals have made it all worthwhile.
In the last 12 months, what has been the most successful initiative your team has implemented to help your business improve its performance?
Setting clear objectives and redefining company strategy has meant we've had to set our departmental objectives to cover the next four years. People now know what they must achieve and have restructured our operations to align the company mission and strategy. As a result, we have great communications, and a valid cascade of CSFs and KPIs from the top to individual teams.
What are your top 3 tips to make a service desk successful?
1. Be brutally honest with yourselves – if you're not, then there is no way to improve how you work or have genuinely satisfied customers. You'll just set yourself up for a fall.
2. Keep your team members happy. Make sure they know when they are accountable or responsible for something. Enable them to meet those requirements. Without training, team members will lack confidence. Give them knowledge of the company mission so they understand the part they play in achieving goals and working towards a vision, and so they feel involved.
If team members feel thanklessly overworked, or forced to firefight all the time, morale will tumble. When people give-up, they leave. Loss of knowledge and enthusiasm is catastrophic. This conclusion is based on what we have seen in the past, from industry knowledge, and from talking to people from other service desks. We call this a spiral of death. Monitoring employee satisfaction is a must.
3. Look after your customers. They are what counts most. Without them there can be no Service Desk. Use every opportunity to gain information and ideas from them. Use CSAT, periodic surveys, ask in person; invite feedback from them as often as you can. Make sure you listen, that you're honest rather than dismissive of criticism, and that you act on what they say, and let them know what you're doing about it.
What one thing do you think really makes you stand out as a service organisation?
We're honest about our failings, and through it we've made a lot of progress and improvement. We've analysed our key metrics in earnest; not just performance, but in all aspects of the organisation. We've a broad spectrum of client types, but must satisfy all of them or lose them. We've realised that this is best served by adopting industry frameworks to ensure consistency and quality. There has been a lot of upheaval, and it has required a lot of work and commitment from the team. We've also shared our methods with other Service Desks across the UK, and this confirms that we have reached a level of maturity and innovation that others aspire to. We now act as consultants in our industry sector.
How are you preparing to evolve your service desk over the next few years? Please share your most exciting plan with us!
It may not sound thrilling, but it's our adoption of best practice and frameworks.
In our sector, Service Desks are managed re-actively and by "feel". We recognise the flaws in this latter approach, its limitations for growth or evolution, and its scope for error and inefficiency. We've been members of SDI for some time and understand the value of SDI Certification and the way it combines ITIL, other ISO standards, and adds its own unique contribution for excellence. As such, our plan is to achieve business-led levels. We know this will give us:
· Wide-ranging and comprehensive efficiencies
· Great levels of customer service
· High satisfaction among employees and our clients
· Great internal communication through pulling-down of any departmental/functional "hives"
· Direction towards the organisation-wide objectives
· As a business, a powerful USP in a market which is losing its value through commodification in service quality and through price wars
· A good grounding on which we can continue to share our successes and methods with other MSPs.
· And, not least scope for growth and improvement of the Service Desk.
If you could choose any celebrity to work on your service desk, who would it be?
James Bond would be the natural choice for us. He'd fit right in:
1. He demonstrates great leadership skills
2. His policy is to strive for the greater good, and his strategy is always flawless and effective. His performance indicates that he has achieved all the factors critical to the success of his mission
3. He makes sure people are in the right place at the right time, that they have the skills and talents they need
4. He makes the best use of all the resources available and employs the innovative tools supplied by Q
5. Nobody is perfect, so, admittedly, he may not be perfect when it comes to following processes and procedures, but with the right guidance there's certainly scope for continual improvement in his service
6. The morale of those around him is assured. By sharing vital information and engaging his colleagues, there's always a plan in place for development
7. Feedback from those who've experienced his performance is always positive
8. We know that nobody does it better when it comes to responding to events, managing incidents that arise, and dealing with problems. Requests made of him are always met. The results speak for themselves
9. He always acts in the best interests of our society. He understands his responsibilities, and ensures the future safety of everyone around him.
Our team member, Tech Tom, takes such a lot of inspiration from James. We can't reveal it all yet (it's top secret), but you'll see how our Service Desk team have also been inspired to achieving great things in our "License to Serve" video, premiered on awards night. All will be revealed.
Our promise to everyone present; it's "for your eyes only."
What does it mean to your team to be a finalist in the 'Best Small Enterprise Managed Service Provider' category?
The team has shown great commitment over a period that has seen a lot of change in processes and operations. Change is never easy, but there has been very little resistance to it. We've got a great team, and we've always tried to get buy-in by keeping people informed, explaining why we need to make changes, and how we're planning to do it. We will always listen to their feedback and observations too. Being a finalist recognises and rewards their trust in us, their patience, and their contribution to successful change.
Being a finalist also instills a sense of pride from knowing that we're seen as being amongst the best Service Desks. With such great people in the team who're knowledgeable, diligent, and enthusiastic, the pride in what they've achieved acts as a great motivator, driving the organisation even further forward. It makes them happy to be here which reflects in attendance levels, employee retention, innovation, team-work, and, most importantly, excellent synergy with customers.
What advice would you give to anyone entering the awards next year?
Don't forget to treat it as a learning experience. Even if you don't win you can gain some great insights from other Service Desks. You can also discover some of your shortcomings, and gain an opportunity to identify ways you can improve.
Enjoy it, and, if you do win, you should still treat it as a learning experience. If you don't win, it'll still stand you in good stead for the following year.
Jamie Hissitt, Service Delivery Manager at Air IT has taken time to answer our questions about making it as a Service Desk Manager of the Year finalist…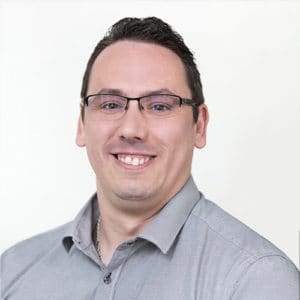 What made you decide to enter the awards?
Winners of the Service Desk Manager of The Year award are recognised for the part they play in achieving very high standards. As a leader and manager, I'm proud of what I've achieved, and if I win it'll also recognise the support I've had from my team over the last year.
What part of the awards process did you enjoy the most?
I enjoyed the face-to-face interview. It was great to be able to demonstrate what we've achieved with the passion I feel about it. It's great to be able to show it all to the judging panel.
Why did you choose IT Support as a career?
As a teenager I had a strong yet growing interest in technology and processes. Over the last fifteen years the advances have kept me inquisitive and keen to be involved in ICT. Helping people is something I have always found rewarding, too. IT Support was the obvious career option and aspiration for me.
In the last 18 months, what has been the most successful initiative you have implemented to help your business improve its performance?
18 months ago, the service desk was informally structured. In previous years this had been satisfactory if inefficient. As our organisation grew, we were faced with an urgent need to streamline our processes without reducing the levels of service we provide. This growth showed no signs of stopping, so we needed an organisational structure that would scale-up with it. The initiative to introduce better processes and team functions have met the requirements, and have resulted in better customer service too.
What are your top 3 tips to make a service desk successful?
· Keep the team interested and engage: keep them informed; give them variety; encourage development and ideas; give them innovation projects. Burn-out comes from sustained hard work without any form of reward or involvement. Losing good team members is catastrophic for morale and service quality.
· Recruit where possible based primarily on a person's fit within the team. Do your research on candidates. Technical skills can be taught, and built on good knowledge management. It always pays off.
· Develop empathy with your end-users. There's far more to customers' expectations and satisfaction with the support you provide than meeting SLAs.
What one thing do you think really makes you stand out as a support professional?
I think it is my determination to see things through. When I'm satisfied that improvements can be made, I am committed and persistent. I don't lose interest or give up if progress is difficult or success is not immediate. Small steps towards our goals, together with continuous improvements, are the order of the day.
How are you preparing to evolve your service desk over the next few years? Please share your most exciting plan with us!
This might sound contrived, but it's our working towards SDI accreditation. We started our journey in October 2017 with the initial pre-assessment. We've identified numerous areas where we can make improvements to the Service Desk and its place in the wider business.
Together with the restructuring I've already mentioned, these other improvements will help the department to grow and scale in line with the business, while still letting us deliver value and quality of support our clients have come to expect. I have other exciting plans to implement self-help, using newly available knowledge management tools, and automation to offer zero touch. This is really going to add a new dynamic to our service desk and clients are already on-board, because they can already see the benefits.
What does it mean to you to be a finalist in the 'Service Desk Manager of the Year' category?
I feel proud to have got so far. It's a milestone in my career and it rewards all the hard work I've put into the department and my own professional developments to date. It verifies that my ideas and leadership are taking our Service Desk towards a shared departmental vision: "To continually develop our services to meet and exceed customer expectations. To contribute to the success of the business through the provision of timely and consistent World Class IT support at every customer contact."
What advice would you give to anyone entering the awards next year?
Be yourself. Your passion will shine through in your application and the one-to-one judging. Above all enjoy the experience. And if you don't get as far as you'd like, use it as a source of inspiration by looking at other entrants. Of course, there's always next year.
The 2019 IT Service & Support Awards will take place on Tuesday 26 March at the Birmingham Hilton Metropole. Entries are now open – start working on your submission today for your chance to be recognised as one of the shining stars of the IT support industry.