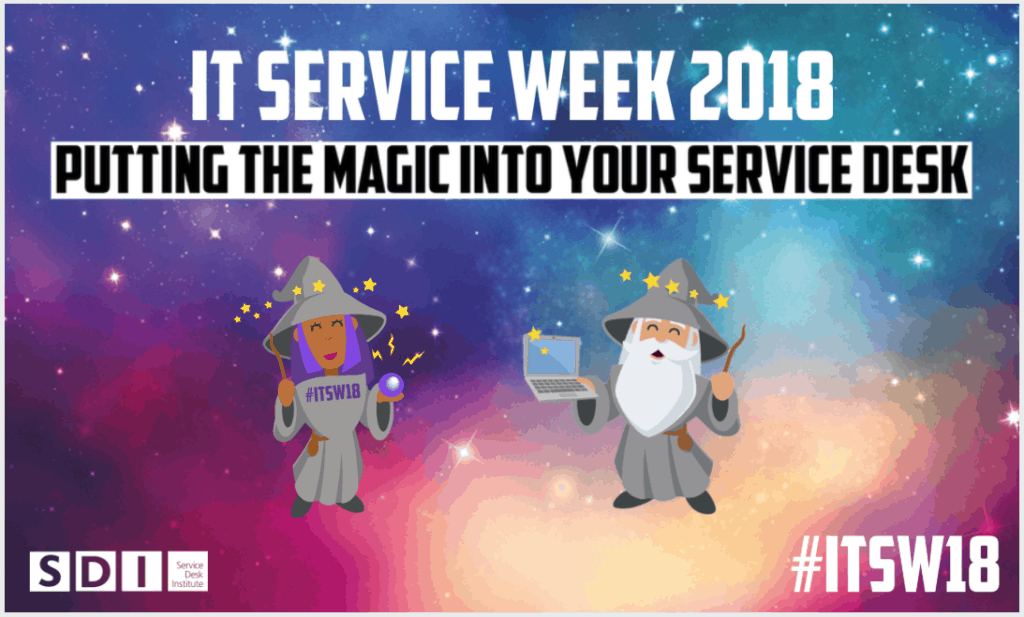 The week of 1st – 5th October saw this year's IT Service Week spread some magic and a cast a spell over the ITSM community…
This year's IT Service Week (ITSW) celebrations were inspired by the theme of 'Magic' which a number of service desks and IT professionals took part in. ITSW is an online, celebratory event created by SDI to help service desks and IT organisations shout about how brilliant they are!
Each year we create a survey for IT service desks to share with their customers (either internal or external end users) which the customers use to vote for the 'Best Service Desk Analyst' and 'Best Service Desk Team'.
This year's results are in!


This year's ITSW Awards go to:
Best Service Desk Team for ITSW 2018:

Edge Hill University IT Services.
Best Analyst for ITSW 2018:

Mike Lockwood, KCOM.
SDI is delighted to congratulate this year's winners on this brilliant achievement. As one of the ITSM community's favourite events, ITSW is about promoting the value of IT Services and so is a fantastic award for any organisation to receive.
This year's celebrations involved service desks transforming their offices for #MagicMonday, baking enchanted cakes on #TreatTuesday and dressing up for #WizardWednesday. Because great service is worth shouting about #ThoughtfulThursday encouraged acts of kindness for colleagues or someone you've received good service from and #FantasticFriday was the day to shout about achievements and hard work.
Here are the ITSW18 Competition winners:
Magic Monday: ESOS

Treat Tuesday: ESP Global Services

Wizard Wednesday: University of Stirling

Thoughtful Thursday: Manchester University

Fantastic Friday: AIR-IT


Discover more of the week's activities from the hashtag #ITSW18 and the ITSW18 Facebook Album.
What a fantastic week- well done to everybody taking part. Make a note in your calendars for next year's '#ITSW19' which will fall in October 2019.
In the spirit of celebrating your service?
There's no better way to demonstrate the impact and difference that your team makes to the organisation you support than entering for the IT Service & Support Awards.